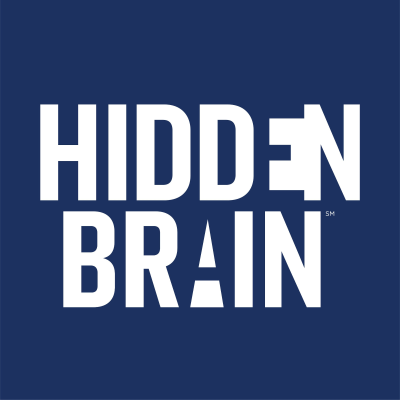 Hidden Brain
Podcast af Hidden Brain, Shankar Vedantam
Shankar Vedantam uses science and storytelling to reveal the unconscious patterns that drive human behavior, shape our choices and direct our relationships. 
Seneste episoder
The Secret to Great Teams
It's easy to think that the best teams are collections of highly accomplished or talented individuals, working under a skilled leader. But that's no guarantee of success. Psychologist Anita Woolley [https://www.cmu.edu/tepper/faculty-and-research/faculty-by-area/profiles/williams-woolley-anita.html] says the best teams are far more than the sum of their parts, and they share certain basic characteristics. Do you know someone who would enjoy Hidden Brain? Please tell them about this episode. And thanks for listening!
Outsmarting Yourself
After we make a decision, we often tell ourselves a story about why our choice was the right one to make. It's a mental process that psychologist Elliot Aronson [https://psychology.ucsc.edu/about/people/faculty.php?uid=elliot] calls self-justification. These rationalizations can sometimes lead us to excuse bad behavior or talk ourselves out of a poor choice. But are there also times when self-justification can be used for good? This is the second part of our series on cognitive dissonance. Listen to the first episode: How We Live with Contradictions [https://hiddenbrain.org/podcast/how-we-live-with-contradictions/].
How We Live With Contradictions
Think about the last time you did something you knew was wrong. How did you explain your actions to yourself? All of us tell stories about why we do the things we do. We justify our failures, and come up with plausible explanations for our actions. This week, Elliot Aronson [https://psychology.ucsc.edu/about/people/faculty.php?uid=elliot] explains the mental processes behind this type of self-justification, and shares how he helped develop one of the most widely-known concepts in psychology: cognitive dissonance. If you're interested in learning more about the origins of cognitive dissonance, listen to our episode When You Need It To Be True [https://hiddenbrain.org/podcast/when-you-need-it-to-be-true/]. Do you like the ideas and insights we feature on Hidden Brain? Then please consider supporting our work by joining our new podcast subscription, Hidden Brain+. You can find it in the Apple Podcasts app, or by going to apple.co/hiddenbrain [https://podcasts.apple.com/us/podcast/hidden-brain/id1028908750?ign-itscg=30200S&ign-itsct=hiddenbrain_podcasts]. Thanks!
En fantastisk app med et enormt stort udvalg af spændende podcasts. Podimo formår virkelig at lave godt indhold, der takler de lidt mere svære emner. At der så også er lydbøger oveni til en billig pris, gør at det er blevet min favorit app.
Rigtig god tjeneste med gode eksklusive podcasts og derudover et kæmpe udvalg af podcasts og lydbøger. Kan varmt anbefales, om ikke andet så udelukkende pga Dårligdommerne, Klovn podcast, Hakkedrengene og Han duo 😁 👍
Podimo er blevet uundværlig! Til lange bilture, hverdagen, rengøringen og i det hele taget, når man trænger til lidt adspredelse.
Tilgængelig overalt
Lyt til Podimo på din telefon, tablet, computer eller i bilen!
Et univers af underholdning på lyd
Tusindvis af lydbøger og eksklusive podcasts fra kun 79,00 kr. / måned
Ingen reklamer
Spild ikke tiden på at lytte til reklamepauser, når du lytter til Podimos indhold.