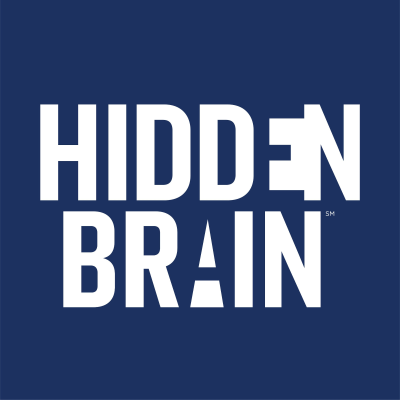 Hidden Brain
Podcast af Hidden Brain, Shankar Vedantam
Shankar Vedantam uses science and storytelling to reveal the unconscious patterns that drive human behavior, shape our choices and direct our relationships. 
Seneste episoder
The Mystery of Beauty
Think about the last time you were struck by a gorgeous painting in a museum, or heard a song that brought you to tears. All of us know what it's like to be stopped in our tracks by a beautiful sight. But scientists are still puzzling over why this is the case. What's the point of beauty? Why is it seemingly so important to us? This week on the show, neuroscientist Anjan Chatterjee [https://www.med.upenn.edu/apps/faculty/index.php/g275/p15498] explains the function of beauty in our daily lives. Then, Nobel laureate Frank Wilczek [https://physics.mit.edu/faculty/frank-wilczek/] describes how beauty served a purpose in some of the biggest scientific breakthroughs of our time. In case you missed it, make sure to listen to the last installment of our Healing 2.0 series, The Power of Apologies [https://hiddenbrain.org/podcast/the-power-of-apologies/]. Plus, if you're looking for a holiday gift for the Hidden Brain fan in your life, be sure to check out our online shop [https://www.podswag.com/collections/hidden-brain] for mugs, t-shirts, and more!
Healing 2.0: The Power of Apologies
Why is it so hard to say 'I'm sorry?' In the final episode of our Healing 2.0 series, we talk with psychologist Tyler Okimoto [https://business.uq.edu.au/profile/788/tyler-okimoto] about the mental barriers that keep us from admitting when we've done something wrong, as well as the transformative power of apologies. If  you liked this episode, check out the rest of our Healing 2.0 series. And if you know someone who would benefit from the ideas we explored in this series, please share these episodes with them. Thanks!
Healing 2.0: Disrupting Death
In 2019, Justin Harrison's mom was diagnosed with terminal cancer. But by the time she died, he had figured out how to keep a part of her alive...forever. This week, the strange and provocative story of a man who believes that grief is not inevitable — that we can, in a way, cheat death. If you missed the earlier installments of our Healing 2.0 series, you can find them in this podcast feed, or on our website: Life After Loss [https://hiddenbrain.org/podcast/life-after-loss/], What We Gain from Pain [https://hiddenbrain.org/podcast/what-we-gain-from-pain/], and Change Your Story, Change Your Life. [https://hiddenbrain.org/podcast/healing-2-0-change-your-story-change-your-life/]
En fantastisk app med et enormt stort udvalg af spændende podcasts. Podimo formår virkelig at lave godt indhold, der takler de lidt mere svære emner. At der så også er lydbøger oveni til en billig pris, gør at det er blevet min favorit app.
Rigtig god tjeneste med gode eksklusive podcasts og derudover et kæmpe udvalg af podcasts og lydbøger. Kan varmt anbefales, om ikke andet så udelukkende pga Dårligdommerne, Klovn podcast, Hakkedrengene og Han duo 😁 👍
Podimo er blevet uundværlig! Til lange bilture, hverdagen, rengøringen og i det hele taget, når man trænger til lidt adspredelse.
Tilgængelig overalt
Lyt til Podimo på din telefon, tablet, computer eller i bilen!
Et univers af underholdning på lyd
Tusindvis af lydbøger og eksklusive podcasts fra kun 79,00 kr. / måned
Ingen reklamer
Spild ikke tiden på at lytte til reklamepauser, når du lytter til Podimos indhold.