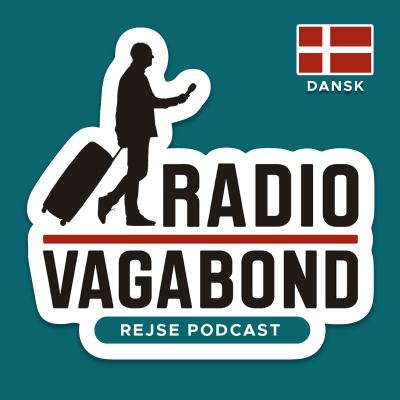 Palle Bo er en radiomand, der har solgt sit hus, sin bil og alle sine møbler, for at rejse jorden rundt. Han har en ambition om at besøge alle lande i verden, og du kan tage med på rejsen i denne podcast. Tag med på i mødet med de lokale og oplev Palles begejstring og bekymring over livet som digital nomade. 
Seneste episoder
GAMBIA: Luksus i junglen (flashback)
Tag med på besøg i et luksuriøst sted i junglen i det lille Vestafrikanske land, Gambia. Se billeder og læs blog post her [https://www.theradiovagabond.com/119-gambia/].
331 SYV DIGITALE NOMADER (6:7): Eureka-øjeblikke, der ændrede alt
Imagine a life where work and adventure seamlessly blend, and you can explore the world while building a successful career. That's the power of being a digital nomad! In this episode, I had the pleasure of (again) chatting with seven incredible individuals who have embraced this nomadic lifestyle, and this time they have unforgettable memories to share. It's the enchantment of swimming beside a blind elephant in the heart of Thailand, the intrigue of being caught in the spotlight of a reality show tailor-made for globetrotters, and the unexpected camaraderie found with not one but two fearless Albanian grannies. How about forming friendships with locals from every corner of this spinning planet through stand-up comedy, and then, the spark of revelation at the moment the bulb over your head illuminates, revealing that the digital nomad life wasn't just a pipe dream? Also, prepare to be touched by the golden hearts of wanderers as they extend a hand to a struggling family in Manila. Hold your curiosity as we delve into the tale of a shaman in Peru, rendering aid to fellow souls on Ayahuasca ceremonies. Read the full article and see some pictures onwww.TheRadioVagabond.com/281-Seven-Nomads-6 [http://www.theradiovagabond.com/281-Seven-Nomads-6]– and start your journey towards the digital nomad lifestyle. NOMAD LINKS * Visit Jason Robinson's travel blog TheNomadExperiment.com [https://www.thenomadexperiment.com/] and follow him on Instagram as @TheNomadExperiment [https://www.instagram.com/thenomadexperiment/]. * Follow Nora Dunn's YouTube channel [https://www.youtube.com/@NoraDunn], with tips on travel and travel gear, her blog, TheProfessionalHobo [https://www.theprofessionalhobo.com/]and on Instagram as @TheProfessionalHobo [https://www.instagram.com/theprofessionalhobo/]. * Follow travel writer on his blog "ShaunBusuttil [https://www.shaunbusuttil.com/].com" and on Instagram as @TheShaunBusuttil [http://instagram.com/theshaunbusuttil]. * Chris Cerra's email newsletter, RemoteBase.co [https://remotebase.co/], for the best accommodation deals for digital nomads. Use promo code VAGA20 to get 20% off on his Premium Newsletter forever. He's @nomadaccommodationguy [https://www.instagram.com/nomadaccommodationguy/] on Instagram * Check out Mr. Derek Smith's website on public speaking [https://mrdereksmith.com/]. He's @Mr_Derek_Smith [https://www.instagram.com/mr_derek_smith/] on Instagram. * Check out Ranika Koneru's company, Cloud Connections [https://www.cloudconnections.co/], for inspiring group travel experiences to the world's greatest festivals. She's on Instagram as @RainbowRani_ [https://www.instagram.com/rainbowrani_/] * Explore Gianni Bianchini's travel blog, Nomad Is Beautiful [https://nomadisbeautiful.com/], YouTube channel [https://www.youtube.com/@Gianni.Bianchini], and podcast [https://giannibianchini.net/podcast/] for digital nomad advice and insights. On Instagram as @Gianni.Bianchini [https://www.instagram.com/gianni.bianchini/]. * Connect with Palle Bo on YouTube [https://www.youtube.com/@Theradiovagabond], LinkedIn [https://www.linkedin.com/in/pallebo], Facebook [https://www.facebook.com/theradiovagabond], and twitter [https://www.twitter.com/radiovagabond]. See all the links here [applewebdata://982586F5-C4FD-4233-9186-181916CD0DDD/lt]
ALBANIEN: Mød min lokale ven (flashback)
Tag med til Tirana, hovedstaden i Albanien, hvor jeg får en ny ven. Denne episode blev udgivet for første gang i september, 2020.
En fantastisk app med et enormt stort udvalg af spændende podcasts. Podimo formår virkelig at lave godt indhold, der takler de lidt mere svære emner. At der så også er lydbøger oveni til en billig pris, gør at det er blevet min favorit app.
Rigtig god tjeneste med gode eksklusive podcasts og derudover et kæmpe udvalg af podcasts og lydbøger. Kan varmt anbefales, om ikke andet så udelukkende pga Dårligdommerne, Klovn podcast, Hakkedrengene og Han duo 😁 👍
Podimo er blevet uundværlig! Til lange bilture, hverdagen, rengøringen og i det hele taget, når man trænger til lidt adspredelse.
Tilgængelig overalt
Lyt til Podimo på din telefon, tablet, computer eller i bilen!
Et univers af underholdning på lyd
Tusindvis af lydbøger og eksklusive podcasts fra kun 79,00 kr. / måned
Ingen reklamer
Spild ikke tiden på at lytte til reklamepauser, når du lytter til Podimos indhold.