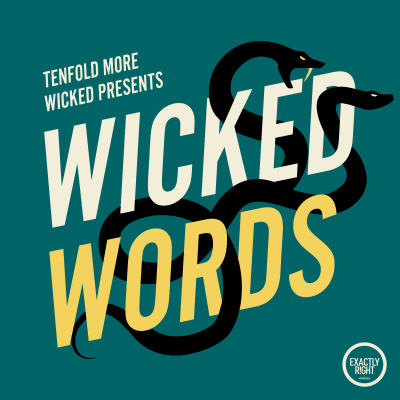 Tenfold More Wicked Presents: Wicked Words - a true crime interview podcast with Kate Winkler Dawson
Podcast af Exactly Right Media – the original true crime comedy network
Tenfold More Wickeds Presents: Wicked Words is a unique blend of narrative, nonfiction, and true crime storytelling with in-depth interviewing. In each episode, host Kate Winkler Dawson interviews a journalist, writer or other professional about their best true crime cases. Explore the story behind some of history's most infamous cases. Now in its third season, past interviews include the filmmaker who investigated the Long Island serial killer, the forensic psychologist who spent years exploring the mind of BTK killer Dennis Rader, the author who makes a compelling case for the owl theory behind Kathleen Peterson's death and the author who later realized their beloved childhood babysitter was a serial killer. Tenfold More Wicked Presents: Wicked Words is part of the Exactly Right podcast network that provides a platform for bold, creative voices to bring to life provocative, entertaining and relatable stories for audiences everywhere. The Exactly Right roster of podcasts covers a variety of topics including historic true crime, comedic interviews and news, science, pop culture and more. Podcasts on the network include Buried Bones with Kate Winkler Dawson and Paul Holes, That's Messed Up: An SVU Podcast, This Podcast Will Kill You, Bananas and more. 
Seneste episoder
Mikita Brottman: Couple Found Slain
In February of 1992, a 22 year old walked into a police station in Florida and confessed that he'd shot and killed his parents. He claimed that he had been possessed by the devil. He was eventually diagnosed with schizophrenia and ruled "not criminally responsible" for the murders on grounds of insanity. But after the trial, where do the "criminally insane" end up? Nonfiction author and psychoanalyst Mikita Brottman unravels the story at the center of her book Couple Found Slain.  Buy my books: katewinklerdawson.com [http://katewinklerdawson.com/]       If you have suggestions for historical crimes that could use some attention, email me: info@tenfoldmorewicked.com [info@tenfoldmorewicked.com]       Follow me on social: @tenfoldmore (Twitter) / @tenfoldmorewicked (Facebook and Instagram)       2023 All Rights Reserved  See Privacy Policy at https://art19.com/privacy [https://art19.com/privacy] and California Privacy Notice at https://art19.com/privacy#do-not-sell-my-info [https://art19.com/privacy#do-not-sell-my-info].
Jillian Lauren: Behold the Monster
What would it be like to interview a serial killer? New York Times best-selling author Jillian Lauren knows. Her haunting account of confronting Samuel Little is detailed in her book Behold the Monster. In our chat, Jillian explains how she convinced Little to tell her where one unknown victim was buried.   Buy my books: katewinklerdawson.com [http://katewinklerdawson.com/]       If you have suggestions for historical crimes that could use some attention, email me: info@tenfoldmorewicked.com [info@tenfoldmorewicked.com]       Follow me on social: @tenfoldmore (Twitter) / @tenfoldmorewicked (Facebook and Instagram)       2023 All Rights Reserved  See Privacy Policy at https://art19.com/privacy [https://art19.com/privacy] and California Privacy Notice at https://art19.com/privacy#do-not-sell-my-info [https://art19.com/privacy#do-not-sell-my-info].
Bryan Burrough: Stephenville
Best-selling author Bryan Burrough returns to his small-town Texas roots in the podcast, by Texas Monthly, called "Stephenville." This season he explores a murder case that went cold for nearly two decades. To tell this amazing story, Bryan is armed with the newly discovered diary of the killer himself.   Buy my books: katewinklerdawson.com [http://katewinklerdawson.com/]       If you have suggestions for historical crimes that could use some attention, email me: info@tenfoldmorewicked.com [info@tenfoldmorewicked.com]      Follow me on social: @tenfoldmore (Twitter) / @tenfoldmorewicked (Facebook and Instagram)       2023 All Rights Reserved  See Privacy Policy at https://art19.com/privacy [https://art19.com/privacy] and California Privacy Notice at https://art19.com/privacy#do-not-sell-my-info [https://art19.com/privacy#do-not-sell-my-info].
En fantastisk app med et enormt stort udvalg af spændende podcasts. Podimo formår virkelig at lave godt indhold, der takler de lidt mere svære emner. At der så også er lydbøger oveni til en billig pris, gør at det er blevet min favorit app.
Rigtig god tjeneste med gode eksklusive podcasts og derudover et kæmpe udvalg af podcasts og lydbøger. Kan varmt anbefales, om ikke andet så udelukkende pga Dårligdommerne, Klovn podcast, Hakkedrengene og Han duo 😁 👍
Podimo er blevet uundværlig! Til lange bilture, hverdagen, rengøringen og i det hele taget, når man trænger til lidt adspredelse.
Tilgængelig overalt
Lyt til Podimo på din telefon, tablet, computer eller i bilen!
Et univers af underholdning på lyd
Tusindvis af lydbøger og eksklusive podcasts fra kun 79,00 kr. / måned
Ingen reklamer
Spild ikke tiden på at lytte til reklamepauser, når du lytter til Podimos indhold.