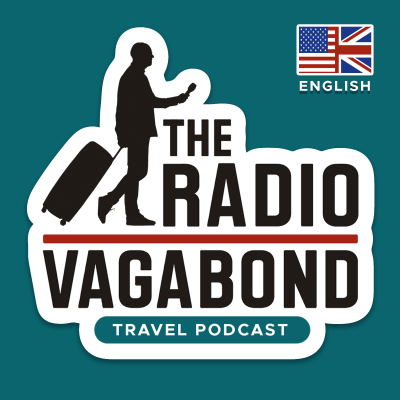 Palle Bo is a long time radioproducer who has sold his house, car and all of his furniture so he could travel around the world. He has an ambition to visit every country in the world and you can join his trip in this podcast. Come along as he meet the locals and experience Palle's excitements and concerns regarding the life as digital nomad. 
Seneste episoder
288 UKRAINE: From Destruction to Determination and Stories of Hope in War-Torn Cities in Eastern Ukraine
Journey with me into the heart of eastern Ukraine, where resilience blooms amidst the scars of war. Join me and the NomadMania group as we uncover the unexpected twist that forever changed the lives of these brave communities. From the haunting remnants of Izyum to the courageous stories of survival in Kharkiv, witness the indomitable spirit of a city determined to defy the odds. But as the secrets unravel and the plot thickens, one question lingers: What surprising twist lies ahead for these resilient souls? In this episode, you will: * Discover the inspiring resilience of Ukrainian communities impacted by war. * Uncover the remarkable rebuilding efforts shaping the future of Kharkiv. * Explore the rich cultural heritage waiting to be rediscovered in Kharkiv. * Understand the challenges faced by the determined residents of Kharkiv. * Learn about the impactful war's effects on Ukraine and its communities. See pictures and videos – and read the article on www.TheRadioVagabond.com/288-ukraine [http://www.theradiovagabond.com/288-ukraine]
287 UKRAINE: Destroyed Village Close to the Frontline
In Ukraine, I uncover the devastating impact of war on individuals and communities. From harrowing tales of survival to the resilience of those providing aid, join me on a journey that reveals the true realities of conflict. But be warned, the shocking accounts I share will leave you questioning the fate of those caught in this ongoing crisis. Before this visit to war torn Ukraine, I crossed paths with Dimitri, a Ukrainian refugee in Kraków in Poland, near the Ukrainian border. As our conversation unfolded, I was thrust into a world of unimaginable suffering and despair, as Dimitri recounted the harrowing tales of his hometown and his life reduced to rubble. But it was the unexpected twist, a brutal war crime that Dimitri witnessed, that left me shaken to my core, grappling with a haunting question: How can this happen? If you're feeling a sense of helplessness and frustration as you try to understand the impact of war in Ukraine, then you are not alone! Despite your efforts to gain a deeper understanding, you may find yourself overwhelmed by the sheer magnitude of the crisis and the countless stories of suffering. Your attempts to empathize may leave you feeling powerless to alleviate the pain and restore peace. But rest assured, your desire to increase awareness and empathy is a crucial step towards making a difference. In this episode, you will: * Gain a deeper understanding of the human impact of war in Ukraine, shedding light on the stories and struggles of individuals and communities affected. * Discover the remarkable resilience and strength of the Ukrainian people in the face of adversity, inspiring and uplifting stories of hope and survival. * Learn about the aid organizations working tirelessly to support and assist those affected by the war in Ukraine. * Uncover the hidden dangers of landmines in Ukraine and the devastating effects they have on civilians, highlighting the urgent need for their removal and the importance of landmine awareness. * Gain insight into the profound losses suffered by Ukraine due to the ongoing war, understanding the lasting impact on communities, infrastructure, and the country as a whole.
286 UKRAINE: Going to a Country in a Full-Scale War
Discover the truth behind Ukraine's perceived danger and gain a new perspective on this captivating country. Are you curious about travelling to Ukraine but concerned about the ongoing conflict? In my latest podcast episode of The Radio Vagabond, I go on a NomadMania tour with a group of travellers and Ukrainian, Orest Zub, raising awareness about Ukraine's current situation. In the episode, we address the scepticism and concerns many travellers have about going to a country in a full-scale war. One of the most fascinating aspects of our conversations is learning about the experiences and motivations of those who choose to visit Ukraine during these challenging times. In this miniseries, we will discover a completely different side of the country. We will experience the resilience of the Ukrainian people, witness the beauty of the country, and learn about the rich history and culture that define this captivating nation – despite of everything going on right now. If you love delving into the heart of a destination and embracing its complexities, this episode is a must-listen. You'll gain a deeper understanding of Ukraine, address any concerns you may have, and be inspired to see the country in a different light. Please spread the word and help to raise awareness about Ukraine. Please share this post with your network and encourage them to listen to the episode. Together, we can challenge misconceptions and foster a deeper appreciation for the resilience and beauty of Ukraine. Episode post: www.theradiovagabond.com/286-ukraine [https://www.theradiovagabond.com/286-ukraine]
En fantastisk app med et enormt stort udvalg af spændende podcasts. Podimo formår virkelig at lave godt indhold, der takler de lidt mere svære emner. At der så også er lydbøger oveni til en billig pris, gør at det er blevet min favorit app.
Rigtig god tjeneste med gode eksklusive podcasts og derudover et kæmpe udvalg af podcasts og lydbøger. Kan varmt anbefales, om ikke andet så udelukkende pga Dårligdommerne, Klovn podcast, Hakkedrengene og Han duo 😁 👍
Podimo er blevet uundværlig! Til lange bilture, hverdagen, rengøringen og i det hele taget, når man trænger til lidt adspredelse.
Tilgængelig overalt
Lyt til Podimo på din telefon, tablet, computer eller i bilen!
Et univers af underholdning på lyd
Tusindvis af lydbøger og eksklusive podcasts fra kun 79,00 kr. / måned
Ingen reklamer
Spild ikke tiden på at lytte til reklamepauser, når du lytter til Podimos indhold.