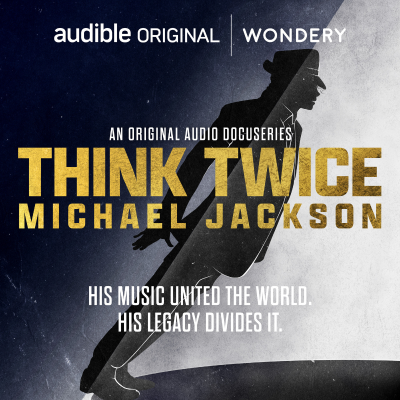 Think Twice: Michael Jackson
Podcast af Audible | Wondery
More than a decade since Michael Jackson's death, his legacy remains complicated and unresolved. Think Twice: Michael Jackson is an exploration of the King of Pop's life and impact – and an investigation into why his global influence continues to endure, despite the disturbing allegations against him. In this ten-part series, journalists Leon Neyfakh and Jay Smooth bring you a new perspective on the Michael Jackson story, based on dozens of original interviews with people who watched it unfold from up close.You can binge every episode of Think Twice: Michael Jackson, ad-free on Amazon Music, Wondery+ or Audible. 
Seneste episoder
What To Listen To Next: Diss and Tell
Savage subtweets. Scathing diss tracks. Tell-all memoirs. These are the weapons that celebrities use to wage modern social warfare against each other. Feuds between celebrities captivate us like nothing else. Why are there so many fights that play out for everyone to watch? How do public figures tap into the arsenal of weapons at their disposal to come out on top? And why do we have such a hard time looking away? From Wondery, the makers of the hit series Scamfluencers and Even the Rich, comes DISS AND TELL. Hosts Sydney Battle and Matt Bellassai take you deep into pop culture's most iconic celebrity feuds, from Paris Hilton and Lindsay Lohan to Hailey Bieber and Selena Gomez. Sydney and Matt unpack who fired the first shot, what happened, and how cultural phenomena and hidden forces influence not only these battles, but also the world we live in. New episodes come out every week. Listen to Diss and Tell: Wondery.fm/Diss_and_Tell [http://wondery.fm/Diss_and_Tell] See Privacy Policy at https://art19.com/privacy [https://art19.com/privacy] and California Privacy Notice at https://art19.com/privacy#do-not-sell-my-info [https://art19.com/privacy#do-not-sell-my-info].
Ghost Story | 10
Michael Jackson spends his final days preparing for a series of comeback concerts, but tragedy strikes before rehearsals are even completed. In the aftermath of Michael's death, a reckoning begins over everything he left behind. See Privacy Policy at https://art19.com/privacy [https://art19.com/privacy] and California Privacy Notice at https://art19.com/privacy#do-not-sell-my-info [https://art19.com/privacy#do-not-sell-my-info].
The Trial | 9
Ten years after first being accused of child sexual abuse, Michael Jackson finds himself in court facing criminal charges related to a new alleged victim. Meanwhile, Michael's fans rally around their idol and try to help him get through a new low point in his career. Think Twice: Michael Jackson was produced by Dustin DeSoto, Benjamin Frisch, Kim Gittleson, Danielle Hewitt, Sam Lee, Leon Neyfakh, Andrew Parsons, and Jay Smooth, and edited by Diane Hodson. The lead producer for this episode was Benjamin Frisch. See Privacy Policy at https://art19.com/privacy [https://art19.com/privacy] and California Privacy Notice at https://art19.com/privacy#do-not-sell-my-info [https://art19.com/privacy#do-not-sell-my-info].
1 h 2 min
-
09. sep. 2023
En fantastisk app med et enormt stort udvalg af spændende podcasts. Podimo formår virkelig at lave godt indhold, der takler de lidt mere svære emner. At der så også er lydbøger oveni til en billig pris, gør at det er blevet min favorit app.
Rigtig god tjeneste med gode eksklusive podcasts og derudover et kæmpe udvalg af podcasts og lydbøger. Kan varmt anbefales, om ikke andet så udelukkende pga Dårligdommerne, Klovn podcast, Hakkedrengene og Han duo 😁 👍
Podimo er blevet uundværlig! Til lange bilture, hverdagen, rengøringen og i det hele taget, når man trænger til lidt adspredelse.
Tilgængelig overalt
Lyt til Podimo på din telefon, tablet, computer eller i bilen!
Et univers af underholdning på lyd
Tusindvis af lydbøger og eksklusive podcasts fra kun 79,00 kr. / måned
Ingen reklamer
Spild ikke tiden på at lytte til reklamepauser, når du lytter til Podimos indhold.