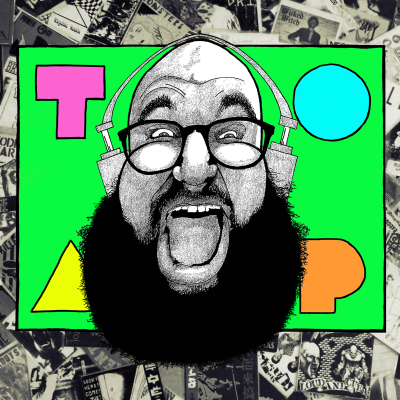 Turned Out A Punk
Podcast af Turned Out A Punk
Damian Abraham has been many things... the singer of a critically acclaimed band, a failed VJ and food network host, one of the minds behind TV's "The Wrestlers", parent of 3... and undeniably, a punk music obsessive. Each week, he sits down and chats with an interesting person from various walks of life to find out how their world was influenced and changed by the discovery of a novelty genre that supposedly died out in 1978... PUNK! 
Seneste episoder
Ivan Julian from Richard Hell And The Voidoids is here
Episodes 463: Bow down because, one of punk's foremost guitar gods, Ivan Julian is here! Today on the show, listen in as Damian sits down to talk with the punk legend about the start of it all. From Tommy Keene and the DC cover band scene, to high school hash joints with HR, to waiting for punk in the UK with Topper Headon, to arrival of the Blank Generation, and so much more: this is not to be missed! Also, don't miss Ivan Julian's fantastic new solo-album "Swing Your Lanterns", available everywhere now. Also don't miss Ivan on tour! More info HERE [https://ivanjulian.com/shows]
Jon Daly and Nick Flanagan are back
Splits Vol 16: What happens when Jon Daly and Nick Flanagan reunite on Turned Out A Punk? CHAOS. Join Damian as he throws up your hands and goes along for the ride, in one of the funniest and weirdest splits yet. From Nick and Damian explaining to Jon why Canada sucks like America, to LJN WWF Figures After Dark, to Degrassi Unity, to the evil that inspired Jon's new show, to harassing Dave Foley at a party, to Nick's attempted hostile takeover of TOAP: THIS IS NOT TO BE MISSED And don't miss Nick's podcast "Nick Flanagan, Weakly" at your favourite podcast store. Or, find him on instagram HERE Also, find Jon on instagram HERE [https://www.instagram.com/jondalygram/] and don't miss his podcast "Two Johns Don't Make A Right!" at you other favourite podcast store Also, don't miss Jon on tour as "Johnny Doiley" for the "Red, White and Blue Pilled Show": 09/26 LA 10/04 TORONTO (w/ Nick) 10/05 PHILLY 10/07 PITTSBURGH 10/08 CHICAGO 10/10 NY Get your tickets HERE, NOW [https://www.eventbrite.com/e/red-white-and-blue-pilled-with-johnny-doiley-tickets-723052488457?aff=erelexpmlt]
1 h 26 min
-
25. sep. 2023
Doug Martsch from Built To Spill is here
Episode 462: Today on Turned Out A Punk: Doug Martsch is built to spill the beans on his punk past! Listen in as Damian sits down, with one of Boise's favourite sons, to discuss the inspiration of Tad and Septic Death. From Treepeople's punk answer to critics, to grunge being overrated, to working with Brotherhood, to liking NoFX: THIS IS NOT TO BE MISSED! Also, don't miss Doug and Built To Spill on tour this fall, more info at builttospill.com [https://www.builttospill.com/shows]
En fantastisk app med et enormt stort udvalg af spændende podcasts. Podimo formår virkelig at lave godt indhold, der takler de lidt mere svære emner. At der så også er lydbøger oveni til en billig pris, gør at det er blevet min favorit app.
Rigtig god tjeneste med gode eksklusive podcasts og derudover et kæmpe udvalg af podcasts og lydbøger. Kan varmt anbefales, om ikke andet så udelukkende pga Dårligdommerne, Klovn podcast, Hakkedrengene og Han duo 😁 👍
Podimo er blevet uundværlig! Til lange bilture, hverdagen, rengøringen og i det hele taget, når man trænger til lidt adspredelse.
Tilgængelig overalt
Lyt til Podimo på din telefon, tablet, computer eller i bilen!
Et univers af underholdning på lyd
Tusindvis af lydbøger og eksklusive podcasts fra kun 79,00 kr. / måned
Ingen reklamer
Spild ikke tiden på at lytte til reklamepauser, når du lytter til Podimos indhold.