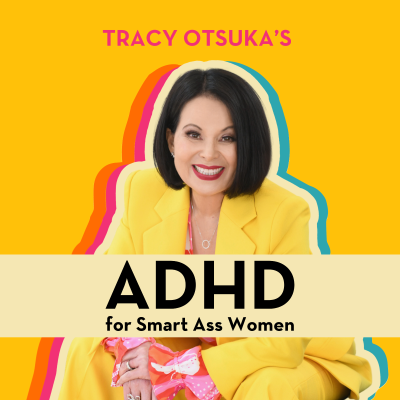 ADHD for Smart Ass Women with Tracy Otsuka
I have NEVER met an ADHD woman who wasn't truly brilliant at something! * * This podcast with over 5 million downloads is for smart, high-ability ADD/ADHD (diagnosed or suspecting) women who see their symptoms as more positive than negative. If you want to fall in love with your ADHD brain and discover where your brilliance lies, this podcast is for you! * * ADHD for Smart Ass Women is globally ranked in the top one-half percent of all podcasts in the world on any subject. It's streamed in more than 160 countries and is downloaded by more than 150,000 listeners every month. * * I'm Tracy Otsuka your host. I'm a lawyer, not a doctor, a life-long learner and a certified ADHD coach. I'm committed to changing the conversation around ADHD. * * When I was diagnosed eight months after my son, my entire life suddenly made perfect sense but all I heard and read about was everything that my ADHD brain SHOULD be struggling with when in fact I would come to learn that my ADHD is responsible for some of my greatest superpowers. * * One other thing, we constantly hear about all the successful ADHD men, but no one talks about the women. This podcast is here to change that dynamic. ADHD women are my people, and I'm here to acknowledge, support and cheer them on. * * *THE CONTENT IN THIS PODCAST IS NOT INTENDED TO BE A SUBSTITUTE FOR PROFESSIONAL MEDICAL ADVICE, DIAGNOSIS OR TREATMENT AND DOES NOT CONSTITUTE MEDICAL OR PROFESSIONAL ADVICE. NEVER DISREGARD PROFESSIONAL MEDICAL ADVICE OR DELAY IN SEEKING IT BECAUSE OF ANYTHING YOU HAVE SEEN OR HEARD FROM TRACY OTSUKA OR THIS PODCAST. 
Otros podcasts exclusivos
Los últimos episodios
Ep. 256 Cults, Child Marriage and ADHD Optimism with Dr. Tamara MC
Show Notes–Ep. 256: Cults, Child Marriage and ADHD Optimism with Dr. Tamara MC   Dr. Tamara MC is a cult, child marriage, and human trafficking Lived Experience Expert who advocates for girls and women to live free from gender-based violence worldwide. Married off at 12, Tamara has firsthand experience with fundamentalist cults, giving her valuable insight into how these organizations operate. She now uses her experience combined with her PhD in applied linguistics to research and educate others on how language is used to manipulate vulnerable populations.    Join my conversation with the wonderful Dr. Tamara MC to hear about her harrowing story and the bravery it took to leave, how ADHD, autism, OCD, and complex PTSD contributed to both her confinement and her freedom, ways to identify when a community is exhibiting cult-like behavior, and how to find optimism in the face of hopelessness.  Resources: Website: Facebook: Twitter: @ Instagram: @tamaramcphd LinkedIn:
EP. 255: Emotional Resilience in ADHD: Building a Happier Brain
Since tomorrow is Thanksgiving, I thought the topic of ADHD and gratitude couldn't be more perfect. Gratitude is so important for every single human to feel good, but for those of us with ADHD, it's crucial. With our dopamine deficiency, we can't get anything if we're not in positive emotion!    Positive emotion has been shown to increase dopamine, which drives our memory, our behavior, our focus, and our motivation. When we're in positive emotion, we get stuff done, we're happier, and we're more driven, and it all begins with a simple shift in mindset.    Join me for a special solo episode, where I'm sharing some easy and effective ways to change your thoughts from self-doubt to gratitude. Our thoughts have the power to create the lives we want, and I think you'll be amazed by how different life starts to look when you make positivity a priority. Resources: Tamara Rosier: drrosier@miadhd.com Vanessa Gorelkin: https://vanessagorelkin.com Denese Marshall: info@denesemarshall.com
EP. 254: In the ADHD/Autism Trenches with Dr. Nanci Smith
When Dr. Nanci Smith realized her neurodiverse childrens' needs weren't going to be met by the public school system, she knew she had to try a different approach to education. Luckily, Nanci has a background in psychobiology and is motivated by a challenge, so the transition to homeschooling was a no-brainer.    Nanci learned how to support her childrens' sensory, socio-emotional, and executive functioning needs, and along the way she learned how to support her own unique brain as well. She has since gone on to become certified with the Program for the Education and Enrichment of Relational Skills (PEERS®) social skills program, is an expert in teaching executive function skills, runs Improv classes for kids on the spectrum, and is training to become an ADHD Certified Clinical Services Provider.    Nanci's belief is that kids do well where they can, and her empathetic approach to education will have you seeing neurodivergence in a whole new way. Resources: Get $15 off classes at Outschool by entering coupon code NORELPODCAST15 at checkout. Promo available until Nov 28, 2024.
Muy buenos Podcasts , entretenido y con historias educativas y divertidas depende de lo que cada uno busque. Yo lo suelo usar en el trabajo ya que estoy muchas horas y necesito cancelar el ruido de al rededor , Auriculares y a disfrutar ..!!
Fantástica aplicación. Yo solo uso los podcast. Por un precio módico los tienes variados y cada vez más.
Me encanta la app, concentra los mejores podcast y bueno ya era ora de pagarles a todos estos creadores de contenido
Disponible en todas partes
¡Escucha Podimo en tu móvil, tablet, ordenador o coche!
Un universo de entretenimeinto en audio
Miles de podcast y audiolibros exlusivos desde USD 4.99/Mes
Sin anuncios
No pierdas tiempo escuchando anuncios cuando escuches los contenidos de Podimo.