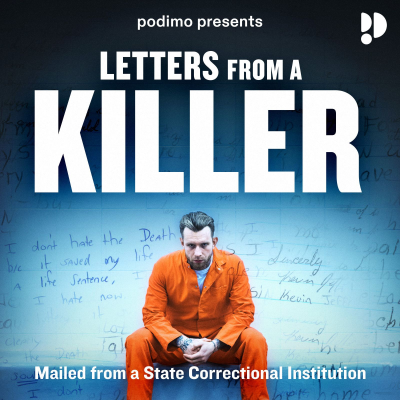 "Anyone can write to a prisoner on death row..." From the makers of the hit true-crime documentary series 'I Am a Killer' comes a gripping, immersive, and personal journey into the minds of murderers. Hosted by documentary makers Zoe Hines and Ned Parker, 'Letters From A Killer' reveals the intimate letters they've received from convicted murderers facing life in prison or the death penalty. Each episode, we explore the thoughts of men and women who kill through their own words, as Zoe and Ned delve into their motives, their crimes, and the stories the letters really tell. 'Letters From A Killer' is a Podimo (https://podimo.com/) podcast series produced by Transistor Films. Podimo is an open podcast platform, currently available in Denmark, Germany, Spain and Latin America which shares revenue with the creators. If you have a podcast you can claim your podcast now,  just visit http://podimo.com for more information. 
Otros podcasts exclusivos
Los últimos episodios
15: False Prophet
"I have asked Jesus Christ to forgive me these cowardly acts that I did back then and to give me a clean slate, and he has." In 2004, Richard Tabler murdered his boss and an associate in an execution-style shooting. While in prison, he read the Bible daily, quoted from scripture, and wrote a regular Christian brochure. Is finding religion a sign of rehabilitation, or is it simply the final throw of the dice for people found guilty of the most heinous crimes? In the final episode of this series, documentary makers Ned Parker and Zoe Hines discuss Richard Tabler's Letters From A Killer.
14: Ice Cream Killer
"He stopped for me to buy some ice cream. I told him I wanted to borrow his truck (and him) for a bit of a ride. I guess he thought I was playing. He soon changed his tune when I pulled out the revolver." In 1978, John Quinones stole an ice cream truck with the owner still inside. He picked up his friends, and then proceeded to sexually assault the owner, before driving him to a clearing and executing him. He claims that the situation just spiralled out of control. Zoe Hines and Ned Parker investigate his Letters From A Killer.
13: Death Row Reform
"I'm a lot more mature, and really glad I came to Death Row. I truly believe that Death Row saved my life, as crazy as that sounds." In 2004, Christopher Young stole a car at gunpoint, before driving to a convenience store and murdering the owner. While on death row, he reached out to youngsters, wrote books, and tried to turn his life around. Should these factors be considered in mitigating the crimes of a prisoner sentenced to die or are some people beyond rehabilitation? Documentary makers Ned Parker and Zoe Hines read his Letters From A Killer.
Muy buenos Podcasts , entretenido y con historias educativas y divertidas depende de lo que cada uno busque. Yo lo suelo usar en el trabajo ya que estoy muchas horas y necesito cancelar el ruido de al rededor , Auriculares y a disfrutar ..!!
Fantástica aplicación. Yo solo uso los podcast. Por un precio módico los tienes variados y cada vez más.
Me encanta la app, concentra los mejores podcast y bueno ya era ora de pagarles a todos estos creadores de contenido
Disponible en todas partes
¡Escucha Podimo en tu móvil, tablet, ordenador o coche!
Un universo de entretenimeinto en audio
Miles de podcast y audiolibros exlusivos desde USD 4.99/Mes
Sin anuncios
No pierdas tiempo escuchando anuncios cuando escuches los contenidos de Podimo.