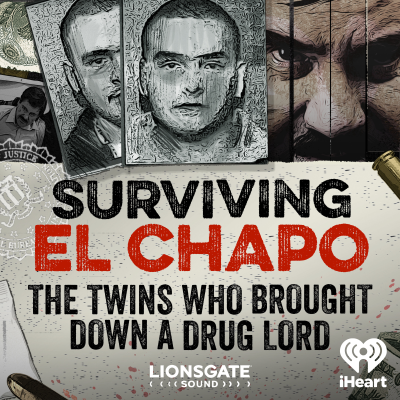 Surviving El Chapo: The Twins Who Brought Down A Drug Lord
Podcast de iHeartPodcasts
Identical twins Jay and Pete Flores, who were once North America's biggest drug traffickers and El Chapo's right hand men, turned themselves into the U.S. government with the hopes of starting a new, safer life for their family. But after years of cooperating to get the world's most powerful drug kingpin behind bars, and finally gaining their freedom with a chance to start again, everything for the Flores family began to unravel. In Season 2 of Surviving El Chapo, hosts Curtis "50 Cent" Jackson and Charlie Webster hear Jay and Pete reveal for the first time what really happened during their turbulent 14-year prison journey and what it was like to come face-to-face in court with El Chapo. Plus, find out the shocking backstory to the prison sentence that the Flores wives are currently facing. Hosted and executive produced by award-winning artist and producer Curtis "50 Cent" Jackson and critically acclaimed broadcast journalist and producer Charlie Webster. Brought to you by Lionsgate Sound as a world exclusive with iHeartPodcasts. 
Otros podcasts exclusivos
Los últimos episodios
Episode 9 - Life After Prison
Charlie sits down with the children to get their perspective. Jay discusses adjusting to life on the outside. Within months of the twins being released, their wives, Val and Viv, are arrested on money laundering charges.  See omnystudio.com/listener [https://omnystudio.com/listener] for privacy information.
Episode 8 - Freedom
COVID hits the prisons so the twins can't see their families for months. Jay spends 56 days in hospital. Finally, after 12 years in prison, the twins are released on the November 5th, 2020. See omnystudio.com/listener [https://omnystudio.com/listener] for privacy information.
Episode 7 - Testifying Against El Chapo
Pete takes to the witness stand to lay out the case against El Chapo. He explains to the jury the details of the recorded call and his relationship with El Chapo before being turned over to the Drug Lord's defense team for questioning. See omnystudio.com/listener [https://omnystudio.com/listener] for privacy information.
Muy buenos Podcasts , entretenido y con historias educativas y divertidas depende de lo que cada uno busque. Yo lo suelo usar en el trabajo ya que estoy muchas horas y necesito cancelar el ruido de al rededor , Auriculares y a disfrutar ..!!
Fantástica aplicación. Yo solo uso los podcast. Por un precio módico los tienes variados y cada vez más.
Me encanta la app, concentra los mejores podcast y bueno ya era ora de pagarles a todos estos creadores de contenido
Disponible en todas partes
¡Escucha Podimo en tu móvil, tablet, ordenador o coche!
Un universo de entretenimeinto en audio
Miles de podcast y audiolibros exlusivos desde USD 4.99/Mes
Sin anuncios
No pierdas tiempo escuchando anuncios cuando escuches los contenidos de Podimo.