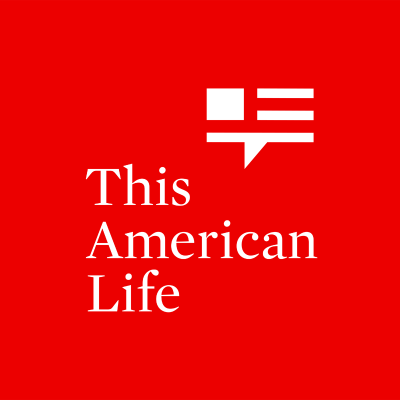 This American Life
Podcast de This American Life
Each week we choose a theme. Then anything can happen. This American Life is true stories that unfold like little movies for radio. Personal stories with funny moments, big feelings, and surprising plot twists. Newsy stories that try to capture what it's like to be alive right now. It's the most popular weekly podcast in the world, and winner of the first ever Pulitzer Prize for a radio show or podcast. Hosted by Ira Glass and produced in collaboration with WBEZ Chicago. 
Otros podcasts exclusivos
Los últimos episodios
816: Poultry Slam
During the highest turkey consumption period of the year, we bring you a This American Life tradition: stories of turkeys, chickens, geese, ducks, fowl of all kinds—real and imagined—and their mysterious hold over us. * Prologue: Ira Glass talks with Scharlette Holdman, who works with defense teams on high profile death row cases, and who has not talked to a reporter in more than 25 years. Why did she suddenly end the moratorium on press? Because her story is about something important: namely, a beautiful chicken. (2 minutes) * Act One: Scharlette Holdman's story continues, in which she and the rest of a legal defense team try to save a man on death row by finding a star witness — a chicken with a specific skill. (10 minutes) * Act Two: Yet another testimony to the power chickens have over our hearts and minds.  Jack Hitt reports on an opera about Chicken Little.  It's performed with dressed-up styrofoam balls, it's sung in Italian and, no kidding, able to make grown men cry. (14 minutes) * Act Three: Ira accompanies photographer Tamara Staples as she attempts to photograph chickens in the style of high fashion photography. The chickens are not very cooperative. (15 minutes) * Act Four: Kathie Russo's husband was Spalding Gray,  who was best known for delivering monologues onstage—like "Monster in a Box," and "Swimming to Cambodia." On January 10, 2004, he went missing. Witnesses said they saw him on the Staten Island Ferry that night. Two months later, his body was pulled out of the East River. Kathie tells the story of the night he disappeared, and about how, in the weeks following, she and each of their three children were visited by a bird, who seemed to be delivering a message to them. (9 minutes) Transcripts are available at thisamericanlife.org [https://www.thisamericanlife.org/816/transcript]
815: How I Learned to Shave
Things our dads taught us, whether they intended to or not. * Prologue: Ira talks about the time his dad taught him to shave, and how unusual that was. (5 minutes) * Act One: When Jackie read the obits for the man who had invented the famous Trapper Keeper notebook, she was very surprised. As far as she knew, the inventor was very much alive. It was her dad. Not the guy in the obit. (15 minutes) * Act Two: A father and son find themselves in a very traditional relationship. Until the end. (21 minutes) * Act Three: Simon Rich reads his short story "History Report," in which a father explains the sex robots of the future. And other things as well. (14 minutes) Transcripts are available at thisamericanlife.org [https://www.thisamericanlife.org/815/transcript]
814: Parents Are People
What happens when you realize the people in charge don't have the answers. * Prologue: Guest Host Chana Joffe-Walt asks her kids when they first encountered adult fallibility. (8 minutes) * Act One: A middle schooler really wants to trust the adults have her best interests in mind. But some of the most powerful people at her school begin to make that very difficult. (27 minutes) * Postscript: In Israel and Gaza, children are directly facing the fact that the adults around them cannot protect them. (4 minutes) * Act Two: Comedian Gary Gulman on a choice his dad made for him when he was seven years old. (11 minutes) * Act Three: There are many kids who do not gradually discover that grown ups don't have a handle on everything.  These kids already know. Miriam Toews's novel, "Fight Night," is about a nine-year-old named Swiv who takes care of her grandma and manages her mom's mental health struggles. Even simple tasks can become complicated, like taking them both on the bus. (7 minutes) Transcripts are available at thisamericanlife.org [https://www.thisamericanlife.org/814/transcript]
Muy buenos Podcasts , entretenido y con historias educativas y divertidas depende de lo que cada uno busque. Yo lo suelo usar en el trabajo ya que estoy muchas horas y necesito cancelar el ruido de al rededor , Auriculares y a disfrutar ..!!
Fantástica aplicación. Yo solo uso los podcast. Por un precio módico los tienes variados y cada vez más.
Me encanta la app, concentra los mejores podcast y bueno ya era ora de pagarles a todos estos creadores de contenido
Disponible en todas partes
¡Escucha Podimo en tu móvil, tablet, ordenador o coche!
Un universo de entretenimeinto en audio
Miles de podcast y audiolibros exlusivos desde USD 4.99/Mes
Sin anuncios
No pierdas tiempo escuchando anuncios cuando escuches los contenidos de Podimo.