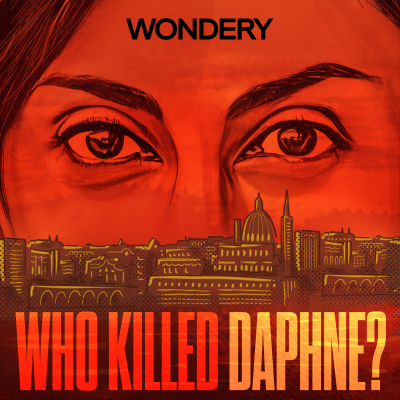 When a car bomb kills Daphne Caruana Galizia on the beautiful Mediterranean island of Malta, the hunt for her killers exposes secrets with consequences that go far beyond its shores. In the aftermath of her death an international team of journalists comes together to continue her work. Along the way they start to uncover clues that might lead to her killers. From Wondery, comes a new story about power, corruption and one woman's fight for the truth. Hosted by investigative reporter Stephen Grey. 
Otros podcasts exclusivos
Los últimos episodios
Listen Now: Legacy
Afua Hirsch and Peter Frankopan tell the wild stories of some of the most extraordinary men and women ever to have lived – and ask whether they have the rep they deserve. Should Nina Simone's role in the civil rights movement be more celebrated than it is? When you find out what Picasso got up to in his studio, can you still admire his art? Was Napoleon a hero or a tyrant - or both? (And, while we're at it, was he even short?) Legacy is the show that looks at big lives from the perspective of now – and doesn't always like what it sees. Follow Legacy on the Wondery App or wherever you get your podcasts. Prime Members can binge full seasons of Legacy early and ad-free on Amazon Music. Download the app today. See Privacy Policy at https://art19.com/privacy [https://art19.com/privacy] and California Privacy Notice at https://art19.com/privacy#do-not-sell-my-info [https://art19.com/privacy#do-not-sell-my-info].
"48 Hours" Presents: My Life of Crime | Twisted Twins: Who Killed Heather DeWild?
"48 Hours" correspondent Erin Moriarty takes you inside true-crime investigations like no one else, in her podcast "My Life of Crime". In the new season, Erin delves into the labyrinth of crime within families and the secrets that kept them together or tore them apart. Here's a preview of the "My Life of Crime" season premiere, "Twisted Twins: Who Killed Heather DeWild?" Erin examines the case of 30-year-old Heather DeWild, who vanished after visiting her soon-to-be ex-husband Daniel DeWild's home. Investigators soon focused not only on Daniel, but also his identical twin brother, David. While Daniel was not forthcoming, investigators were convinced David had something to say, but could police break through their tight twin bond? What could cause a person, or persons, to destroy their family? You can hear the rest of the episode on "My Life of Crime", from CBS News. Listen wherever you get your podcasts: Wondery.fm/MLOC [http://wondery.fm/MLOC]  See Privacy Policy at https://art19.com/privacy [https://art19.com/privacy] and California Privacy Notice at https://art19.com/privacy#do-not-sell-my-info [https://art19.com/privacy#do-not-sell-my-info].
See You All In Hell | 8
George Degiorgio stands trial for Daphne's murder, months after he admitted her killing was 'just business' on this podcast. Stephen Grey speaks with reporter Matthew Agius about an eventful day in court and how Degiorgio's prison confession has affected the case. Please support us by supporting our sponsors! See Privacy Policy at https://art19.com/privacy [https://art19.com/privacy] and California Privacy Notice at https://art19.com/privacy#do-not-sell-my-info [https://art19.com/privacy#do-not-sell-my-info].
Muy buenos Podcasts , entretenido y con historias educativas y divertidas depende de lo que cada uno busque. Yo lo suelo usar en el trabajo ya que estoy muchas horas y necesito cancelar el ruido de al rededor , Auriculares y a disfrutar ..!!
Fantástica aplicación. Yo solo uso los podcast. Por un precio módico los tienes variados y cada vez más.
Me encanta la app, concentra los mejores podcast y bueno ya era ora de pagarles a todos estos creadores de contenido
Disponible en todas partes
¡Escucha Podimo en tu móvil, tablet, ordenador o coche!
Un universo de entretenimeinto en audio
Miles de podcast y audiolibros exlusivos desde USD 4.99/Mes
Sin anuncios
No pierdas tiempo escuchando anuncios cuando escuches los contenidos de Podimo.