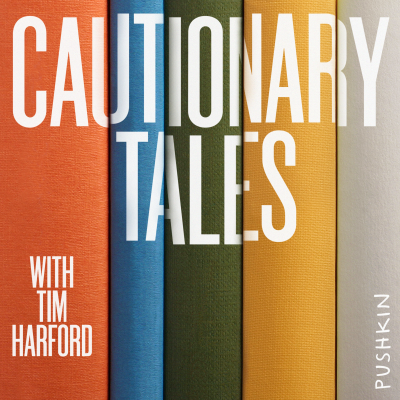 Cautionary Tales with Tim Harford
Podcast af Pushkin Industries
We tell our children unsettling fairy tales to teach them valuable lessons, but these Cautionary Tales are for the education of the grown ups – and they are all true. Tim Harford (Financial Times, BBC, author of "The Data Detective") brings you stories of awful human error, tragic catastrophes, and hilarious fiascos. They'll delight you, scare you, but also make you wiser. New episodes every other Friday. 
Seneste episoder
Cautionary Tales Presents: Getting out of Dodge from Revisionist History
The longest running television series of the 20th century was Gunsmoke, a western set in the notorious Dodge City, Kansas. Malcolm sweeps away mountains of legal scholarship to make a bold claim: The simplest explanation for the Supreme's Court's puzzling run of gun rights decisions may be that the justices watched too much Gunsmoke when they were growing up. Enjoy this episode from Revisionist History [https://podcasts.apple.com/us/podcast/revisionist-history/id1119389968], another Pushkin Industries podcast. See omnystudio.com/listener [https://omnystudio.com/listener] for privacy information.
A Chorus of Contempt at The Sydney Opera House
1957. Jørn Utzon receives a phone call: he's just won an international competition to design a brand new opera house for the Australian city of Sydney. Utzon is unknown in the field, so this is a triumph. The young architect couldn't have imagined what a bitter victory it would turn out to be... The Guggenheim in Bilbao; the Burj Khalifa in Dubai; the Shard in London. These days, everyone seems to want an iconic building. But Sydney Opera House was the first, the greatest – and the most painful. It's now fifty years since the Opera House was opened. This is its origin story. For a full list of sources, please see the show notes at timharford.com [http://timharford.com/]. See omnystudio.com/listener [https://omnystudio.com/listener] for privacy information.
The City That Sold Itself To Wall Street
Cautionary Book Club:When Morgan Stanley offered to lease Chicago's parking meters for the princely sum of $1 billion, the City Council were convinced that they had struck gold. They hastily signed the deal. But they soon learnt that they hadn't just traded away parking revenue - they had traded away the streets themselves... In this hybrid episode of Cautionary Tales, Tim Harford first tells the story of the Chicago parking metres fiasco of 2008. In the second half, Tim is joined by Henry Grabar, author of Paved Paradise, to discuss the lessons we can glean from Chicago's deal with Wall Street, and why parking is such an emotive issue for so many. See omnystudio.com/listener [https://omnystudio.com/listener] for privacy information.
En fantastisk app med et enormt stort udvalg af spændende podcasts. Podimo formår virkelig at lave godt indhold, der takler de lidt mere svære emner. At der så også er lydbøger oveni til en billig pris, gør at det er blevet min favorit app.
Rigtig god tjeneste med gode eksklusive podcasts og derudover et kæmpe udvalg af podcasts og lydbøger. Kan varmt anbefales, om ikke andet så udelukkende pga Dårligdommerne, Klovn podcast, Hakkedrengene og Han duo 😁 👍
Podimo er blevet uundværlig! Til lange bilture, hverdagen, rengøringen og i det hele taget, når man trænger til lidt adspredelse.
Tilgængelig overalt
Lyt til Podimo på din telefon, tablet, computer eller i bilen!
Et univers af underholdning på lyd
Tusindvis af lydbøger og eksklusive podcasts fra kun 79,00 kr. / måned
Ingen reklamer
Spild ikke tiden på at lytte til reklamepauser, når du lytter til Podimos indhold.