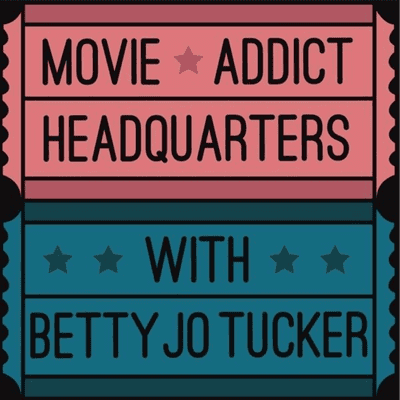 Movie Addict Headquarters
Podcast af Betty Jo Tucker
Join film critic Betty Jo Tucker, a confirmed movie addict, as she rants and raves about all things cinematic with a variety of co-hosts, producer Nikki Starr and noted movie critics – plus lots of fascinating film folks. 
Seneste episoder
Rocky Horror Time Warp with Barry Bostwick
Award-winning actor Barry Bostwick discusses The Rocky Horror Picture Show in a Movie Addict Headquarters vintage tribute to that bizarre cult classic. He also talks with Alan Levy, co-founder and CEO of BlogTalkRadio, concerning the popular midnight shows connected with this outrageous movie. Bostwick, who played the key role of "Brad Majors" (Susan Sarandon's naïve boyfriend), speaks candidly about his experiences connected with the film -- including weather problems, what it was like working with Sarandon, his favorite scene in the movie, and much more.  Bostwick has appeared in over 100 films and television productions. Although best-known as the clueless mayor on Spin City, he's a triple-threat entertainer -- singer, dancer, actor -- who created the role of Danny Zuko in Grease on Broadway and won a Tony for his work in The Robber Bridegroom. He's appeared in such TV programs as Cougar Town, Glee, Scrubs, Law & Order Special Victims Unit, Las Vegas, George Washington, and War and Remembrance (for which he earned a Golden Globe). Among Bostwick's numerous movies are: Movie Movie; 101 Dalmatians II; Spy Hard; Some Guy Who Kills People; and FDR: American Badass.  Let's do The Time Warp again!
Happy Movie Tunes To Make You Smile
Movie Addict Headquarters presents another 15-minute musical episode to make you smile. It's important during these difficult times not to lose our ability to enjoy and to be entertained by wonderful songs. In this lively show, happy movie tunes are performed by the following stars: Gene Kelly, Elvis Presley, Kenny Loggins, Charlie Chaplin, Julie Andrews, Dick Van Dyke. These tunes were show stoppers in Singin' in the Rain, Viva Las Vegas, Footloose, Modern Times and Mary Poppins. Listeners are invited to sing along as the spirit moves them. What fun!
Four Film Ladies Sing Fun Songs
To help listeners get through the "stay home" blues, Movie Addict Headquarters has put together fifteen minutes of sheer musical FUN. Four funny ladies of film are featured in this special episode. The talented quartet includes Madeline Kahn, Julie Andrews, Lucille Ball and Gilda Radner. Each one performs a silly song guaranteed to put a smile on your face. Madeline Kahn sings You'd Be Surprised, a relatively unknown Irving Berlin tune she performed at Carnegie Hall as part of Berlin's 100th Birthday Celebration in 1988. The song was also sung by Olga San Juan in Blue Skies, a 1946 movie starring Fred Astaire and Bing Crosby. Julie Andrews warbles A Spoon Full of Sugar Makes the Medicine Go Down from the original Mary Poppins in 1964.  Robert B. Sherman and Richard M. Sherman composed this memorable ditty. Lucille Ball belts out Mother, What Do I Do Now, her comedy burlesque number in Dance, Girl, Dance, an amusing 1940s film co-starring Maureen O'Hara. The music and lyrics for this raucous number are by Chet Forrest and Bob Wright.  Gilda Radner sings and taps her way into our hearts in I Love To Be Unhappy, an unforgettable performance from Gilda Live from New York, her 1979 stage show.
En fantastisk app med et enormt stort udvalg af spændende podcasts. Podimo formår virkelig at lave godt indhold, der takler de lidt mere svære emner. At der så også er lydbøger oveni til en billig pris, gør at det er blevet min favorit app.
Rigtig god tjeneste med gode eksklusive podcasts og derudover et kæmpe udvalg af podcasts og lydbøger. Kan varmt anbefales, om ikke andet så udelukkende pga Dårligdommerne, Klovn podcast, Hakkedrengene og Han duo 😁 👍
Podimo er blevet uundværlig! Til lange bilture, hverdagen, rengøringen og i det hele taget, når man trænger til lidt adspredelse.
Tilgængelig overalt
Lyt til Podimo på din telefon, tablet, computer eller i bilen!
Et univers af underholdning på lyd
Tusindvis af lydbøger og eksklusive podcasts fra kun 79,00 kr. / måned
Ingen reklamer
Spild ikke tiden på at lytte til reklamepauser, når du lytter til Podimos indhold.