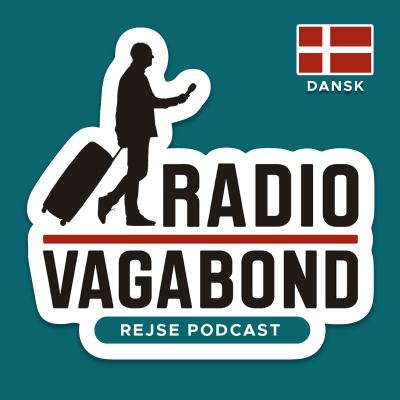 Palle Bo er en radiomand, der har solgt sit hus, sin bil og alle sine møbler, for at rejse jorden rundt. Han har en ambition om at besøge alle lande i verden, og du kan tage med på rejsen i denne podcast. Tag med på i mødet med de lokale og oplev Palles begejstring og bekymring over livet som digital nomade. 
Seneste episoder
333 BOLIVIA: Fantastiske spejlbilleder i Uyuni Salt Flats
Today, we're in Southern Bolivia for this leg of my South American journey in one of the most remarkable landscapes on earth. We're in Uyuni Salt Flats. But we start at "The Train Cemetery" to see the first locomotives in Bolivia. This train graveyard, locally known as "Cementerio de Trenes," is a fascinating and eerie attractionlocated [https://maps.app.goo.gl/CaACvhZhGnsPgFCH6]just outside the town of Uyuni in Bolivia. It is where old, rusting train locomotives and railcars from the late 19th and early 20th centuries have been left to deteriorate and slowly decay in the harsh, arid landscape of the Bolivian Altiplano. And then we headed to one of Mother Earth's most surreal and breathtaking wonders: the Salar de Uyuni, also known as the Uyuni Salt Flats, in the southwest corner of Bolivia, near the crest of the Andes. I'm here in the rainy season, meaning a thin layer of water covers the salt crust. It creates a seamless reflection of the sky above, and the boundary between the heavens and the Earth becomes blurred as clouds, sunsets, and even bodies are duplicated on the salt flats' mirror-like surface. David and our driver set up a small table and some plastic chairs in the middle of all this. And with our feet in the salty water, we had a wonderful and surreal lunch. As night falls, the Salar de Uyuni takes on a new personality. The colours of the sunset were nothing less than spectacular. And by far the most amazing sunset I've ever witnessed in my life. Again, we went nuts with taking pictures and videos. Exploring the Salt Flats is an adventure like no other. It's a photographer's dream come true, where every angle reveals a new perspective. Make sure you go to theblog post for this episode [https://www.theradiovagabond.com/284-bolivia]and@Radiovagabond on Instagram [https://www.instagram.com/radiovagabond/]to see the pictures. The next morning, we continued our trip to the southwestern part of the country, nearer to the border with Chile. First, we drive through "The High Flats" and then into the "High Andes" andSiloli Dessert [https://maps.app.goo.gl/HiEZ4QekdCFBwbna6]. Being between 4500 and 4700 meters above sea level, it's the highest desert in South America. We make a stop at a lake calledLaguna Q'ara [https://maps.app.goo.gl/SD3MmZx4Hy5pPNPe9]and then continue a bit south to another high-altitude lake named Laguna Colorada. It's another one of Bolivia's most captivating natural wonders. One of the most iconic features of these lakes is its resident population of flamingos. On the last morning of the tour, our alarm clock was set to 4 am. We're greeted by the breathtaking sight of Laguna Salada. Their still waters reflect the early morning sky with hues of orange, pink, and gold. Here, geysers are natural wonders that erupt with bursts of steam and hot water, putting on a mesmerizing show. The geysers add an exciting element to our morning as we watch them spout their steam into the crisp air. At Termas de Polques at Laguna Salada, we get in the pool of the natural hot springs. As we're in the water, we can watch the rocky formations and the rugged beauty of the Andes as the sun rises. These pools offer a soothing warmth that's especially inviting on a chilly morning like this one. At the end of the trip, the car was driving back to Uyuni, but we asked to be dropped off at the border to Chile and continue our South American journey that way. It was indeed three remarkable days in this picturesque part of the world.
NORDMAKEDONIEN: Lost in Translation (flashback)
Tag med på besøg i en by, der næsten har flere statuer end indbyggere. Og så bliver jeg interviewet og en del går tabt i oversættelsen.
332 SYV DIGITALE NOMADER (7:7): Gode råd til nye digitale nomader
Discover the Insider's Guide to Thriving as a Digital Nomad Have you heard these myths about the digital nomad lifestyle? * Myth #1: It's all about lounging on the beach with a laptop. * Myth #2: You need to have a lot of money saved up to start. * Myth #3: It's impossible to have a stable income. In this last episode of this miniseries, my guest experts will reveal the truth and provide valuable tips for aspiring digital nomads. You will discover the secrets of the digital nomad lifestyle in this riveting episode. As the seven experienced nomads share their tips and advice, you'll be on the edge of your seat, eagerly awaiting the next nugget of wisdom. Again, my special panel of digital nomads is Ranika Koneru, Shaun Busuttil, Nora Dunn, Chris Cerra, Gianni Bianchini, Jason Robinson, and Mr. Derek Smith. In the episode, you will hear there's no right or wrong way to be a digital nomad. Just listen to your gut feeling and do what's right for you. You can also read the blog post on TheRadioVagabond.com/282-seven-nomads-7 [https://www.theradiovagabond.com/282-seven-nomads-7]. THE KEY MOMENTS * 00:00 - Welcome to the last episode in this miniseries * 03:17 - Starting Small and Testing the Waters * 05:19 - The Importance of Planning and Networking * 07:55 - Understanding the Challenges and Benefits * 10:07 - Taking Baby Steps and Constant Progress * 14:47 - The Importance of Stability in Digital Nomadism * 15:51 - Overcoming Fear and Embracing the World * 17:45 - Finding Your Own Path as a Digital Nomad * 19:39 - Learning from Past Mistakes * 26:57 - The Cost of Digital Nomadism * 29:33 - Reviews and Definition of Digital Nomad * 32:06 - Labels and Definitions of Digital Nomad * 34:28 - The Future of Nomadic Life * 35:18 - Individual Choices in Nomadism * 36:19 - Future of the Radio Vagabond NOMAD LINKS * Visit Jason Robinson's travel blog, TheNomadExperiment.com [https://www.thenomadexperiment.com/] and follow him on Instagram as @TheNomadExperiment [https://www.instagram.com/thenomadexperiment/]. * Follow Nora Dunn's YouTube channel [https://www.youtube.com/@NoraDunn] with tips on travel and travel gear, her blog, TheProfessionalHobo [https://www.theprofessionalhobo.com/], and on Instagram as @TheProfessionalHobo [https://www.instagram.com/theprofessionalhobo/]. * Follow travel writer Shaun Busuttil on his blog "ShaunBusuttil [https://www.shaunbusuttil.com/].com" and on Instagram as @TheShaunBusuttil [http://instagram.com/theshaunbusuttil]. * Subscribe to Chris Cerra's email newsletter, RemoteBase.co [https://remotebase.co/], for the best accommodation deals for digital nomads. Use promo code VAGA20 to get 20% off on his Premium Newsletter forever. He's @nomadaccommodationguy [https://www.instagram.com/nomadaccommodationguy/] on Instagram. * Check out Mr. Derek Smith's website on public speaking [https://mrdereksmith.com/]. He's @Mr_Derek_Smith [https://www.instagram.com/mr_derek_smith/] on Instagram. * Check out Ranika Koneru's company, Cloud Connections [https://www.cloudconnections.co/], for inspiring group travel experiences to the world's greatest festivals. She's on Instagram as @RainbowRani_ [https://www.instagram.com/rainbowrani_/]. * Explore Gianni Bianchini's travel blog, Nomad Is Beautiful [https://nomadisbeautiful.com/], YouTube channel [https://www.youtube.com/@Gianni.Bianchini], and podcast [https://giannibianchini.net/podcast/] for digital nomad advice and insights. On Instagram as@Gianni.Bianchini [https://www.instagram.com/gianni.bianchini/]. * Connect with Palle Bo on YouTube [https://www.youtube.com/@Theradiovagabond], LinkedIn [https://www.linkedin.com/in/pallebo], Facebook [https://www.facebook.com/theradiovagabond], and Twitter [https://www.twitter.com/radiovagabond]. See all the links here [file:///Users/PalleBo/Radioguru%20Dropbox/Palle%20Bo/Produktion/RadioVagabond/-%20Recordings%20UNEDITED/230607%20Bansko/%20Texts/lt].
En fantastisk app med et enormt stort udvalg af spændende podcasts. Podimo formår virkelig at lave godt indhold, der takler de lidt mere svære emner. At der så også er lydbøger oveni til en billig pris, gør at det er blevet min favorit app.
Rigtig god tjeneste med gode eksklusive podcasts og derudover et kæmpe udvalg af podcasts og lydbøger. Kan varmt anbefales, om ikke andet så udelukkende pga Dårligdommerne, Klovn podcast, Hakkedrengene og Han duo 😁 👍
Podimo er blevet uundværlig! Til lange bilture, hverdagen, rengøringen og i det hele taget, når man trænger til lidt adspredelse.
Tilgængelig overalt
Lyt til Podimo på din telefon, tablet, computer eller i bilen!
Et univers af underholdning på lyd
Tusindvis af lydbøger og eksklusive podcasts fra kun 79,00 kr. / måned
Ingen reklamer
Spild ikke tiden på at lytte til reklamepauser, når du lytter til Podimos indhold.