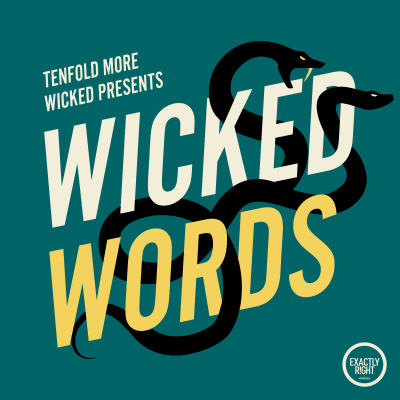 Tenfold More Wicked Presents: Wicked Words
Podcast af Exactly Right Media – the original true crime comedy network
Wicked Words is a unique blend of narrative, nonfiction, true crime storytelling with in-depth interviewing. Host Kate Winkler Dawson interviews journalists and writers about their best true crime cases including the filmmaker who investigated the Long Island serial killer, the forensic psychologist who spent years exploring the mind of BTK killer Dennis Rader, and a New York Times best-selling author who went to school with a serial killer. These are the stories behind the stories. 
Seneste episoder
Sandra Hempel: The Inheritor's Powder
A wealthy man is poisoned in 1830s England, and there are many suspects, including several heirs. Would coffee grounds prove to be crucial evidence in a murder case that helped change forensics? Sandra Hempel in her book, The Inheritor's Powder, tells us the story of a determined chemist who shifted the outcome of a historic case. Buy my books:katewinklerdawson.com [http://katewinklerdawson.com/] If you have suggestions for historical crimes that could use some attention, email me:info@tenfoldmorewicked.com [info@tenfoldmorewicked.com] Follow me on social: @tenfoldmore (Twitter) / @tenfoldmorewicked (Facebook and Instagram) 2023 All Rights Reserved See Privacy Policy at https://art19.com/privacy [https://art19.com/privacy] and California Privacy Notice at https://art19.com/privacy#do-not-sell-my-info [https://art19.com/privacy#do-not-sell-my-info].
Nathan Masters: Crooked
A man is found dead from a gunshot wound in Washington DC in 1923. He's an aide and a confidante to a powerful politician, the attorney general of the United States. Was his death a murder or a suicide? Author Nathan Masters tells us the story at the center of his book: Crooked. Buy my books:katewinklerdawson.com [http://katewinklerdawson.com/] If you have suggestions for historical crimes that could use some attention, email me:info@tenfoldmorewicked.com [info@tenfoldmorewicked.com] Follow me on social: @tenfoldmore (Twitter) / @tenfoldmorewicked (Facebook and Instagram) 2023 All Rights Reserved See Privacy Policy at https://art19.com/privacy [https://art19.com/privacy] and California Privacy Notice at https://art19.com/privacy#do-not-sell-my-info [https://art19.com/privacy#do-not-sell-my-info].
June Hur: The Red Palace
Have you ever heard of the Rice Chest Prince? It's a real story from Korean history, and it's a fascinating look at the dynamic between a king and his son, and how it turned so tragic. Author June Hur explores her culture in her novel, The Red Palace, as she uses the Prince's story for inspiration. Buy my books:katewinklerdawson.com [http://katewinklerdawson.com/] If you have suggestions for historical crimes that could use some attention, email me:info@tenfoldmorewicked.com [info@tenfoldmorewicked.com] Follow me on social: @tenfoldmore (Twitter) / @tenfoldmorewicked (Facebook and Instagram) 2023 All Rights Reserved See Privacy Policy at https://art19.com/privacy [https://art19.com/privacy] and California Privacy Notice at https://art19.com/privacy#do-not-sell-my-info [https://art19.com/privacy#do-not-sell-my-info].
En fantastisk app med et enormt stort udvalg af spændende podcasts. Podimo formår virkelig at lave godt indhold, der takler de lidt mere svære emner. At der så også er lydbøger oveni til en billig pris, gør at det er blevet min favorit app.
Rigtig god tjeneste med gode eksklusive podcasts og derudover et kæmpe udvalg af podcasts og lydbøger. Kan varmt anbefales, om ikke andet så udelukkende pga Dårligdommerne, Klovn podcast, Hakkedrengene og Han duo 😁 👍
Podimo er blevet uundværlig! Til lange bilture, hverdagen, rengøringen og i det hele taget, når man trænger til lidt adspredelse.
Tilgængelig overalt
Lyt til Podimo på din telefon, tablet, computer eller i bilen!
Et univers af underholdning på lyd
Tusindvis af lydbøger og eksklusive podcasts fra kun 79,00 kr. / måned
Ingen reklamer
Spild ikke tiden på at lytte til reklamepauser, når du lytter til Podimos indhold.