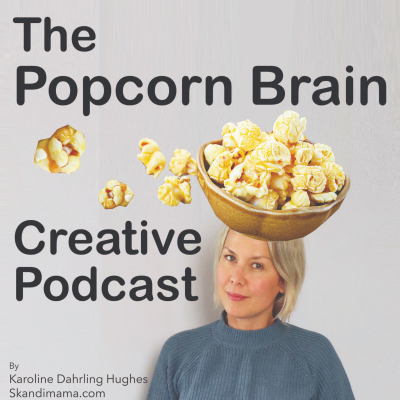 The Popcorn Brain Creative Podcast
Podcast af Karoline Dahrling Hughes
The Popcorn Brain Creative Podcast is a podcast by Karoline Dahrling Hughes, sewing book author and crafty blogger from Skandimama.com about juggling a creative popcorn brain while juggling everything else. Karoline is a crafter, sewist, painter, upcycler and she generally loves to use whatever she has lying around for creating, so no matter what field of craft you are in, there will be something for you in this podcast. 
Seneste episoder
From fashion designer to being an artist - and being true to your heart: Interview with Malene Grotrian
This is such a special episode to me.  I am happy and proud to be interviewing my old friend from Teko designschool and the good old Vancouver days, Malene Herskind Grotrian. It brought such happiness to my heart to hear Malenes clever words and interesting journey from being a fashion designer and coming back to a life as an artist. And remember to listen all the way to the end to hear the wise advice on how to check in with yourself. Follow Malene here @malene_grotrian @itbeginswithaquestion https://www.facebook.com/malene.grotrian http://www.malenegrotrianart.com/
How to silence your inner critic with Paulette Erato
Sometimes you talk to a stranger and it just feels so easy and insanely interesting. That is what it was like chatting to Paulette Erato from www.petitefont.com [../../] Paulette is an awesome creative sewist – among so many other things, and she has so many wise and deep things to say about overcoming the fear, how to silence the inner critic, and basically free yourself creatively. I was so happy to have this talk and I hope you enjoy it too – I am sure you will. See more of Paulette here: https://themakermuse.co/ [https://themakermuse.co/]  -  https://instagram.com/themakermuse.co [https://instagram.com/themakermuse.co?utm_medium=copy_link&fbclid=IwAR3rv4V0co6weHhtf1ARhg5OLR3_fJfK--TgQEAxoMOyiQ2YjXNs1WdQw_I] -  https://www.instagram.com/pfont/ [https://www.instagram.com/pfont/] and https://www.facebook.com/groups/makermindsethappyhour [https://www.facebook.com/groups/makermindsethappyhour]
Climbing the creative mountain - Talking creativity and inspiration from real life with Stine from @Stinestregen
I am a big, longtime fan of Stine. She began with a daily webcomic that I loved to read every day. Now she has published several books, comics, journaled diaries and even a crochet book. She also has a daily comic strip in a big Danish newspaper. We talk about imposter syndrome, climbing the mountain of hard work, and riding the rush wave from doing all the things you just told yourself you could not do.
En fantastisk app med et enormt stort udvalg af spændende podcasts. Podimo formår virkelig at lave godt indhold, der takler de lidt mere svære emner. At der så også er lydbøger oveni til en billig pris, gør at det er blevet min favorit app.
Rigtig god tjeneste med gode eksklusive podcasts og derudover et kæmpe udvalg af podcasts og lydbøger. Kan varmt anbefales, om ikke andet så udelukkende pga Dårligdommerne, Klovn podcast, Hakkedrengene og Han duo 😁 👍
Podimo er blevet uundværlig! Til lange bilture, hverdagen, rengøringen og i det hele taget, når man trænger til lidt adspredelse.
Tilgængelig overalt
Lyt til Podimo på din telefon, tablet, computer eller i bilen!
Et univers af underholdning på lyd
Tusindvis af lydbøger og eksklusive podcasts fra kun 79,00 kr. / måned
Ingen reklamer
Spild ikke tiden på at lytte til reklamepauser, når du lytter til Podimos indhold.