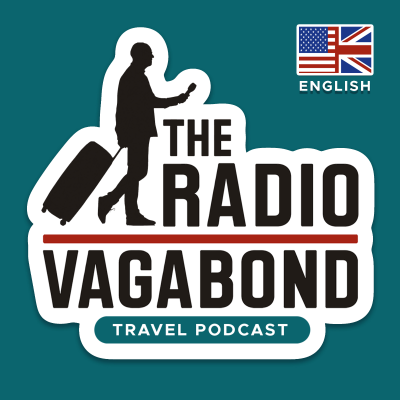 Palle Bo is a long time radioproducer who has sold his house, car and all of his furniture so he could travel around the world. He has an ambition to visit every country in the world and you can join his trip in this podcast. Come along as he meet the locals and experience Palle's excitements and concerns regarding the life as digital nomad. 
Seneste episoder
NORTH MACEDONIA: Lost in Translation (Flashback)
Join me in a city with (almost) more statues than people. At least it seems like that. I also get interviewed and it seemed like some things got lost in translation.
283 SEVEN DIGITAL NOMADS (7:7): Advice for Wannabe Digital Nomads
Discover the Insider's Guide to Thriving as a Digital Nomad Have you heard these myths about the digital nomad lifestyle? * Myth #1: It's all about lounging on the beach with a laptop. * Myth #2: You need to have a lot of money saved up to start. * Myth #3: It's impossible to have a stable income. In this last episode of this miniseries, my guest experts will reveal the truth and provide valuable tips for aspiring digital nomads. You will discover the secrets of the digital nomad lifestyle in this riveting episode. As the seven experienced nomads share their tips and advice, you'll be on the edge of your seat, eagerly awaiting the next nugget of wisdom. Again, my special panel of digital nomads is Ranika Koneru, Shaun Busuttil, Nora Dunn, Chris Cerra, Gianni Bianchini, Jason Robinson, and Mr. Derek Smith. In the episode, you will hear there's no right or wrong way to be a digital nomad. Just listen to your gut feeling and do what's right for you. You can also read the blog post on TheRadioVagabond.com/282-seven-nomads-7 [https://www.theradiovagabond.com/282-seven-nomads-7]. THE KEY MOMENTS * 00:00 - Welcome to the last episode in this miniseries * 03:17 - Starting Small and Testing the Waters * 05:19 - The Importance of Planning and Networking * 07:55 - Understanding the Challenges and Benefits * 10:07 - Taking Baby Steps and Constant Progress * 14:47 - The Importance of Stability in Digital Nomadism * 15:51 - Overcoming Fear and Embracing the World * 17:45 - Finding Your Own Path as a Digital Nomad * 19:39 - Learning from Past Mistakes * 26:57 - The Cost of Digital Nomadism * 29:33 - Reviews and Definition of Digital Nomad * 32:06 - Labels and Definitions of Digital Nomad * 34:28 - The Future of Nomadic Life * 35:18 - Individual Choices in Nomadism * 36:19 - Future of the Radio Vagabond NOMAD LINKS * Visit Jason Robinson's travel blog, TheNomadExperiment.com [https://www.thenomadexperiment.com/] and follow him on Instagram as @TheNomadExperiment [https://www.instagram.com/thenomadexperiment/]. * Follow Nora Dunn's YouTube channel [https://www.youtube.com/@NoraDunn] with tips on travel and travel gear, her blog, TheProfessionalHobo [https://www.theprofessionalhobo.com/], and on Instagram as @TheProfessionalHobo [https://www.instagram.com/theprofessionalhobo/]. * Follow travel writer Shaun Busuttil on his blog "ShaunBusuttil [https://www.shaunbusuttil.com/].com" and on Instagram as @TheShaunBusuttil [http://instagram.com/theshaunbusuttil]. * Subscribe to Chris Cerra's email newsletter, RemoteBase.co [https://remotebase.co/], for the best accommodation deals for digital nomads. Use promo code VAGA20 to get 20% off on his Premium Newsletter forever. He's @nomadaccommodationguy [https://www.instagram.com/nomadaccommodationguy/] on Instagram. * Check out Mr. Derek Smith's website on public speaking [https://mrdereksmith.com/]. He's @Mr_Derek_Smith [https://www.instagram.com/mr_derek_smith/] on Instagram. * Check out Ranika Koneru's company, Cloud Connections [https://www.cloudconnections.co/], for inspiring group travel experiences to the world's greatest festivals. She's on Instagram as @RainbowRani_ [https://www.instagram.com/rainbowrani_/]. * Explore Gianni Bianchini's travel blog, Nomad Is Beautiful [https://nomadisbeautiful.com/], YouTube channel [https://www.youtube.com/@Gianni.Bianchini], and podcast [https://giannibianchini.net/podcast/] for digital nomad advice and insights. On Instagram as @Gianni.Bianchini [https://www.instagram.com/gianni.bianchini/]. * Connect with Palle Bo on YouTube [https://www.youtube.com/@Theradiovagabond], LinkedIn [https://www.linkedin.com/in/pallebo], Facebook [https://www.facebook.com/theradiovagabond], and Twitter [https://www.twitter.com/radiovagabond]. See all the links here [file:///Users/PalleBo/Radioguru%20Dropbox/Palle%20Bo/Produktion/RadioVagabond/-%20Recordings%20UNEDITED/230607%20Bansko/%20Texts/lt].
THE GAMBIA: Luxury in the Jungle (Flashback)
Join me in a luxurious place in a jungle in the little West African country, The Gambia. See pictures and read the blog post here [https://www.theradiovagabond.com/119-gambia/].
En fantastisk app med et enormt stort udvalg af spændende podcasts. Podimo formår virkelig at lave godt indhold, der takler de lidt mere svære emner. At der så også er lydbøger oveni til en billig pris, gør at det er blevet min favorit app.
Rigtig god tjeneste med gode eksklusive podcasts og derudover et kæmpe udvalg af podcasts og lydbøger. Kan varmt anbefales, om ikke andet så udelukkende pga Dårligdommerne, Klovn podcast, Hakkedrengene og Han duo 😁 👍
Podimo er blevet uundværlig! Til lange bilture, hverdagen, rengøringen og i det hele taget, når man trænger til lidt adspredelse.
Tilgængelig overalt
Lyt til Podimo på din telefon, tablet, computer eller i bilen!
Et univers af underholdning på lyd
Tusindvis af lydbøger og eksklusive podcasts fra kun 79,00 kr. / måned
Ingen reklamer
Spild ikke tiden på at lytte til reklamepauser, når du lytter til Podimos indhold.