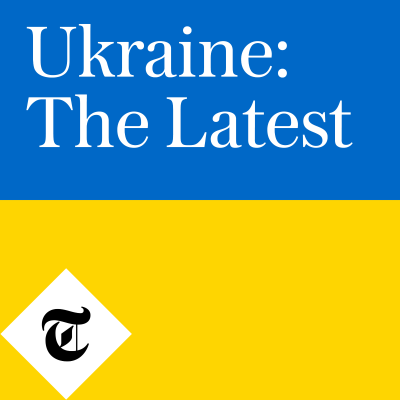 Russia's full-scale invasion of Ukraine has dominated world news since tanks, jets and troops first crossed Ukraine's borders in February 2022. Every weekday, the Telegraph's top journalists analyse the conflict from all angles. The team consider military strategy, history, economics, the refugee crisis, Ukrainian culture, and daily life in Vladimir Putin's autocratic Russia and Volodymyr Zelensky's democratic Ukraine. On 'Ukraine: The Latest', our correspondents on the ground talk to experts and civilians to cover every aspect of Russia's brutal invasion. 
Seneste episoder
Hunting Russian submarines with former frigate commander, Tom Sharpe
Day 644. Today, following the latest military and political updates, I interview a former British frigate captain on what it's like tailing Russian submarines, and we look in closer detail on the work being done to raise awareness of war crimes. Contributors: Francis Dearnley (Host, Assistant Comment Editor). @FrancisDearnley on Twitter. Tom Sharpe (Retired Navy Commander). @TomSharpe134 on Twitter. With thanks to Anastasiia Marushevska and Julia Petryk (Co-founders of the Ukrainian NGO PR Army [https://pr.army/]). Opportunity to potentially talk to Dom & Francis (for charity!): Telegraph Christmas Charity Appeal Phone-in Day. Sunday 3 December 10:00-18:00 (05:00-13:00 EST) Number: 0800 117 118 (international callers must put the UK country code beforehand; standard rates apply) Read more: 'How Putin is reshaping Russia to keep his war-machine running' (The Economist) - https://www.economist.com/briefing/2023/11/30/how-putin-is-reshaping-russia-to-keep-his-war-machine-running [https://www.economist.com/briefing/2023/11/30/how-putin-is-reshaping-russia-to-keep-his-war-machine-running] 'The precarious stabilization of Ukraine's war economy' (Adam Tooze's Substack) - https://adamtooze.substack.com/p/chartbook-250-the-precarious-stabilization [https://adamtooze.substack.com/p/chartbook-250-the-precarious-stabilization] Subscribe to The Telegraph: telegraph.co.uk/ukrainethelatest [http://telegraph.co.uk/ukrainethelatest] Email: ukrainepod@telegraph.co.uk [ukrainepod@telegraph.co.uk] See Privacy Policy at https://art19.com/privacy [https://art19.com/privacy] and California Privacy Notice at https://art19.com/privacy#do-not-sell-my-info [https://art19.com/privacy#do-not-sell-my-info].
Russian general blown up by landmine & Putin pays tribute to 'farsighted statesman' Henry Kissinger
Day 643. Today, as well as news from the frontlines, we hear about the reception offered by Oxford University to Russia's ambassador to the UK, reflect on the life of Henry Kissinger and hear how soldiers and commanders think about fighting in extreme cold temperatures. Contributors: Dom Nicholls (Host). @DJKnowles22 on Twitter. Francis Dearnley (Assistant Comment Editor). @FrancisDearnley on Twitter. Hamish De Bretton-Gordon (Former armoured warfare commanding officer and chemical weapons expert). @HamishDBG on Twitter. Louisa Clarence-Smith (Education Editor). @LouisaClarence on Twitter. Sarah Knapton (Science Editor). @sarahknapton on Twitter. Opportunity to potentially talk to Dom & Francis (for charity!): Telegraph Christmas Charity Appeal Phone-in Day. Sunday 3 December 10:00-18:00 (05:00-13:00 EST) Number: 0800 117 118 (international callers must put the UK country code beforehand; standard rates apply) Long Read on ISW: https://www.telegraph.co.uk/world-news/2023/11/25/isw-war-mapping-gaza-ukraine-washington/ [https://www.telegraph.co.uk/world-news/2023/11/25/isw-war-mapping-gaza-ukraine-washington/]  Subscribe to The Telegraph: telegraph.co.uk/ukrainethelatest [http://telegraph.co.uk/ukrainethelatest] Email: ukrainepod@telegraph.co.uk [ukrainepod@telegraph.co.uk] See Privacy Policy at https://art19.com/privacy [https://art19.com/privacy] and California Privacy Notice at https://art19.com/privacy#do-not-sell-my-info [https://art19.com/privacy#do-not-sell-my-info].
1 h 2 min
-
30. nov. 2023
Putin won't 'make peace in Ukraine' before 2024 US election, live from a crucial NATO meeting & interview with Russia researcher Dr Jade McGlynn
Day 642. Today, as well as news from the frontlines, we bring you updates from the NATO meeting in Brussels, the latest from Washington DC as British Conservative politicians attempt to persuade American Republicans to continue supporting Ukraine and we speak to researcher and author Dr Jade McGlynn about her recent travels across Ukraine. Contributors: David Knowles (Host). @DJKnowles22 on Twitter. Dominic Nicholls (Associate Editor, Defence). @DomNicholls on Twitter. Joe Barnes (Brussels Correspondent). @Barnes_Joe on Twitter. Tony Diver (US Editor). @Tony_Diver on Twitter. With thanks to Dr Jade McGlynn (Researcher & Author). @DrJadeMcGlynn on Twitter. Subscribe to The Telegraph: telegraph.co.uk/ukrainethelatest [http://telegraph.co.uk/ukrainethelatest] Email: ukrainepod@telegraph.co.uk [ukrainepod@telegraph.co.uk] See Privacy Policy at https://art19.com/privacy [https://art19.com/privacy] and California Privacy Notice at https://art19.com/privacy#do-not-sell-my-info [https://art19.com/privacy#do-not-sell-my-info].
En fantastisk app med et enormt stort udvalg af spændende podcasts. Podimo formår virkelig at lave godt indhold, der takler de lidt mere svære emner. At der så også er lydbøger oveni til en billig pris, gør at det er blevet min favorit app.
Rigtig god tjeneste med gode eksklusive podcasts og derudover et kæmpe udvalg af podcasts og lydbøger. Kan varmt anbefales, om ikke andet så udelukkende pga Dårligdommerne, Klovn podcast, Hakkedrengene og Han duo 😁 👍
Podimo er blevet uundværlig! Til lange bilture, hverdagen, rengøringen og i det hele taget, når man trænger til lidt adspredelse.
Tilgængelig overalt
Lyt til Podimo på din telefon, tablet, computer eller i bilen!
Et univers af underholdning på lyd
Tusindvis af lydbøger og eksklusive podcasts fra kun 79,00 kr. / måned
Ingen reklamer
Spild ikke tiden på at lytte til reklamepauser, når du lytter til Podimos indhold.