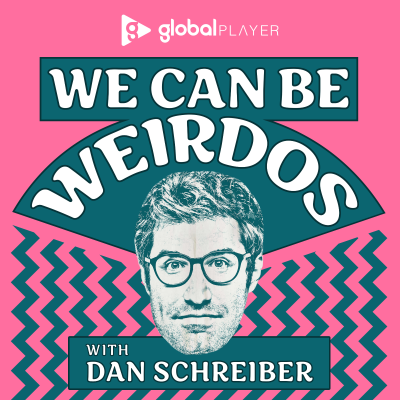 Prepare to plunge into the peculiar as Dan Schreiber, professional fact-hunter, uncovers the wild beliefs, ideas and theories of some of the most remarkable people on planet earth.  As well as delving into the lives of truly fascinating people, Dan asks his guests a maverick tour of questions known as The Batshit Survey. Do they believe in Ghosts? Déjà vu? Telepathy? Premonitions? Déjà vu?  Either way, everyone has theories they are transfixed by, or a mystery in their own life that they're trying to solve. Dan leaves no rock unturned – and he'll share plenty of his own mind-blowing facts and theories too. Bonus episodes, 'The Rough Corner', hear from YOU – your wild ideas, odd theories and unexplainable experiences. Let's create a global community of likeminded weirdos! Expect new episodes every Wednesday. Bonus episodes land on Monday.  And don't forget, Global Player is the only place where you can watch bonus extended interviews. 
Seneste episoder
The Rough Corner: Shabbat Cheat Codes, Massaging the Truth and the Big Stretching Conspiracy ft. Kyle Gordon
Comedian, actor and pop sensation Kyle Gordon talks for the first time on record about one of the most sinister conspiracies of our time: Big Stretching. Plus, your mystery box theories, impossible photos and Super Furry Animals. Don't forget you can see Kyle Gordon live in the UK this October! Or, watch him anytime @kylegordonisgreat on Instagram and TikTok. The Rough Corner needs YOU! Get in touch with your unexplainable experiences, odd theories, related research and your thoughts on the topics covered in the main episodes.
#21 Think Yourself Lucky: Richard Wiseman and the Number Plate of Limited Cosmic Significance
"We need to take our dreams more seriously" Richard Wiseman holds Britain's only Professorship in the Public Understanding of Psychology at the University of Hertfordshire, and has published over 100 academic papers examining the psychology of magic and illusion, deception, luck and self-development. He has written several psychology books, includingThe Luck Factorand59 Seconds. His podcast, Richard Wiseman's On Your Mind, is available wherever you get your podcasts. Don't forget you can watch these interviews, fully extended, exclusively on Global Player. Download it from the App Store, or head to globalplayer.com. You can get in touch with Dan Schreiber on Twitter and Instagram (@Schreiberland). In his bio, you'll find the link to our Discord channel - a global community of likeminded weirdos!
1 h 17 min
-
20. sep. 2023
The Rough Corner: How to Run a Paranormal Society with 'The Ghostess with the Mostess'
Leanne Burnam-Richards a.k.a. 'the ghostess with the mostess' joins Dan to talk about running the UK Paranormal Society. Plus, Dan's magic manhole saga! The Rough Corner needs YOU! Get in touch with your unexplainable experiences, odd theories, related research and your thoughts on the topics covered in the main episodes.
En fantastisk app med et enormt stort udvalg af spændende podcasts. Podimo formår virkelig at lave godt indhold, der takler de lidt mere svære emner. At der så også er lydbøger oveni til en billig pris, gør at det er blevet min favorit app.
Rigtig god tjeneste med gode eksklusive podcasts og derudover et kæmpe udvalg af podcasts og lydbøger. Kan varmt anbefales, om ikke andet så udelukkende pga Dårligdommerne, Klovn podcast, Hakkedrengene og Han duo 😁 👍
Podimo er blevet uundværlig! Til lange bilture, hverdagen, rengøringen og i det hele taget, når man trænger til lidt adspredelse.
Tilgængelig overalt
Lyt til Podimo på din telefon, tablet, computer eller i bilen!
Et univers af underholdning på lyd
Tusindvis af lydbøger og eksklusive podcasts fra kun 79,00 kr. / måned
Ingen reklamer
Spild ikke tiden på at lytte til reklamepauser, når du lytter til Podimos indhold.