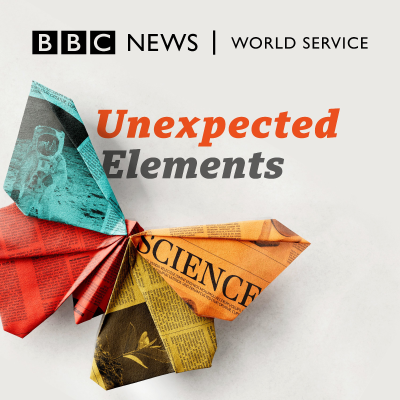 Unexpected Elements
Podcast by BBC World Service
The news you know, the science you don't. Unexpected Elements looks beyond everyday narratives to discover a goldmine of scientific stories and connections from around the globe. From Afronauts, to why we argue, to a deep dive on animal lifespans: see the world in a new way. 
Muita podcasteja yksinoikeudella
Viimeisimmät jaksot
Meetings with intelligent worms
This week on the show that brings you the science behind the news, inspired by COP28, we're talking about meetings. Honestly, it's way more interesting than it sounds. Come to hear about blackworm blobs – a wormy meeting that only happens in stressful situations - and how scientists are taking inspiration from it to design robots. Stay for the stories from nature where species are missing crucial pollination meetings thanks to that global stressful situation that is climate change. And what's better for the planet, a big meeting that everyone flies to or a telephone conference with no video? In 'Ask the Unexpected' we answer a listener's question about antibiotics - if there are good bacteria in the body, how do they know which ones to attack? Also, OMG it's the OMG particle – we hear about the tiny but powerful particles that pound the planet from time to time. All that plus your emails about toilets and the rules of Cricket. Presented by Marnie Chesterton, with Chhavi Sachdev and Tristan Ahtone. Produced by Ben Motley, with Alex Mansfield and Dan Welsh.
50 min
-
30. marrask. 2023
All about cricket(s)
The cricket world cup has us looking at the science of spitting on cricket balls, particle accelerators, and insect sound engineers. Also on the program, how AI is breaking into e-commerce, why do we get in the middle of the night, and is a fat flightless parrot the world's greatest bird?
50 min
-
23. marrask. 2023
Why we need to talk toilets
To mark UN World Toilet Day on 19 Nov, Alex Lathbridge discusses all things toilet related with Andrada Fiscutean and Tristan Ahtone, as they attempt to lift the lid on our collective taboo of discussing sanitary matters. In 2020, 3.6 billion people – nearly half the global population – lacked access to safely managed sanitation. Diseases such as cholera, typhoid, dysentery, and diarrhoea can spread amongst populations who still practice open defecation. And lack of access to a functioning toilet disproportionately affects women. But even if you do have access to a flushing toilet, do you always close the lid? Researchers have measured the invisible aerosol plumes that rise up from the pan of an uncovered toilet flush, potentially spreading other communicable diseases including respiratory infections including even SARS-CoV2. But flushing toilets are resource heavy. A normal flush can use 5l of water. Could they be re-conceived? Prof Shannon Yee of Georgia Tech swings my to give us the latest on the "Reinventing the Toilet" project. Next March they hope to unveil the production model of the second generation reinvented toilet ("G2RT"). Much like other household appliances, it could run from a domestic power source, yet turn a family's faecal matter and urine into clean water and a small amount of ash, with out the need for the grand and expensive sewage infrastructure required by more normal flushing cisterns. In the black sea meanwhile, AI is being deployed to track the dwindling populations of the beluga sturgeon, from whom the luxury food caviar is harvested. We discuss sightings of cryptids (mythical or scarcely believable animals) you have sent us, and after the announcement of the rediscovery of a rare echidna species in Indonesia, we look at how conservation and natural history expeditions have changed over the course of the broadcasting career of Sir David Attenborough. Presenter: Alex Lathbridge, with Andrada Fiscutean and Tristan Ahtone Producer: Alex Mansfield, with Margaret Sessa Hawkins, Dan Welsh and Ben Motley
50 min
-
16. marrask. 2023
Loistava design ja vihdoin on helppo löytää podcasteja, joista oikeasti tykkää
Kiva sovellus podcastien kuunteluun, ja sisältö on monipuolista ja kiinnostavaa
Todella kiva äppi, helppo käyttää ja paljon podcasteja, joita en tiennyt ennestään.
Saatavilla kaikkialla
Kuuntele Podimoa puhelimella, tabletilla, tietokoneella tai autossa!
Kokonainen maailma kuunneltavaa viihdettä
Tuhansia äänikirjoja ja yksinoikeuspodcasteja 7,99 € / kuukausi
Ei mainoksia
Kuuntelemalla Podimon sisältöä et tuhlaa aikaa mainosten kuuntelemiseen.