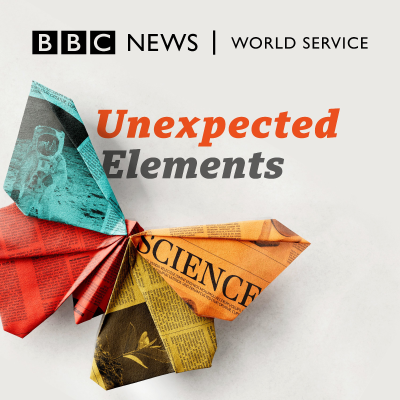 Unexpected Elements
Podcast by BBC World Service
The news you know, the science you don't. Unexpected Elements looks beyond everyday narratives to discover a goldmine of scientific stories and connections from around the globe. From Afronauts, to why we argue, to a deep dive on animal lifespans: see the world in a new way. 
Viimeisimmät jaksot
Can technology read our mind?
How does our brain process language? We speak to an expert who is using technology to turn narrative thoughts into text. Also on the show, what is happening in our brains when we switch languages? And what are the positives and perils of technology and translation? Also on the show, we look at internet connectivity in incredibly remote areas, whether carbon capture is realistic, and we continue to explore different foods from around the world.
Forgetful fish, telescopic worms and bad air days
In a week where global heat records have melted, we find out how that can make fish life-threateningly stupid. We also dive a little deeper to find the part of the ocean where a little heat proves life-enhancing. And we bring you boring science… no, not in that way. Find out what tree rings can tell us about ancient civilizations and past climates. Also, a new Japanese mission aims to park nice and neatly on the moon – how different is that from the famous first effort from the Apollo 11 team? We hear about an unwelcome Delhi resident that's taking years off locals lives – air pollution. And what is a "supervolcano" and how likely is it that one ruins our run as dominant species on this planet? Presented by Marnie Chesterton With Chhavi Sachdev and Tristan Ahtone Producers: Alex Mansfield, Ben Motley, Sophie Ormiston, Emily Bird and Patrick Hughes
Zombies, cows and coups
Following recent coups in Niger and Gabon, and with seven African coups in the last three years, some political commentators are suggesting that there might be an epidemic of coups. But are coups really contagious, and what does the political science say? Caroline Steel and the Unexpected Elements team across three different continents go on a quest to find the science lurking behind the news. We find out what trees in Chile can tell us about coups and we meet the wasp that performs a coup on a poor unsuspecting cockroach, turning it into a zombie and eating it alive. There's light relief in the form of cows listening to classical music, the answer to a listener question about carbon capture and reflections on efforts to rid the world of plastic bags. All that plus your emails, whatsapps, and more fruit chat than you can shake a banana skin at. Presented by Caroline Steel Produced by Ben Motley, with Margaret Sessa Hawkins and Sophie Ormiston
Loistava design ja vihdoin on helppo löytää podcasteja, joista oikeasti tykkää
Kiva sovellus podcastien kuunteluun, ja sisältö on monipuolista ja kiinnostavaa
Todella kiva äppi, helppo käyttää ja paljon podcasteja, joita en tiennyt ennestään.
Saatavilla kaikkialla
Kuuntele Podimoa puhelimella, tabletilla, tietokoneella tai autossa!
Kokonainen maailma kuunneltavaa viihdettä
Tuhansia äänikirjoja ja yksinoikeuspodcasteja 7,99 € / kuukausi
Ei mainoksia
Kuuntelemalla Podimon sisältöä et tuhlaa aikaa mainosten kuuntelemiseen.