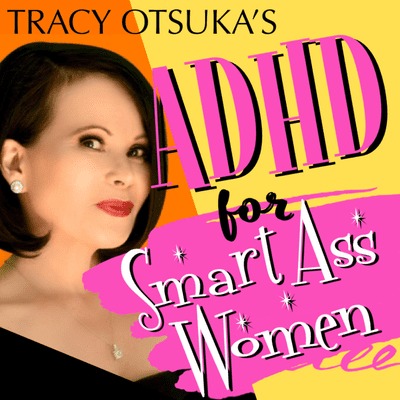 ADHD for Smart Ass Women with Tracy Otsuka
I have NEVER met an ADHD woman who wasn't truly brilliant at something! * * This podcast with over 5 million downloads is for smart, high-ability ADD/ADHD (diagnosed or suspecting) women who see their symptoms as more positive than negative. If you want to fall in love with your ADHD brain and discover where your brilliance lies, this podcast is for you! * * ADHD for Smart Ass Women is globally ranked in the top one-half percent of all podcasts in the world on any subject. It's streamed in more than 160 countries and is downloaded by more than 150,000 listeners every month. * * I'm Tracy Otsuka your host. I'm a lawyer, not a doctor, a life-long learner and a certified ADHD coach. I'm committed to changing the conversation around ADHD. * * When I was diagnosed eight months after my son, my entire life suddenly made perfect sense but all I heard and read about was everything that my ADHD brain SHOULD be struggling with when in fact I would come to learn that my ADHD is responsible for some of my greatest superpowers. * * One other thing, we constantly hear about all the successful ADHD men, but no one talks about the women. This podcast is here to change that dynamic. ADHD women are my people, and I'm here to acknowledge, support and cheer them on. * * *THE CONTENT IN THIS PODCAST IS NOT INTENDED TO BE A SUBSTITUTE FOR PROFESSIONAL MEDICAL ADVICE, DIAGNOSIS OR TREATMENT AND DOES NOT CONSTITUTE MEDICAL OR PROFESSIONAL ADVICE. NEVER DISREGARD PROFESSIONAL MEDICAL ADVICE OR DELAY IN SEEKING IT BECAUSE OF ANYTHING YOU HAVE SEEN OR HEARD FROM TRACY OTSUKA OR THIS PODCAST. 
Los últimos episodios
EP. 247: Breaking Up with Booze and Living Your Best Life with Amanda Kuda
Show Notes–Ep. 247: Breaking Up with Booze and Living Your Best Life with Amanda Kuda   Amanda Kuda was acutely aware of being different from her peers growing up–the movie Matilda made her feel seen, minus the telekinesis–so when she discovered that alcohol made it easier for her to fit in, it became a regular part of her social life. After an ADHD diagnosis in her early 20's, Amanda started to take note of what was and wasn't helpful for managing her symptoms and realized the habit change that benefitted her the most was removing alcohol from her lifestyle.   Now, seven years later, Amanda is an author and holistic life coach who helps other ambitious women stop drinking and start manifesting the lives they want and deserve. She tells me, "What transpired after I stopped drinking alcohol was that my potential, my authenticity, my magic came online at a level that I hadn't before been able to access it."   Join my insightful conversation with Amanda to hear about how alcohol may be holding you back from your authenticity and all the ways life can open up for you when you take a step back from substances and embrace who you really are.  Resources: Website: Instagram: @amandakuda
EP. 246: Make it Funny with Comedian, Blaire Postman
Personally, I can't think of anything scarier than being a live performer, but there's something about the ADHD brain that seems to make us happier when we're running into the fire rather than away from it.    For comedian Blaire Postman, what scared her more than getting up on a stage was the idea of never trying, which is why at 43 she chose to run headfirst into that metaphorical fire and turned her passion for comedy into a full-time career.   Speaking with Blaire, it's easy to see why she was drawn to comedy; with her quick wit and affinity for the silly she can't help but be funny. Join our conversation to hear more about Blaire's gutsy leap from lawyer to performer, how her ADHD diagnosis helped her embrace her traits and led to her comedy special "LADY ADHD," and much more.  Resources: Website: TikTok: @ADHDComedy IG: @PostmanComedy
EP. 245: When You Love What You Do, it Rarely Feels Like Work with Stephanie Calderon
Stephanie Caldero is a self-made, self-taught interior designer who owns a boutique design firm in Charlotte, North Carolina. Stephanie has always loved interior design starting when she was a child circling items in catalogs and learning from her seamstress grandmother. For years she designed for friends and family on the side while she worked various marketing jobs, until 2021 when she finally turned her side hustle into her main hustle and never looked back. Stephanie knew she had to turn interior design into a career when she realized it was the one thing she could always get lost in for hours, a decision that was only bolstered by her ADHD diagnosis. Stephanie now understands that this level of passion for her work isn't just important, but crucial in order for her to find sustainable success in a fulfilling career. Stephanie's story shows us how much easier things can be when we build our careers around our natural motivators and flow states. I hope our conversation inspires you to start thinking about ways to incorporate your own natural motivators into everyday life. Resources: Website: Instagram: @StephanieCalderonInteriors
Muy buenos Podcasts , entretenido y con historias educativas y divertidas depende de lo que cada uno busque. Yo lo suelo usar en el trabajo ya que estoy muchas horas y necesito cancelar el ruido de al rededor , Auriculares y a disfrutar ..!!
Fantástica aplicación. Yo solo uso los podcast. Por un precio módico los tienes variados y cada vez más.
Me encanta la app, concentra los mejores podcast y bueno ya era ora de pagarles a todos estos creadores de contenido
Disponible en todas partes
¡Escucha Podimo en tu móvil, tablet, ordenador o coche!
Un universo de entretenimeinto en audio
Miles de podcast y audiolibros exlusivos desde $99.00/Mes
Sin anuncios
No pierdas tiempo escuchando anuncios cuando escuches los contenidos de Podimo.