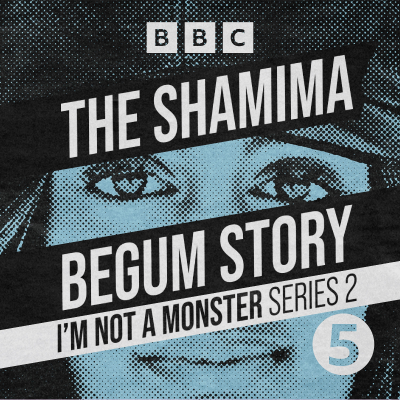 I'm Not a Monster
Podcast de BBC Radio 5 Live
Seeking to separate fact from fiction, the multi award-winning series returns to investigate the divisive story of Shamima Begum. When three London school girls went missing in 2015, they generated global headlines and the media storm that ensued continues to this day. Back then, investigative journalist Josh Baker was filming at a mosque in the girls' neighbourhood as their families came to seek help; their daughters were on the way to Syria to join the Islamic State group. But it was too late, and they disappeared inside the so-called caliphate. For four years, their fate remained a mystery - with only occasional glimpses and sometimes conflicting reports of what they were doing with the terror group being made public. Only one of the girls emerged from the ashes of the so called caliphate - Shamima Begum. The new series will take listeners inside Josh's attempts to figure out what really happened, unearthing new information about one of the most talked about stories of our time. He travels from Bethnal Green in East London to the depths of what was ISIS controlled Syria as he challenges Shamima Begum and investigates if the story she tells is true. Series One - 'I'm Not A Monster: from BBC Panorama & FRONTLINE PBS' The first series of I'm Not A Monster told the story of Sam Sally, an American mother who left behind a comfortable life and travelled to the heart of what the Islamic State group called its caliphate with her family. Her husband became an IS sniper and her 10 year-old son was forced to appear in an infamous propaganda video threatening President Trump. It's the BBC's most awarded podcast series to date, having received 16 nominations, winning 11 awards in 10 different international programme competitions including the Rose d 'Or for Best Audio series, three Golds and the Grand Jury Prize at the New York Festivals Radio Awards and Best Documentary Series at the Webbys and the inaugural Podcast Academy Awards (the Ambies) in 2021. 
Los últimos episodios
Series 2. Our Live Show
What do you want to know about The Shamima Begum Story and the making of the podcast? Join us on Tuesday the 12th of September in London, as Josh answers your questions about the series, share more about how it was made and some extra things we've learnt about the story. Apply for FREE TICKETS: https://www.bbc.co.uk/showsandtours/shows/shamima-begum Email your questions: josh@bbc.co.uk
Series 2: 10. The World's Unwanted
What happened to the girl Shamima Begum says convinced her to join the Islamic State group? Less than 24 hours before this episode was published ,we got the answer. Reporter: Josh Baker Written and produced by: Josh Baker, Sara Obeidat and Joe Kent Composer: Firas Abou Fakher Theme music: Sam Slater Mix and sound design: Tom Brignell Production coordinators: Janet Staples and Helena Warwick-Cross Series Editor: Jonathan Aspinwall Head of Long Form Audio: Emma Rippon Commissioning Executive: Dylan Haskins This episode contains some strong language
Series 2: A Message From Josh
Episode 10 will be available on Wednesday March 22nd
Muy buenos Podcasts , entretenido y con historias educativas y divertidas depende de lo que cada uno busque. Yo lo suelo usar en el trabajo ya que estoy muchas horas y necesito cancelar el ruido de al rededor , Auriculares y a disfrutar ..!!
Fantástica aplicación. Yo solo uso los podcast. Por un precio módico los tienes variados y cada vez más.
Me encanta la app, concentra los mejores podcast y bueno ya era ora de pagarles a todos estos creadores de contenido
Disponible en todas partes
¡Escucha Podimo en tu móvil, tablet, ordenador o coche!
Un universo de entretenimeinto en audio
Miles de podcast y audiolibros exlusivos desde $99.00/Mes
Sin anuncios
No pierdas tiempo escuchando anuncios cuando escuches los contenidos de Podimo.