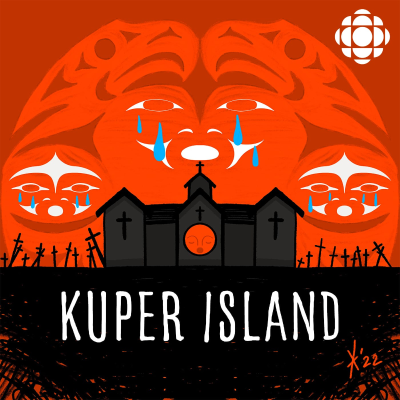 An 8-part series that tells the stories of four students: three who survived and one who didn't. They attended one of Canada's most notorious residential schools – where unsolved deaths, abuse, and lies haunt the community and the survivors to this day. Hosted by Duncan McCue. For the best in true crime from CBC, ad-free, visit apple.co/cbctruecrime. 
Los últimos episodios
Kuper Island Introduces: The Urbariginal
Rudy Kelly's dad was a great chief of the Tsimshian Nation - a champion of the language, culture, and community. Everyone loved him. But did Rudy? As a kid, he looked up to him. Idolized him. But also feared him. And even hated him. He told Rudy that to succeed, he would have to leave everything behind: his family, friends, and culture. In this six-part series, Rudy's journey brings him back in time, to learn how colonization impacted Indigenous people, from those who lived it. To find out who and what his dad really was, and to discover more about himself - the Urbariginal. More episodes are available at: https://link.chtbl.com/LtVNjcLQ
E8: Every Child Matters
The team tracks down the last person to ever see Richard Thomas alive at Kuper Island Residential School. Donnie Sampson was just 10 years old at the time and has disturbing memories of the day — that include a familiar and problematic name from the past. Host Duncan McCue takes the results of the investigation back to Richard's sister Belvie who must decide what to do next. In Penelakut, the community rallies around their children — the new generation, the adult survivors still healing, and all the ones who never came home. For transcripts of this series, please visit: https://www.cbc.ca/radio/podcastnews/kuper-island-transcripts-listen-1.6622551
E7: Hurt People Hurt People
The children who attended Kuper Island Residential School faced a terrible aftermath trying to process what happened. The abuse they suffered there often coloured their relationships with family and community — with devastating results. Meanwhile, the team learns one of the perpetrators from the school spent his later years being taken care of in relative comfort — all paid for by the Oblates. They demand to know why. For transcripts of this series, please visit: https://www.cbc.ca/radio/podcastnews/kuper-island-transcripts-listen-1.6622551
Muy buenos Podcasts , entretenido y con historias educativas y divertidas depende de lo que cada uno busque. Yo lo suelo usar en el trabajo ya que estoy muchas horas y necesito cancelar el ruido de al rededor , Auriculares y a disfrutar ..!!
Fantástica aplicación. Yo solo uso los podcast. Por un precio módico los tienes variados y cada vez más.
Me encanta la app, concentra los mejores podcast y bueno ya era ora de pagarles a todos estos creadores de contenido
Disponible en todas partes
¡Escucha Podimo en tu móvil, tablet, ordenador o coche!
Un universo de entretenimeinto en audio
Miles de podcast y audiolibros exlusivos desde $99.00/Mes
Sin anuncios
No pierdas tiempo escuchando anuncios cuando escuches los contenidos de Podimo.