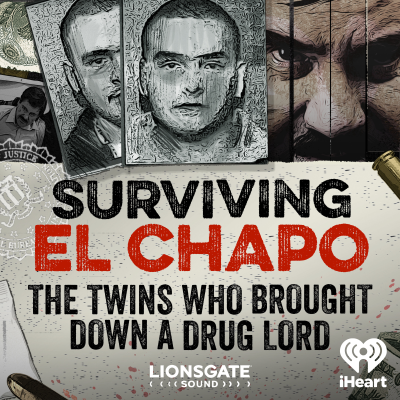 Surviving El Chapo: The Twins Who Brought Down A Drug Lord
Podcast de iHeartPodcasts
Identical twins Jay and Pete Flores, who were once North America's biggest drug traffickers and El Chapo's right hand men, turned themselves into the U.S. government with the hopes of starting a new, safer life for their family. But after years of cooperating to get the world's most powerful drug kingpin behind bars, and finally gaining their freedom with a chance to start again, everything for the Flores family began to unravel. In Season 2 of Surviving El Chapo, hosts Curtis "50 Cent" Jackson and Charlie Webster hear Jay and Pete reveal for the first time what really happened during their turbulent 14-year prison journey and what it was like to come face-to-face in court with El Chapo. Plus, find out the shocking backstory to the prison sentence that the Flores wives are currently facing. Hosted and executive produced by award-winning artist and producer Curtis "50 Cent" Jackson and critically acclaimed broadcast journalist and producer Charlie Webster. Brought to you by Lionsgate Sound as a world exclusive with iHeartPodcasts. 
Los últimos episodios
Season 1 Recap
Before you get started on Season 2, catch up on the story so far. See omnystudio.com/listener [https://omnystudio.com/listener] for privacy information.
Announcing: Surviving El Chapo Season 2
After billions of dollars and thousands of decisions made over decades as powerful drug traffickers, Jay and Pete Flores are now free and living a new life. But their incredible story is not over. Every time the twin brothers seem to turn a corner, the consequences of their decision to cooperate with law enforcement come back to haunt them. See omnystudio.com/listener [https://omnystudio.com/listener] for privacy information.
Episode 12 - Escape
After nine months of recording calls and feeding information to the DEA, Jay and Pete are given two hours to get their lives in order before being taken by US agents. As they make their way to the US, their families are left behind, scrambling in a desperate flee to get out of Mexico. All episodes are available now. See omnystudio.com/listener [https://omnystudio.com/listener] for privacy information.
Muy buenos Podcasts , entretenido y con historias educativas y divertidas depende de lo que cada uno busque. Yo lo suelo usar en el trabajo ya que estoy muchas horas y necesito cancelar el ruido de al rededor , Auriculares y a disfrutar ..!!
Fantástica aplicación. Yo solo uso los podcast. Por un precio módico los tienes variados y cada vez más.
Me encanta la app, concentra los mejores podcast y bueno ya era ora de pagarles a todos estos creadores de contenido
Disponible en todas partes
¡Escucha Podimo en tu móvil, tablet, ordenador o coche!
Un universo de entretenimeinto en audio
Miles de podcast y audiolibros exlusivos desde $99.00/Mes
Sin anuncios
No pierdas tiempo escuchando anuncios cuando escuches los contenidos de Podimo.