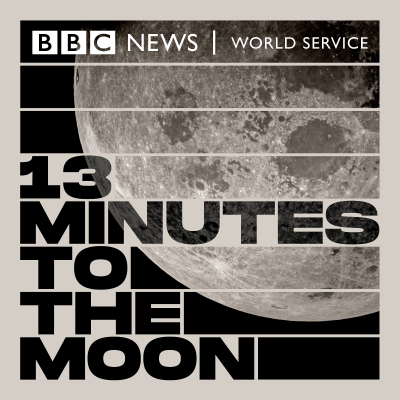 13 Minutes to the Moon
Podcast door BBC World Service
Epic stories of Nasa's missions to the Moon. Season 1: the first Moon landing, Apollo 11. Season 2: the near disaster of Apollo 13. Presenter: Kevin Fong. Theme music: Hans Zimmer 
Nieuwste afleveringen
Bonus: The Lazarus Heist Episode 1
Introducing our new original podcast. Here's episode 1: Hacking Hollywood. A movie, Kim Jong-un and a devastating cyber-attack. The story of the Sony hack. How the Lazarus Group hackers caused mayhem. And this is just the beginning…Search for The Lazarus Heist wherever you get your podcasts. #LazarusHeist
Introducing The Bomb
Emily's grandad worked on the bomb that fell on Hiroshima. Could another man – Leo Szilard - have stopped it? This is the new series from the BBC World Service – search for The Bomb wherever you get your podcasts.
S2 Ep.07 Resurrection
"I still have nightmares about this." Can the crew survive the dangers of re-entering the Earth's atmosphere? An error could see them either incinerated or becoming lost forever in deep space. #13MinutestotheMoon For more Apollo films and photos: www.bbcworldservice.com/13minutes Presented by Kevin Fong. Archive: Nasa Starring Jim Lovell John Aaron Dave Reed Hal Loden Jerry Bostick Jim Kelly Fred Haise Charlie Duke Joe Kerwin Gene Kranz, courtesy of the Johnson Space Center Oral History Project Chuck Deiterich Marilyn Lovell Gerry Griffin Written by Kevin Fong and Andrew Luck-Baker Theme music by Hans Zimmer and Christian Lundberg for Bleeding Fingers Music BBC Radio Science Unit for the BBC World Service
Super app. Onthoud waar je bent gebleven en wat je interesses zijn. Heel veel keuze!
App ziet er mooi uit, navigatie is even wennen maar overzichtelijk.
Overal beschikbaar
Luister naar Podimo op je telefoon, tablet, computer of auto!
Een universum van audio-entertainment
Duizenden luisterboeken en exclusieve podcasts voor € 6,99 / maand
Geen advertenties
Verspil geen tijd met het luisteren naar reclameblokken wanneer je luistert naar de exclusieve shows van Podimo.