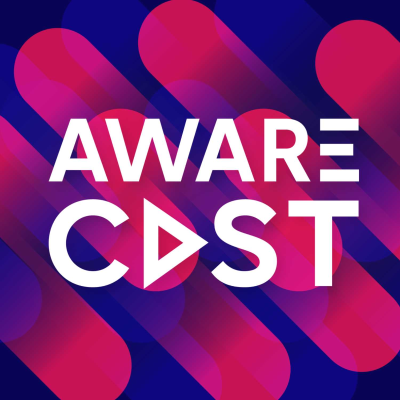 Awarecast deals with information security risks that you might encounter in your day-to-day life. In each episode a specialist from the field will be interviewed about recognizable, everyday situations. How do you become more aware of information security threats in a fast changing digital landscape? Even more importantly, how do we create a more resilient information society? This podcast is hosted by Awareways, specialist in cultural and behavioral change in security awareness and privacy. Would you like to know more? Check out the website: https://awareways.com/ 
Nieuwste afleveringen
Awarecast - S1.E6 - From BMX Grit to Cybersecurity Wit
As a BMX athlete, your path to achieving your goals involves falling down and getting back up again. But isn't that the same with security awareness training? In this episode we engage in a conversation with Olympic BMX talent Judy Baauw, and Awareways Data Analyst Sjoerd van Veldhuizen. Together, we explore the constraints and challenges in training and discuss how we can draw valuable insights from Judy's journey.
Awarecast - S1.E5 - Behavioral change in the world of veganism and security awareness
Uncover the secrets of effective behavioral change. In this podcast episode, we bridge the gap between the challenges of driving behavioral change within the context of a vegan lifestyle and information security. How do we navigate oppositions and criticism? And what role does everyone play in this process? Vegan activist Tobias Leenaert from Pro-veg and program manager Suzanne Dijkstra from Awareways reveal the keys to success. Prepare to be amazed and inspired by their insights.
Awarecast - S1.E4 - The power of leading by example
Leading by example. It sounds obvious but in practice it is often more difficult than it seems. Above all, the influence of a role model function is often underestimated. How do you handle this within your organization? And what is the role of the government? To answer those questions, this episode's guests are: Member of the Dutch Parliament and vice-chairman of the Digital Affairs Committee Hind Dekker-Abdulaziz and Co-founder of Awareways Geertje Veenbergen.
Super app. Onthoud waar je bent gebleven en wat je interesses zijn. Heel veel keuze!
App ziet er mooi uit, navigatie is even wennen maar overzichtelijk.
Overal beschikbaar
Luister naar Podimo op je telefoon, tablet, computer of auto!
Een universum van audio-entertainment
Duizenden luisterboeken en exclusieve podcasts voor € 6,99 / maand
Geen advertenties
Verspil geen tijd met het luisteren naar reclameblokken wanneer je luistert naar de exclusieve shows van Podimo.