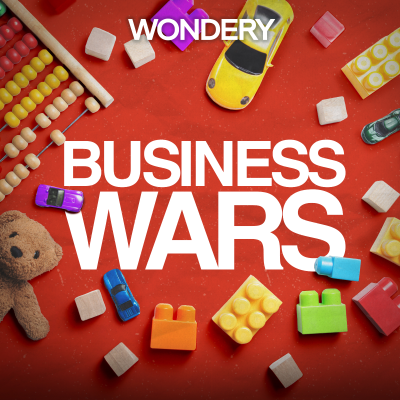 Netflix vs. HBO. Nike vs. Adidas. Business is war. Sometimes the prize is your wallet or your attention. Sometimes, it's just the fun of beating the other guy. The outcome of these battles shapes what we buy and how we live. Business Wars gives you the unauthorized, real story of what drives these companies and their leaders, inventors, investors and executives to new heights -- or to ruin. Hosted by David Brown, former anchor of Marketplace. From Wondery, the network behind Dirty John and American History Tellers.New episodes come out Wednesdays for free. Binge new full seasons early and ad-free, plus get exclusive past seasons, with Wondery+ or on Amazon Music with a Prime membership or Amazon Music Unlimited subscription. 
Nieuwste afleveringen
Toys R US vs KB Toys | Tears 'R' Us | 4
It's 2004 and toy retailers across America are assessing the post-holiday damage from Walmart's brutal price attack. And with KB Toys mortally wounded, it falls to Toys "R" Us to lead the fight. But when the debts mount and Amazon turns from friend to foe, Toys "R" Us ends up in a desperate battle for survival. See Privacy Policy at https://art19.com/privacy [https://art19.com/privacy] and California Privacy Notice at https://art19.com/privacy#do-not-sell-my-info [https://art19.com/privacy#do-not-sell-my-info].
Toys R US vs KB Toys: Christmas Carnage | 3
It's 1999 and the world wide web is the new retail frontier. And both KB Toys and Toys "R" Us hope to use the internet to keep Walmart at bay. But Toys "R" Us's plan for online glory is about to go haywire – giving KB Toys the upper hand and forcing Toys "R" Us into a surprise alliance with Amazon. See Privacy Policy at https://art19.com/privacy [https://art19.com/privacy] and California Privacy Notice at https://art19.com/privacy#do-not-sell-my-info [https://art19.com/privacy#do-not-sell-my-info].
Listen Now: 'Tis The Grinch Holiday Talk Show
Cuddly as a cactus and charming as an eel, he's your new favorite snarky talk show host. Join The Grinch (and his faithful dog Max) each week as he rants against Christmas cheer and roasts celebrity guests like chestnuts on an open fire. Starring Saturday Night Live's James Austin Johnson as the notorious curmudgeon and broadcasting straight from Who-Ville, will The Grinch send these famous folks back down Mt. Crumpit, or will they soften his stance against Christmas and grow his heart three sizes? Grab your hot cocoa and cozy slippers and listen along to find out! Follow 'Tis The Grinch Holiday Talk Show on the Wondery App or wherever you get your podcasts. You can listen to episodes of 'Tis The Grinch Holiday Talk Show early and ad-free right now by joining Wondery Plus. Listen now: Wondery.fm/Grinch [http://wondery.fm/Grinch] See Privacy Policy at https://art19.com/privacy [https://art19.com/privacy] and California Privacy Notice at https://art19.com/privacy#do-not-sell-my-info [https://art19.com/privacy#do-not-sell-my-info].
Super app. Onthoud waar je bent gebleven en wat je interesses zijn. Heel veel keuze!
App ziet er mooi uit, navigatie is even wennen maar overzichtelijk.
Overal beschikbaar
Luister naar Podimo op je telefoon, tablet, computer of auto!
Een universum van audio-entertainment
Duizenden luisterboeken en exclusieve podcasts voor € 6,99 / maand
Geen advertenties
Verspil geen tijd met het luisteren naar reclameblokken wanneer je luistert naar de exclusieve shows van Podimo.