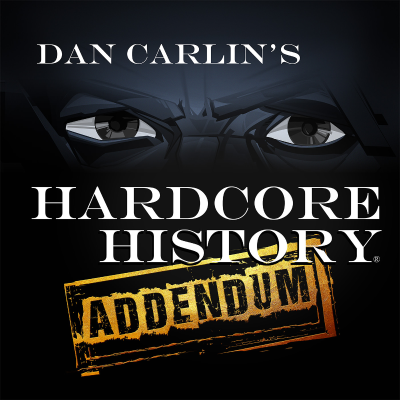 Dan Carlin's Hardcore History: Addendum
Interviews, musings and extra material from the makers of Dan Carlin's Hardcore History. If it did not fit in the HH feed it's probably here 
Nieuwste afleveringen
EP27 More Steppe Stories
Huns, Mongols, Turks, Scythians and other nomadic steppe tribes are longtime interests of Dan's. In this show he interviews historian Kenneth W. Harl who specializes in the study of those fascinating peoples. 1. Empires of the Steppes: A History of the Nomadic Tribes Who Shaped Civilization by Kenneth W. Harl 2. China Marches West: The Qing Conquest of Central Eurasia by Peter C. Perdue
EP26 Dig This!
Daniele Bolelli the fabulous host of "History on Fire" and I fanboy out over archaeology. We had some inexplicable audio problems at times with the recording, so hopefully that doesn't detract from the greatness of the guest.
EP25 The Long View
Dan tries focusing a much wider historical lens on perennial human issues like war, land ownership, immigration, ethnicity, environmental worries and the double-edged sword that is human inventiveness. 1. Agricola and Germania by Tacitus 2. A Most Dangerous Book: Tacitus's Germania from the Roman Empire to the Third Reich by  Christopher B. Krebs
Super app. Onthoud waar je bent gebleven en wat je interesses zijn. Heel veel keuze!
App ziet er mooi uit, navigatie is even wennen maar overzichtelijk.
Overal beschikbaar
Luister naar Podimo op je telefoon, tablet, computer of auto!
Een universum van audio-entertainment
Duizenden luisterboeken en exclusieve podcasts voor € 6,99 / maand
Geen advertenties
Verspil geen tijd met het luisteren naar reclameblokken wanneer je luistert naar de exclusieve shows van Podimo.