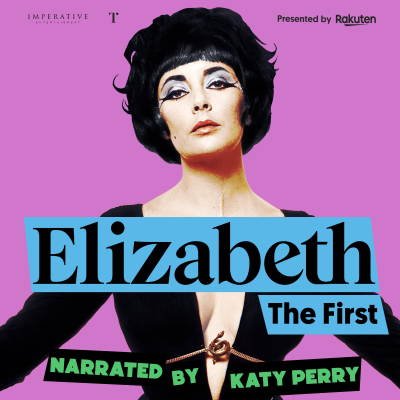 Elizabeth the First
Podcast door Imperative Entertainment and House of Taylor
In a world where "influence" equals follower counts and likes, there was one woman who, over the course of her career and half a century before, defined the meaning of influence and transformed its power.  She went the distance by living a remarkable life beyond the dazzle - breaking ground as the first true influencer. Her name?  Elizabeth Taylor. Narrated by Katy Perry, Elizabeth the First is a 10-episode podcast series exploring the life of Elizabeth Taylor as Hollywood icon, mother, wife, entrepreneur, advocate… and influencer. "Sumptuously produced" - The Toronto Star Elizabeth the First is produced by Imperative Entertainment in association with House of Taylor and Kitty Purry Productions. Executive producers are Katy Perry, Jason Hoch, and Stephanie Koff. Elizabeth the First is narrated by Katy Perry, produced by Jason Hoch, and written by Stephanie Koff.  Sound Engineering and audio editing by Shaine Freeman and Jason Hoch. House of Taylor Trustees are Quinn Tivey, Tim Mendelson, and Barbara Berkowitz, and its Brand Strategy Consultant is Erin Dawkins.  Marshall Eskowitz and Carey Schwartz of Sunset Blvd serve as Producing Partners and represent House of Taylor for Elizabeth Taylor licensing and content opportunities. Jasha Klebe wrote and composed the original score.  Additional music provided by Rhys Tivey. Photo Credit: Elizabeth Taylor, ©BertSternTrust photographed by Bert Stern. Cover art and design by Jeana Sullivan. If you'd like to support The Elizabeth Taylor AIDS Foundation, visit http://elizabethtayloraidsfoundation.org. And, if you'd like to go deeper into the world of Elizabeth Taylor, keep an eye out for the first authorized biography about her life. Elizabeth Taylor: the Grit & Glamour of an Icon by #1 New York Times bestselling author Kate Andersen Brower will be out on December 6. 
Nieuwste afleveringen
Love | Chapter 10
We look back on all we've learned from Elizabeth Taylor - a true original. Her life story is the lesson book on Influence - across social, political, cultural, creative and entrepreneurial causes – making no apologies for any of it along the way. How did she do it? What drove Elizabeth Taylor from her earliest years as a child actor to her last days as an activist and mogul? One word: LOVE. Learn more about your ad choices. Visit podcastchoices.com/adchoices [https://podcastchoices.com/adchoices]
Legacy | Chapter 9
Elizabeth Taylor's passing sends a shockwave of grief around the world. Yet, no one knew she still had a final act left to stun us all. While a nation and world mourned her, Elizabeth's estate was preparing to carry out her carefully planned wishes. With their partners at Christies, they launched the most epic estate auction in history – centered around her legendary jewelry collection. Learn more about your ad choices. Visit podcastchoices.com/adchoices [https://podcastchoices.com/adchoices]
Battle Scars | Chapter 8
Throughout her life, the highs of Elizabeth Taylor's success ran in parallel to personal tragedy. To survive, she learned how to turn every obstacle – every challenge – into a triumph. And, after 56 unstoppable years, in the brightest of spotlights, Elizabeth faced a new adversary: a brain tumor that had to be removed immediately. Learn more about your ad choices. Visit podcastchoices.com/adchoices [https://podcastchoices.com/adchoices]
Super app. Onthoud waar je bent gebleven en wat je interesses zijn. Heel veel keuze!
App ziet er mooi uit, navigatie is even wennen maar overzichtelijk.
Overal beschikbaar
Luister naar Podimo op je telefoon, tablet, computer of auto!
Een universum van audio-entertainment
Duizenden luisterboeken en exclusieve podcasts voor € 6,99 / maand
Geen advertenties
Verspil geen tijd met het luisteren naar reclameblokken wanneer je luistert naar de exclusieve shows van Podimo.