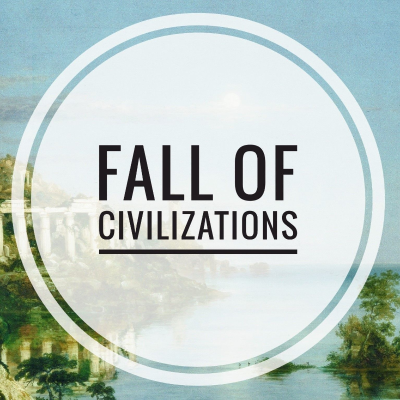 Fall of Civilizations Podcast
A history podcast looking at the collapse of a different civilization each episode. What did they have in common? Why did they fall? And what did it feel like to watch it happen? 
Nieuwste afleveringen
17. Carthage - Empire Of The Phoenicians
Buried beneath the city streets of the Tunisian capital of Tunis, an ancient city lies forgotten... In this episode, we look at one of the most dramatic stories to come down to us from the ancient world: the rise and fall of the empire of Carthage. Find out how this city rose out of the Phoenician states of the Eastern Mediterranean, and set out on voyages of discovery and settlement that put them at the centre of the ancient world. And hear how the city of Carthage was destroyed, and its memory nearly wiped from the earth. SOURCES: https://www.patreon.com/posts/sources-for-17-81369494?utm_medium=clipboard_copy&utm_source=copyLink&utm_campaign=postshare_creator&utm_content=join_link Credits: Written and produced by Paul Cooper Sound engineering by Alexey Sibikin Voice actors: Michael Hajiantonis Lachlan Lucas Alexandra Boulton Simon Jackson Tom Marshall-Lee Chris Harvey, Nick Denton Paul Casselle
16. Bagan - City Of Temples
In the lowlands of Burma lie the remains of thousands of crumbling temples... In this episode, we tell one of the most colourful stories of civilizational survival: the story of the Bagan Empire of Myanmar. Find out how this kingdom rose up in the Irrawaddy river valley of central Myanmar, and built one of the most remarkable series of monuments to have survived from the medieval world. Discover what life was like for the people who lived there, and find out what happened to cause its sudden and complete collapse.
15. The Nabataeans - The Final Days Of Petra
In the deserts of Jordan, a city lies hidden for centuries in a valley of rose-red stone... In this episode, we look at one of the most peculiar stories of civilizational survival to come down to us from the ancient world, the story of the Nabataeans. Find out how these once humble traders rose to become masters of the desert sands, and to defy empires. And discover what happened to finally bring down the empire of Nabataea.
Super app. Onthoud waar je bent gebleven en wat je interesses zijn. Heel veel keuze!
App ziet er mooi uit, navigatie is even wennen maar overzichtelijk.
Overal beschikbaar
Luister naar Podimo op je telefoon, tablet, computer of auto!
Een universum van audio-entertainment
Duizenden luisterboeken en exclusieve podcasts voor € 4,99 / maand
Geen advertenties
Verspil geen tijd met het luisteren naar reclameblokken wanneer je luistert naar de content van Podimo.