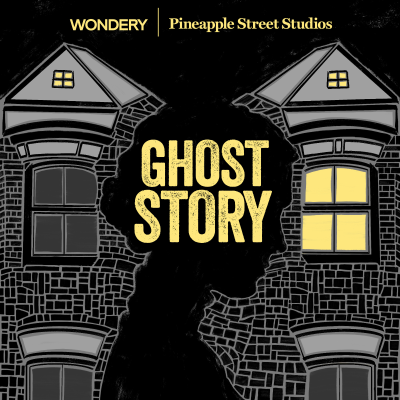 Ghost Story
Podcast door Wondery | Pineapple Street Studios
Host Tristan Redman is a seasoned journalist who doesn't believe in ghosts. But weird things happened in the bedroom he lived in as a teenager. When he discovers years later that subsequent occupants of the same house have been visited by the ghost of a faceless woman, he's curious. Because it just so happens that Tristan's childhood home is right next door to the house where his wife's great grandmother, Naomi Dancy, was murdered in 1937 – killed by two gunshots to the face. Could there be a connection between the ghost and the murder? Tristan decides to investigate and soon finds himself going where no son-in-law should go, deep into his wife's family history, asking questions no one wants answered.Follow Ghost Story on the Wondery App or wherever you get your podcasts. You can binge all episodes of Ghost Story ad-free right now by joining Wondery Plus in the Wondery App or on Apple Podcasts. 
Nieuwste afleveringen
What To Listen To Next: MrBallen's Medical Mysteries
Follow MrBallen's Medical Mysteries wherever you get your podcasts. You can binge the first 8 episodes, early and ad-free on Amazon Music. Download the Amazon Music app today. The human body is a miracle. But when it's not working, it can be the stuff of nightmares. On this new series from master storyteller MrBallen, we're sharing medical horror stories and diagnostic mysteries that are surgically calibrated to make your blood run cold. From bizarre, unheard-of diseases and miraculous recoveries to strange medical mishaps and unexplainable deaths — you'll never hear the phrase "heart-stopping" in the same way again. MrBallen's Medical Mysteries is a first-of-its-kind collaboration between MrBallen and Wondery, the award-winning company behind Dr. Death. Listen Now: Wondery.fm/MBMM [http://wondery.fm/MBMM] See Privacy Policy at https://art19.com/privacy [https://art19.com/privacy] and California Privacy Notice at https://art19.com/privacy#do-not-sell-my-info [https://art19.com/privacy#do-not-sell-my-info].
The Conjuring | 7
In this final episode of Ghost Story, Tristan returns to Queens Road. With the help of Nikola, the psychic from Episode 6, Tristan makes one final attempt to figure out who killed Naomi Dancy and whether she's the ghost from his teenage bedroom. In the end, Tristan and the Dancy family finally get to see Naomi for who she really was. Episode Notes: Photo of Maurice Tribe circa 1918 © Crown copyright. Imperial War Museums (Photo Courtesy of the Imperial War Museum London) Portrait of Feyther by Frank Cadogan Cowper © The Estate of Frank Cadogan-Cowper. (Courtesy of the Dancy Family via Frank Cadogan-Cowper) See Privacy Policy at https://art19.com/privacy [https://art19.com/privacy] and California Privacy Notice at https://art19.com/privacy#do-not-sell-my-info [https://art19.com/privacy#do-not-sell-my-info].
The Ugly Truth | 6
After his encounter with the ghost hunters, Tristan continues his paranormal quest by meeting with a series of psychic mediums. He doesn't take them too seriously until he meets a strange, quiet man who seems to know more than he should about the night Naomi died. Tristan is shaken but decides it's finally time to tell his in-laws everything that he has learned about Feyther. Listener note: This episode contains descriptions of violence and suicide. Follow Ghost Story on the Wondery App or wherever you get your podcasts. You can binge all episodes of Ghost Story ad-free right now by joining Wondery Plus in the Wondery App or on Apple Podcasts. See Privacy Policy at https://art19.com/privacy [https://art19.com/privacy] and California Privacy Notice at https://art19.com/privacy#do-not-sell-my-info [https://art19.com/privacy#do-not-sell-my-info].
Super app. Onthoud waar je bent gebleven en wat je interesses zijn. Heel veel keuze!
App ziet er mooi uit, navigatie is even wennen maar overzichtelijk.
Overal beschikbaar
Luister naar Podimo op je telefoon, tablet, computer of auto!
Een universum van audio-entertainment
Duizenden luisterboeken en exclusieve podcasts voor € 6,99 / maand
Geen advertenties
Verspil geen tijd met het luisteren naar reclameblokken wanneer je luistert naar de exclusieve shows van Podimo.