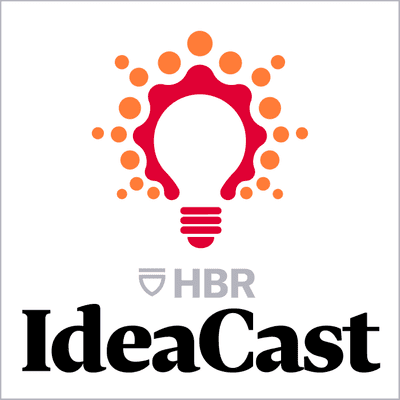 HBR IdeaCast
Podcast door Harvard Business Review
A weekly podcast featuring the leading thinkers in business and management. 
Nieuwste afleveringen
New Here: Getting a Raise Is a Process, Not a Conversation
Introducing HBR's podcast for young professionals, New Here [https://podcasts.apple.com/us/podcast/new-here/id1705031803], hosted by Elainy Mata. Whether it's your first job or a fresh start, New Here will help you build a meaningful career on your own terms. In this episode, author and personal finance expert Anne-Lyse Ngatta and author, career advisor, and past HBR IdeaCast guest Gorick Ng explain how to lay the groundwork before you ask for a raise, when and how to start the conversation with your manager, and how to navigate the negotiation that may follow. Listen for free to season one of New Here at HBR.org/Podcasts/New-Here [https://hbr.org/podcasts/new-here] or wherever you get your podcasts.
Fast Casual Food Pioneer Ron Shaich Explains How to Find a Niche — and then Scale
The restaurant business is notoriously competitive and often propelled by passing fads. But, first at the helm of Au Bon Pain, and then as the founder of Panera Bread, Ron Shaich managed to create an entirely new category of dining between fast food and table service and then dominate that market in the United States. He says the strategies that brought him success can be applied in any type of organization:  listen to and observe customers so you know what they want, create a truly differentiated offering, execute with excellence, and find the right opportunities to grow. He's employed this playbook as an investor in newer ventures like Cava and Tatte, as well. Shaich wrote the book Know What Matters: Lessons from a Lifetime of Transformations.
Why Private Equity Needs to Invest More in Talent Development
Traditionally, private equity companies have created value at the companies they own by taking on debt, restructuring, and exploiting underserved opportunities. But surging interest rates and increased competition have made it much harder to deliver strong returns. Ted Bililies, a partner and managing director of AlixPartners, says private equity leaders can no longer count on financial engineering to drive performance. Instead, they need to invest in the human capital at their portfolio companies. Bililies wrote the HBR article "Private Equity Needs a New Talent Strategy."
Super app. Onthoud waar je bent gebleven en wat je interesses zijn. Heel veel keuze!
App ziet er mooi uit, navigatie is even wennen maar overzichtelijk.
Overal beschikbaar
Luister naar Podimo op je telefoon, tablet, computer of auto!
Een universum van audio-entertainment
Duizenden luisterboeken en exclusieve podcasts voor € 6,99 / maand
Geen advertenties
Verspil geen tijd met het luisteren naar reclameblokken wanneer je luistert naar de exclusieve shows van Podimo.