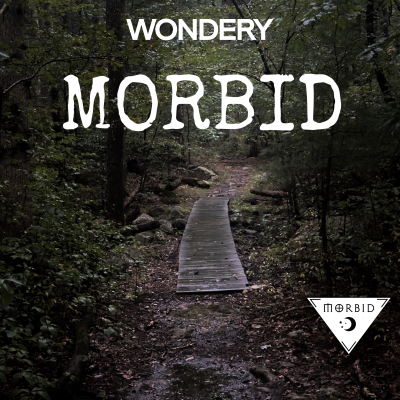 Morbid
Podcast door Morbid Network | Wondery
It's a lighthearted nightmare in here, weirdos! Morbid is a true crime, creepy history and all things spooky podcast hosted by an autopsy technician and a hairstylist. Join us for a heavy dose of research with a dash of comedy thrown in for flavor. 
Nieuwste afleveringen
Episode 517: The Black Sisters and the Murder of Ocey Snead
When East Orange, New Jersey police were called to the home of Virginia Wardlaw in late November 1909, they knew only that there had been an accident involving Virginia's niece, Ocey Snead. Once they'd arrived, however, officers discovered Ocey's body in an upstairs bathtub, dead from what appeared to be suicide by drowning. After just a few weeks of investigation, it became clear that Ocey's death was no accident. Suspicion quickly fell on Virginia and her two sisters, who were soon charged with Ocey's murder, which investigators believed was committed in order to collect on a large insurance policy. The murder of Ocey Snead was an undeniable tragedy, but her death was only the beginning of what would become one of the early twentieth century's most captivating crime stories. As detectives and the press dug deeper into the background of the three women accused of starving and drowning their niece, a bizarre story emerged that sounded as though it had been pulled directly from the pages of a classic southern gothic horror novel. And like any good gothic horror story, the trial of Virginia Wardlaw and her sisters was full of unbelievable twists and culminated in a shocking conclusion. Thank you to the Wondrous Dave White of Bring Me the Axe Podcast for Research! References New York Times. 1910. "Alienists declare Mrs. Martin insane." New York Times, September 21: 6. —. 1909. "Bathtub mystery no murder, she says." New York Times, December 2: 2. —. 1909. "Bathtub principals are twice indicted ." New York Times, December 23: 4. —. 1910. "Miss Wardlaw dies; starved herself." New York Times, August 12: 1. —. 1911. "Mrs. Martin pleads to manslaughter ." New York Times, January 10: 2. —. 1910. "Mrs. Martin's cries halt lunacy trial." New York Times, November 8: 7. —. 1909. "Mrs. Snead's family full of fatalities." New York Times, December 9: 20. —. 1910. "Ocey Snead was drugged ." New York Times, January 21: 1. —. 1910. "Say Miss Wardlaw is dying." New York Times, August 11: 4. —. 1909. "The Snead msytery." New York Times, December 18: 12. Rife, Luanne. 2016. "The Black Sisters." Roanoke Times, December 1: 116. Roanoke Times. 1909. "Christiansburg woman is held." Roanoke Times, December 3: 1. West, Mike. 2009. "Fearless Confederate died mysteriously in NYC." Murfreesboro Post, February 15: 8. —. 2009. "'Sisters in Black' sour Ocey's domestic bliss." Murfreesboro Post, February 22: 8. Zierold, Norman. 1968. Three Sisters in Black. New York, NY: Little, Brown. See Privacy Policy at https://art19.com/privacy [https://art19.com/privacy] and California Privacy Notice at https://art19.com/privacy#do-not-sell-my-info [https://art19.com/privacy#do-not-sell-my-info].
Episode 516: Listener Tales 80
It is Listener Tales 80 and this installment is brought to you by HEROES with the spookiest of tales… A decomposing body, florescent yellow fluid, possessed toys, a baby seeing ghost, and a man in black. These are brought to you by you, for you, from you and all about you so if you have a listener tale please go ahead and send it to Morbidpodcast@gmail.com with "Listener Tale" somewhere in the subject line :) See Privacy Policy at https://art19.com/privacy [https://art19.com/privacy] and California Privacy Notice at https://art19.com/privacy#do-not-sell-my-info [https://art19.com/privacy#do-not-sell-my-info].
Episode 515: The Murder of the Grimes Sisters
On the evening of December 28, 1956, fifteen-year-old Barbara Grimes and her thirteen-year-old sister, Patricia, left their home in Chicago, Illinois headed for a movie theater in Brighton Park to see the latest Elvis Presley film. When the girls failed to return home that evening as expected, their mother sent the two other siblings to wait for them at the closest bus station, but when they returned later without Barbara and Patricia, she became anxious and began calling their friends, before eventually phoning the police. Three weeks later, Barbara and Patricia's bodies were discovered on the side of a rural road by a construction worker in Willow Springs, about an hour outside Chicago. The murder of the Grimes sisters and the investigation that followed remains one of Chicago's most notorious cold cases and one of the most costly and labor-intensive searches in the state's history. Thank you to the incredible Dave White of Bring Me The Axe Podcast for research assistance! References Chicago Tribune. 1957. "Suspect's mom says he's lazy, shiftless bum." Chcago Tribune, January 25: 3. —. 1957. "Charged with murder of Grimes girls." Chicago Tribune, January 28: 1. —. 1957. "Dsicloses how 2 girls ditched him and companion in theater." Chicago Tribune, January 27: 1. —. 1957. "High points of the news." Chicago Tribune, February 3: 8. —. 1957. "'I knew it!' sobs mother." Chicago Tribune, 01 23: 1. —. 1957. "Nude bodies thrown beside country road." Chicago Tribune, January 23: 1. —. 1957. "Rule out sex attack, strangling theories." Chicago Tribune, January 24: 1. —. 1958. "Slayer of girl, 15, hopes he gets chair." Chicago Tribune, November 19: 1. —. 1957. "Widen search for 2 young sisters missing four days." Chicago Tribune, January 1: 5. —. 1956. "Young sisters reported seen in two places." Chicago Tribune, December 31: 6. Gowran, Clay. 1957. "Re-enacts crime, and shows how he dumped two in ditch." Chicago Tribune, January 28: 1. Lowry, Shirley. 1957. "Lost girls' mother keeps brave." Chicago Tribune, January 11: 3. McGill, Nancy. 1957. "Mom denies Skid Row tale." Chicago Tribune, Janaury 28: 6. Milwaukee Journal. 1957. "Grimes case tiff costs job." Milwaukee Journal, February 16. Nix, Naomi. 2013. "1950s case gets new look from pro, amateurs." Chicago Tribune, 30 May: 1. Taylor, Troy. 2015. The Two Lost Girls: The Mystery of the Grimes Sisters. Jacksonville, IL: Whitechapel Press. United Press. 1957. "Bennie admits part in crime." Daily Chronicle, January 28: 1. —. 1957. "New suspect is arrested." Daily Chronicle, January 24: 1. —. 1957. "Two teen-aged girls killed." Daily Chronicle, Janaury 23: 1. UWIRE. 2019. "'Chicago History Cop' making headway in Grimes sisters' murder case." UWIRE, October 25. See Privacy Policy at https://art19.com/privacy [https://art19.com/privacy] and California Privacy Notice at https://art19.com/privacy#do-not-sell-my-info [https://art19.com/privacy#do-not-sell-my-info].
Super app. Onthoud waar je bent gebleven en wat je interesses zijn. Heel veel keuze!
App ziet er mooi uit, navigatie is even wennen maar overzichtelijk.
Overal beschikbaar
Luister naar Podimo op je telefoon, tablet, computer of auto!
Een universum van audio-entertainment
Duizenden luisterboeken en exclusieve podcasts voor € 6,99 / maand
Geen advertenties
Verspil geen tijd met het luisteren naar reclameblokken wanneer je luistert naar de exclusieve shows van Podimo.