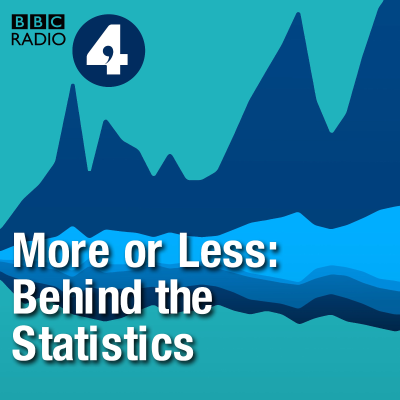 More or Less: Behind the Stats
Tim Harford and the More or Less team try to make sense of the statistics which surround us. From BBC Radio 4 
Nieuwste afleveringen
Will there be a billion climate refugees?
Former Vice President Al Gore has said that climate change is predicted to lead to a billion climate refugees. But where do these predictions come from and are they realistic? We investigate the idea that floods, droughts, storms and sea level rise will cause a mass migration of people across borders. Reporter and Producer: Tom Colls Sound Mix: James Beard Editor: Richard Vadon (Photo: Floods in central Somalia Credit: Said Yusuf - WARSAME/EPA-EFE/REX/Shutterstock)
A boy meets girl meets stats story
Veronica Carlin is a data scientist who loves romantic comedies. But she had a hunch about those movies, that there aren't many women like her, women in STEM - science, technology, engineering and maths – taking the lead roles. So she set out on a maths quest to find out what's what. Presenter: Kate Lamble Series Producer: Tom Colls Editor: Richard Vadon Sound Engineer: Graham Puddifoot (Picture: A young couple with a heart-shaped balloon on the street Credit: Cultura RM Exclusive/Spark Photographic / Getty)
Are women in the UK the biggest binge drinkers in the world?
We check out suspect stats on boozing Brits and fishy figures on fishing fleets in the South China Sea. With the help of Professor John Holmes from the University of Sheffield's School of Medicine and Population Health and Simon Funge-Smith, a senior fishery officer at the FAO. Presenter and producer: Charlotte McDonald Series Producer: Tom Colls Editor: Richard Vadon Sound Engineer: Graham Puddifoot
Super app. Onthoud waar je bent gebleven en wat je interesses zijn. Heel veel keuze!
App ziet er mooi uit, navigatie is even wennen maar overzichtelijk.
Overal beschikbaar
Luister naar Podimo op je telefoon, tablet, computer of auto!
Een universum van audio-entertainment
Duizenden luisterboeken en exclusieve podcasts voor € 6,99 / maand
Geen advertenties
Verspil geen tijd met het luisteren naar reclameblokken wanneer je luistert naar de exclusieve shows van Podimo.