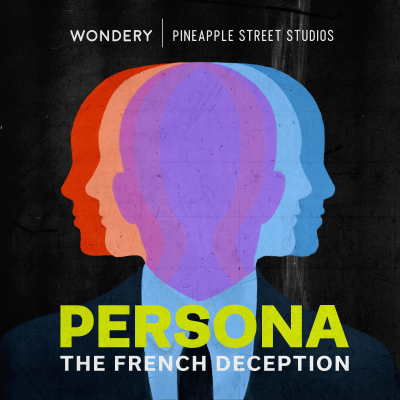 Persona: The French Deception
Podcast door Wondery | Pineapple Street Studios
What does it feel like to pick up the phone and scam someone out of $50 million? This is the story of Gilbert Chikli, one of the greatest con artists of all time. Host and award-winning journalist Evan Ratliff investigates how Chikli duped some of the world's most powerful people into handing over their fortunes. He explores how Chikli evaded the law for years and became a Robin Hood-like hero. More than just a tale of criminal genius, this is a show about the moment we're living in right now — the golden age of scammers — and the power of seduction. But what happens when the fantasy we've been lured into finally crumbles away?All episodes are available now. You can binge the series ad-free on Wondery+ or on Amazon Music with a Prime membership or Amazon Music Unlimited subscription. 
Nieuwste afleveringen
Introducing Magnificent Jerk
On the last day of her grandmother's life, journalist Maya Lin Sugarman finds a box of forgotten screenplays that sets her on a journey to uncover the truth about their author: her late uncle, Galen. She discovers that he was a leader of a Chinese gang, that he went to jail, and, in a final twist, that he poured his life story into a screenplay that was turned into a '90s Hollywood action movie…starring Rob Lowe, Burt Rynolds, and Ice-T. Magnificent Jerk is an Apple Original podcast, produced by Pineapple Street Studios. Listen Now: https://www.apple.com/tv-pr/originals/magnificent-jerk/ [https://www.apple.com/tv-pr/originals/magnificent-jerk/] See Privacy Policy at https://art19.com/privacy [https://art19.com/privacy] and California Privacy Notice at https://art19.com/privacy#do-not-sell-my-info [https://art19.com/privacy#do-not-sell-my-info].
After the Deception | 9
Reporter Evan Ratliff joins the hosts of Wondery's ongoing seriesScamfluencers [https://www.google.com/url?q=https://wondery.com/shows/scamfluencers/&sa=D&source=editors&ust=1659131346887629&usg=AOvVaw2FW2DCRU6UaDricg_62HJM], Scaachi Koul and Sarah Hagi, to discuss how he pieced his investigation on Gilbert Chikli together and shares his insights into the culture of scams. Listen to new episodes 1 week early and to all episodes ad free with Wondery+. Join Wondery+ for exclusives, binges, early access, and ad free listening. Available in the Wondery App https://wondery.app.link/persona [https://wondery.app.link/persona]. Please support us by supporting our sponsors! See Privacy Policy at https://art19.com/privacy [https://art19.com/privacy] and California Privacy Notice at https://art19.com/privacy#do-not-sell-my-info [https://art19.com/privacy#do-not-sell-my-info].
Cards on the Table | 8
In the season finale, a confounding clue in Gilbert Chikli's case sends Evan back to the dossier to see if someone else might have orchestrated the Le Drian affair. The search takes him from the world of high-stakes professional poker, to the office of a lawyer with a curious role in the case, to an apartment building full of unmarked doors. Finally, we return to the very start of Chikli's mythology, and thePersonateam receives a mysterious phone call of our own. Please support us by supporting our sponsors! See Privacy Policy at https://art19.com/privacy [https://art19.com/privacy] and California Privacy Notice at https://art19.com/privacy#do-not-sell-my-info [https://art19.com/privacy#do-not-sell-my-info].
Super app. Onthoud waar je bent gebleven en wat je interesses zijn. Heel veel keuze!
App ziet er mooi uit, navigatie is even wennen maar overzichtelijk.
Overal beschikbaar
Luister naar Podimo op je telefoon, tablet, computer of auto!
Een universum van audio-entertainment
Duizenden luisterboeken en exclusieve podcasts voor € 4,99 / maand
Geen advertenties
Verspil geen tijd met het luisteren naar reclameblokken wanneer je luistert naar de content van Podimo.