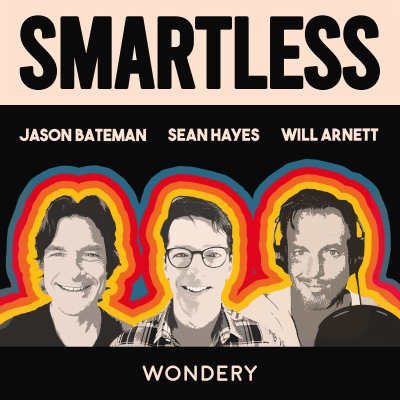 SmartLess
Podcast door Jason Bateman, Sean Hayes, Will Arnett
"SmartLess" with Jason Bateman, Sean Hayes, & Will Arnett is a podcast that connects and unites people from all walks of life to learn about shared experiences through thoughtful dialogue and organic hilarity. A nice surprise: in each episode of SmartLess, one of the hosts reveals his mystery guest to the other two. What ensues is a genuinely improvised and authentic conversation filled with laughter and newfound knowledge to feed the SmartLess mind.New episodes on Mondays for free. Listen 1-week early and to all episodes ad-free with Wondery+ or Amazon Music with a Prime membership or Amazon Music Unlimited subscription. 
Nieuwste afleveringen
Listen Now: Sports Explains the World
Sports Explains the World unveils some of the wildest and most surprising sports stories you've never heard - And they're all true. From the teenager who wrote a Wikipedia page that got a young athlete signed to a million-dollar deal - to the Ugandan National basketball coach who was really an undercover agent for the CIA, these stories will amaze and move you at every turn. Reported by award-winning journalists across the globe, Sports Explains the World reveals the human side of athletics in provocative and unexpected ways. You'll never view sports the same way again. Enjoy Sports Explains the World on the Wondery App or wherever you get your podcasts:wondery.fm/setw_ip [http://wondery.fm/setw_ip] You can binge the first 9 episodes of Sports Explains the World right now ad-free on Wondery Plus. Get started with your free trial at Wondery.com/plus. See Privacy Policy at https://art19.com/privacy [https://art19.com/privacy] and California Privacy Notice at https://art19.com/privacy#do-not-sell-my-info [https://art19.com/privacy#do-not-sell-my-info].
"Matthew McConaughey"
Matthew McConaughey: Take 2. We get the legend back on the pod for a second time… and this time, we actually record an episode. See Privacy Policy at https://art19.com/privacy [https://art19.com/privacy] and California Privacy Notice at https://art19.com/privacy#do-not-sell-my-info [https://art19.com/privacy#do-not-sell-my-info].
"Kara Swisher"
Relish this dish, an ep not to squish… espesh hackers, crackers, and phishers. Ladies and gents, it's our guest Kara Swisher. See Privacy Policy at https://art19.com/privacy [https://art19.com/privacy] and California Privacy Notice at https://art19.com/privacy#do-not-sell-my-info [https://art19.com/privacy#do-not-sell-my-info].
Super app. Onthoud waar je bent gebleven en wat je interesses zijn. Heel veel keuze!
App ziet er mooi uit, navigatie is even wennen maar overzichtelijk.
Overal beschikbaar
Luister naar Podimo op je telefoon, tablet, computer of auto!
Een universum van audio-entertainment
Duizenden luisterboeken en exclusieve podcasts voor € 4,99 / maand
Geen advertenties
Verspil geen tijd met het luisteren naar reclameblokken wanneer je luistert naar de content van Podimo.