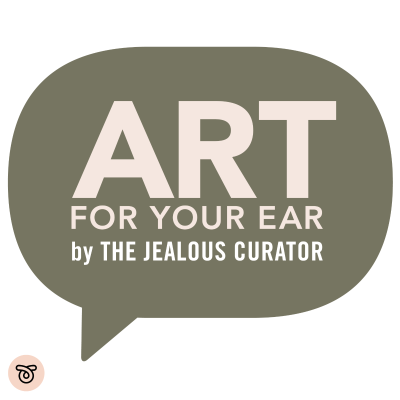 The Jealous Curator : ART FOR YOUR EAR
Podcast door The Jealous Curator
ART FOR YOUR EAR brings you stories from some of my favorite contemporary artists. When I studied Art History, the best part was, well, the gossip. I loved finding out why artists did certain things, what was going on in their personal lives, and behind-the-scenes details about other artists they knew and worked with. This podcast is exactly that ... inside-scoop stories from the artsiest people I know. You'll hear first-hand from these talented, successful, full-time artists (who also happen to be regular people with hilarious stories) BEFORE they're in the Art History books. - Danielle (aka The Jealous Curator) 
Nieuwste afleveringen
SFMoMA : future greats
This is a very special episode because I didn't do just one interview, I interviewed a whole room full of fabulous artists at the San Francisco Museum of Modern Art. Who, you ask? The great artists of tomorrow - ages 3 to 10! Brace yourself for inspirational, hilarious, cuteness overload.
ON THE CASE (EP 4) : the story behind the story
Today's artsy investigation takes a look into the WHY and HOW behind "ART and JOY", and oh so much more. If you've ever wanted to write a book but aren't sure how to get started, or you're curious about why I made the jump from adult art books to kids' books, all of the answers await!
ON THE CASE (EP 3) : they told her to "GO BIG"
If you don't go big, do you have to go home? We're investigating this question, but that's not all. We'll also explore how to "level up" by reaching out for a bit of help ... specifically PR help. Since these are two pretty big questions, I've brought in TWO creative experts to help me crack this case!
Super app. Onthoud waar je bent gebleven en wat je interesses zijn. Heel veel keuze!
App ziet er mooi uit, navigatie is even wennen maar overzichtelijk.
Overal beschikbaar
Luister naar Podimo op je telefoon, tablet, computer of auto!
Een universum van audio-entertainment
Duizenden luisterboeken en exclusieve podcasts voor € 6,99 / maand
Geen advertenties
Verspil geen tijd met het luisteren naar reclameblokken wanneer je luistert naar de exclusieve shows van Podimo.