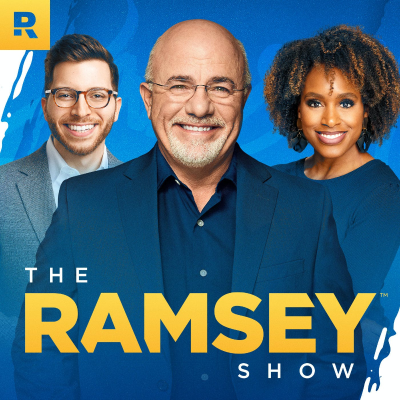 The Ramsey Show
Podcast door Ramsey Network
The Ramsey Show believes you can build wealth and take control of your life—no matter what stupid mistakes you've made with money. Join as Dave Ramsey and his team of experts answer your questions on the top problems holding you back. Listen now or ask your question live by calling 888.825.5225 weekdays from 2–5 p.m. ET. Learn more at www.ramseysolutions.com 
Nieuwste afleveringen
How Can I Get Ahead With My Money?
Ken Coleman & Rachel Cruze answer your questions and discuss: * Why combining money before you get married is a bad idea * "Is my wife a princess for not wanting to work?" * "Preparing to take on my girlfriend's debt?" * "Am I being too stingy with vacations?" (Yes) * "My lifestyle is completely unsustainable..." * "Am I being irresponsible?" * "Buy a home if it will double my housing cost?" * "What should I do with my increased income?" * "Can I use my emergency fund for daughter's quinceañera?" * "How do I get ahead when my income is so low?" * "Should I keep my whole life insurance?" * "Should I move out of my parents' house?" * "Sell rentals and primary to buy our dream home?" Have a question for the show? Call 888-825-5225 Weekdays from 2-5pm ET Support Our Sponsors: * Balance of Nature [https://balanceofnature.com] * DreamCloud [https://www.dreamcloudsleep.com/delony] * Zander Insurance [https://bit.ly/2Xbn7hD] * BetterHelp [https://www.betterhelp.com/deloney] * Neighborly [https://www.neighborly.com/Ramsey] Start your EveryDollar Free Account today: Click Here [https://www.ramseysolutions.com/ramseyplus/everydollar?utm_source=trs&utm_medium=podcast&utm_campaign=everydollar-podcast-evergreen&utm_id=everydollar.podcast.evergreen&utm_content=podcast-evergreen] Cyber Monday Deals are here! Shop meaningful gifts for as low as $7 this week only!: Click Here [https://store.ramseysolutions.com/sale/cyber-monday-sale/?utm_source=trs_podcast&utm_medium=audio&utm_campaign=cybermonday_christmascampaign_2023_network&utm_term=consumer_products_bu&utm_content=cybermonday_christmascampaign_2023_network%20-%20cybermonday_christmascampaign_2023_network] Find a Ramsey Trusted Real Estate Agent: Click Here [https://www.ramseysolutions.com/real-estate/real-estate-radio?utm_source=tdrs&utm_medium=podcast&utm_campaign=RE-the-ramsey-show-podcast&utm_term=real_estate_bu&utm_content=real-estate-ramsey-show-podcast] Want a plan for your money? Find out where to start: Click Here [https://bit.ly/3cEP4n6] Listen to all The Ramsey Network podcasts: Click Here [https://bit.ly/3GxiXm6] Interested in advertising on The Ramsey Show? Click Here [https://ter.li/s64ye3] Learn more about your ad choices. https://www.megaphone.fm/adchoices [https://www.megaphone.fm/adchoices] Ramsey Solutions Privacy Policy [https://www.ramseysolutions.com/company/policies/privacy-policy]
Breaking the Paycheck-to-Paycheck Cycle
Jade Warshaw & Rachel Cruze answer your questions and discuss: * "Should I pull from my 401(k) to pay off debt?" * "What's the best way to pay off my truck?" * "How should I save money for the future?" * "Can we afford to stay in our current apartment?" * Living paycheck-to-paycheck, * "How can we fix our finances?" * "Scammers are after my father, what can I do?" * "We hate the house we bought," * "How do I start investing?" * "Should we give Christmas gifts to teachers?" * "Should we pay off our house before investing?" * "Pay off debt before buying more rentals?" * "Should I drop my car insurance?" * "Pay off debt before buying more rentals?" Have a question for the show? Call 888-825-5225 Weekdays from 2-5pm ET Support Our Sponsors: * Zander Insurance [https://bit.ly/2Xbn7hD] * Balance of Nature [https://balanceofnature.com] * BetterHelp [https://www.betterhelp.com/deloney] * USCCA [https://www.uscca.com/Ramsey] * Neighborly [https://www.neighborly.com/Ramsey] Protect yourself with the right coverage—Take our Coverage Quiz! [https://www.ramseysolutions.com/insurance/coverage-checkup-tool?utm_source=tdrs&utm_medium=podcast&utm_campaign=coverage-checkup-podcast&utm_term=protections_bu&utm_content=coverage-checkup-podcast-take-the-coverage-checkup] Start your EveryDollar Free Account today: Click Here [https://www.ramseysolutions.com/ramseyplus/everydollar?utm_source=trs&utm_medium=podcast&utm_campaign=everydollar-podcast-evergreen&utm_id=everydollar.podcast.evergreen&utm_content=podcast-evergreen] Cyber Monday Deals are here! Shop meaningful gifts for as low as $7 this week only!: Click Here [https://store.ramseysolutions.com/sale/cyber-monday-sale/?utm_source=trs_podcast&utm_medium=audio&utm_campaign=cybermonday_christmascampaign_2023_network&utm_term=consumer_products_bu&utm_content=cybermonday_christmascampaign_2023_network%20-%20cybermonday_christmascampaign_2023_network] Want a plan for your money? Find out where to start: Click Here [https://bit.ly/3cEP4n6] Listen to all The Ramsey Network podcasts: Click Here [https://bit.ly/3GxiXm6] Interested in advertising on The Ramsey Show? Click Here [https://ter.li/s64ye3] Learn more about your ad choices. https://www.megaphone.fm/adchoices [https://www.megaphone.fm/adchoices] Ramsey Solutions Privacy Policy [https://www.ramseysolutions.com/company/policies/privacy-policy]
Making Good Financial Decisions Is Hard (but Worth It)
Rachel Cruze & Jade Warshaw answer your questions and discuss: * "Should I take out a loan from a family member?" * "Should I have more than $1000 in Baby Step 1," * "My parents lost their business, how can I help?" * "The real truth about Christmas gifts," * "How should I save for a house?" * Why it's sometimes hard to make wise money decisions * "I'm scared to tithe while on Baby Step 2," * "I'm not happy with our affordable vacations," * "My husband is about to file bankruptcy" * "Should I leave my job?" * "How can I best pay off debt?" * "Should we cash out investments to pay off debt?" * "Should we move closer to family?" * "I'm $42K in debt and just lost my job" Have a question for the show? Call 888-825-5225 Weekdays from 2-5pm ET Support Our Sponsors: * Churchill Mortgage [https://bit.ly/2JcfkGy] * Christian Healthcare Ministries [https://bit.ly/3xM3FbS] * NetSuite [https://bit.ly/2WBLh5c] * Zander Insurance [https://bit.ly/2Xbn7hD] * Neighborly [https://www.neighborly.com/Ramsey] Cyber Monday Deals are here! Shop meaningful gifts for as low as $7 this week only! Click Here [https://store.ramseysolutions.com/sale/cyber-monday-sale/?utm_source=trs_podcast&utm_medium=audio&utm_campaign=cybermonday_christmascampaign_2023_network&utm_term=consumer_products_bu&utm_content=cybermonday_christmascampaign_2023_network%20-%20cybermonday_christmascampaign_2023_network] For help with investing, get connected with a SmartVestor Pro: Click Here [https://www.ramseysolutions.com/retirement/smartvestor?utm_source=tdrs&utm_medium=podcast&utm_campaign=smartvestor&utm_term=investing_tax_bu&utm_content=smartvestor%20-%20show_notes]  Protect yourself with the right coverage—Take our Coverage Quiz! [https://www.ramseysolutions.com/insurance/coverage-checkup-tool?utm_source=tdrs&utm_medium=podcast&utm_campaign=coverage-checkup-podcast&utm_term=protections_bu&utm_content=coverage-checkup-podcast-take-the-coverage-checkup] Want a plan for your money? Find out where to start: Click Here [https://bit.ly/3cEP4n6] Listen to all The Ramsey Network podcasts: Click Here [https://bit.ly/3GxiXm6] Interested in advertising on The Ramsey Show? Click Here [https://ter.li/s64ye3] Learn more about your ad choices. https://www.megaphone.fm/adchoices [https://www.megaphone.fm/adchoices] Ramsey Solutions Privacy Policy [https://www.ramseysolutions.com/company/policies/privacy-policy]
Super app. Onthoud waar je bent gebleven en wat je interesses zijn. Heel veel keuze!
App ziet er mooi uit, navigatie is even wennen maar overzichtelijk.
Overal beschikbaar
Luister naar Podimo op je telefoon, tablet, computer of auto!
Een universum van audio-entertainment
Duizenden luisterboeken en exclusieve podcasts voor € 6,99 / maand
Geen advertenties
Verspil geen tijd met het luisteren naar reclameblokken wanneer je luistert naar de exclusieve shows van Podimo.