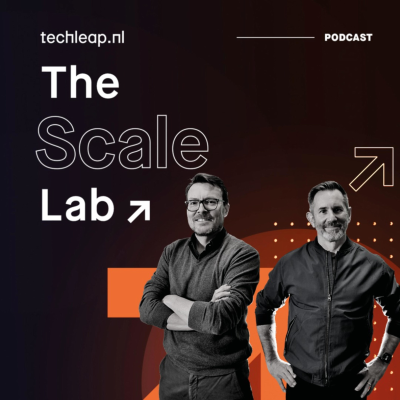 The Scale Lab is an original Techleap.nl podcast on how to scale up your company beyond the Netherlands. Hosted by Constantijn van Oranje and Joe Wilson, this podcast series gathers remarkable Dutch entrepreneurs who were able to create breakthrough companies to deconstruct their scaling journeys: how to find the right product-market fit, pivoting, funding strategies, approaching VC and investors, expanding abroad and key lessons learned. Learn more about Techleap.nl initiatives here: https://techleap.nl/ 
Nieuwste afleveringen
Episode #30: Constantijn van Oranje and Joe Wilson are closing season 3 of the Scale Lab podcast with their main learnings
In this episode, Joe Wilson and Constantijn van Oranje are closing season 3 of the Scale Lab podcast by dressing their learnings from past episodes. Constantijn is also explaining more about his role as Special envoy and his expectations for the future of Techleap.
Episode #29: Ross Mason taking us through his journey at MuleSoft
In this episode, Constantijn van Oranje and Joe Wilson talked to Ross Mason, the founder of MuleSoft a breakthrough company, unlocking systems and data with integration, driving productivity and efficiency with automation, and creating engaging digital experiences. A highly inspiring episode where we discover how Ross Mason took MuleSoft to the next level by being mentored by the right persons and built a strong team around him to take MuleSoft to the next level.
Episode #28: Mette Lykke talking about the Too Good To Go journey and the ambitious target they have to reach by 2025 when it comes to food waste
In this episode, we went through the experience of Mette Lykke as a co-founder at Endomondo. From sport to food, how did she made the transition and build up a thriving team to accelerate the adoption of Too Good To Go among partners and customers. An inspiring story and a deep dive into the hypergrowth of the company fighting against food waste. Too Good To Go is the app that lets you rescue unsold food at your favourite spots from an untimely fate. Use the app to explore shops and restaurants in your local area and save surprise bags of surplus food from going to waste at a great price.
Super app. Onthoud waar je bent gebleven en wat je interesses zijn. Heel veel keuze!
App ziet er mooi uit, navigatie is even wennen maar overzichtelijk.
Overal beschikbaar
Luister naar Podimo op je telefoon, tablet, computer of auto!
Een universum van audio-entertainment
Duizenden luisterboeken en exclusieve podcasts voor € 4,99 / maand
Geen advertenties
Verspil geen tijd met het luisteren naar reclameblokken wanneer je luistert naar de content van Podimo.