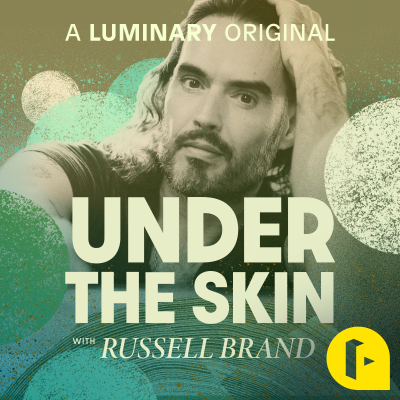 Under The Skin with Russell Brand
Podcast door Russell Brand
A weekly interview series from Russell Brand that examines what's beneath the surface—of the people we admire, the ideas that define our time, and the history we're told. Speaking with guests from the worlds of academia, popular culture, and the arts, Russell seeks to uncover the ulterior truth behind our constructed reality. And have a laugh. On his new podcast 'Above the Noise' Russell guides us all—curious beginners, spiritual skeptics, and experienced practitioners—in brief, 10-minute meditations. Listen to Above the Noise on Luminary 
Nieuwste afleveringen
Brené Brown on Vulnerability and Power
Brené Brown is an expert researcher in vulnerability, courage and shame. This conversation is one of my all-time favourites. [Originally released in 2019, but still nourishing for anyone seeking spiritual wisdom from one of the best.] For more conversations like this, as well as meditations by Russell Brand, subscribe to the Luminary Channel on Apple podcasts or directly on Luminary at https://luminary.link/russell Brené Brown is the author of multiple #1 New York Times bestseller books, and her TED talk on vulnerability has over 60 million views, making it one of the most viewed ever. She also has inspiring specials on Netflix (i.e. "The Call To Courage").
Breathe! with James Nestor
[Special free episode] Inspired initially by the art of freediving, James Nestor has since explored the vital role that breath, and breathing correctly, plays in our evolution as human beings and our health right now. Are we breathing wrong and what can we do to change it? How powerful is our breath really? James reveals the incredible feats and control people have acquired by harnessing their breath, something we carry around with us 24/7. Is there some ulterior reason why this free, accessible and innate ability is not widely proliferated? This episode may make you very aware of your breathing while you're listening, but it might also change your life! More Info: James is the author of "Deep: Freediving, Renegade Science, and What the Ocean Tells Us about Ourselves" and "Breath: The New Science of a Lost Art" This best of Under the Skin episode was recorded in the spring of 2021. Subscribe to the Luminary Channel on Apple to hear all episodes of "Under the Skin," as well numerous meditations from Russell Brand, in his series "Above the Noise." Learn more at https://luminary.link/russell [https://luminary.link/russell]
Wim Hof on Healing Yourself
Best Of Under the Skin: In this popular episode Wim Hof, aka "The Ice Man," talks about how his breathing techniques can be used to increase our immunity, our personal respiratory power, our health and our safety as well as, of course, having a huge spiritual dimension. Enjoy!
Super app. Onthoud waar je bent gebleven en wat je interesses zijn. Heel veel keuze!
App ziet er mooi uit, navigatie is even wennen maar overzichtelijk.
Overal beschikbaar
Luister naar Podimo op je telefoon, tablet, computer of auto!
Een universum van audio-entertainment
Duizenden luisterboeken en exclusieve podcasts voor € 6,99 / maand
Geen advertenties
Verspil geen tijd met het luisteren naar reclameblokken wanneer je luistert naar de exclusieve shows van Podimo.