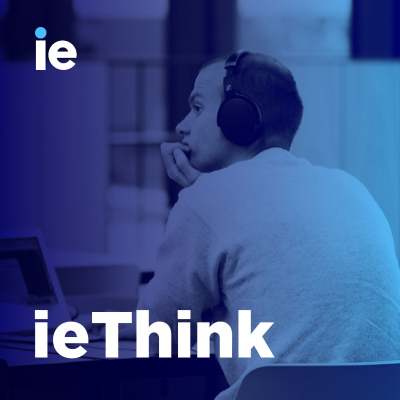 Welcome to ieThink. Get to know the people behind our global university and discover their creative ways of thinking. Tune in to hear how the team channels their experiences into impactful careers and face a world that presents us with new challenges every day. With regular content from our hosts and exciting guests, step into the IE University way of life and open your mind to endless possibilities. 
Los últimos episodios
Unfolded x ieThink: Metta Space
In this episode, we hear from the co-founders of Metta Space: Eleanor Manley and Helena Oettingen. The pair discuss their experiences as entrepreneurs and how they've pioneered a platform to report workplace sexual harassment. Striving to make a difference, they've harnessed their knowledge of data to fight sexual harassment and make a positive social impact. Tune in to hear about their big plans for the future—and how they'll take their venture beyond anything they first expected.
Let's Get Mental
In honor of mental health week, we host a candid conversation between Julia, Andrea, Adlan and Matteo as they discuss personal experiences and journeys with their mental health. From anxiety and body positivity to how to support other people, the group discuss their personal experiences as young men and women and consider how we can break down the mental health taboo.
Women's Week Special
To celebrate International Women's Day, tune in to hear from two driven IE University students Beatriz de los Heros and Cloe Attieh, in conversation with your ieThink hosts. In this engaging discussion, they reflect on their achievements, goals and experiences with getting their foot in the doors of male-dominated industries. Women in industry are earning themselves a whole new reputation and proving age-old gender stereotypes wrong—and Beatriz and Cloe are ready to overcome any obstacles that come their way.
Soy muy de podcasts. Mientras hago la cama, mientras recojo la casa, mientras trabajo… Y en Podimo encuentro podcast que me encantan. De emprendimiento, de salid, de humor… De lo que quiera! Estoy encantada 👍
MI TOC es feliz, que maravilla. Ordenador, limpio, sugerencias de categorías nuevas a explorar!!!
Me suscribi con los 14 días de prueba para escuchar el Podcast de Misterios Cotidianos, pero al final me quedo mas tiempo porque hacia tiempo que no me reía tanto. Tiene Podcast muy buenos y la aplicación funciona bien.
App ligera, eficiente, encuentras rápido tus podcast favoritos. Diseño sencillo y bonito. me gustó.
contenidos frescos e inteligentes
La App va francamente bien y el precio me parece muy justo para pagar a gente que nos da horas y horas de contenido. Espero poder seguir usándola asiduamente.
Disponible en todas partes
¡Escucha Podimo en tu móvil, tablet, ordenador o coche!
Un universo de entretenimeinto en audio
Miles de podcast y audiolibros exlusivos desde 3,99 €/Mes
Sin anuncios
No pierdas tiempo escuchando anuncios cuando escuches los contenidos de Podimo.