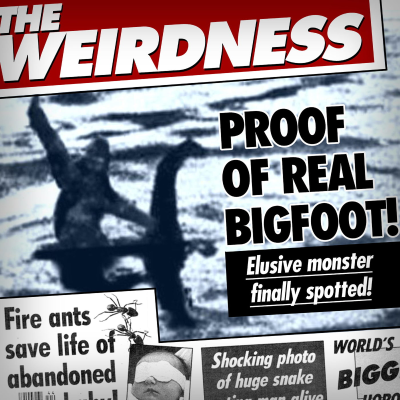 The Weirdness
Podcast de Gen-Z Media | Wondery
Welcome to The Weirdness… Middle-schoolers Arlo and Sierra host a podcast dedicated to exploring unexplained phenomena like the Loch Ness Monster, the yeti and the chupacabra. But they've never actually witnessed any of it—until they track down an unusual caller who turns out to be none other than Bigfoot himself. Turns out, the Weirdness is real, and it's everywhere! Arlo, Sierra, and Bigfoot (aka Beef) set off on a mind-blowing adventure across the globe to find out why the creatures of legends are disappearing.For more great Gen-Z podcasts visit http://gzmshows.com or follow us on Twitter and Facebook and Instagram. 
Los últimos episodios
S1 E10: The Creep
In the final epic battle, Sierra, Beef and Arlo discover the true nature of the Creep and how to defeat it. Welcome to The Weirdness… Middle-schoolers Arlo and Sierra host a podcast dedicated to exploring unexplained phenomena like the Loch Ness Monster, the yeti and the chupacabra. But they've never actually witnessed any of it—until they track down an unusual caller who turns out to be none other than Bigfoot himself. Turns out, the Weirdness is real, and it's everywhere! Arlo, Sierra, and Bigfoot (aka Beef) set off on a mind-blowing adventure across the globe to find out why the creatures of legends are disappearing. The Weirdness is produced by Gen-Z Media. For more great Gen-Z shows visit http://bestrobotever.com or follow us on Twitter and Facebook and Instagram. See Privacy Policy at https://art19.com/privacy and California Privacy Notice at https://art19.com/privacy#do-not-sell-my-info.
S1 E9: Nessie
Lost at sea, Arlo, Sierra and Beef are rescued by none other than the Loch Ness Monster herself. They journey to Atlantis to save the Weirds and confront the Creep. Welcome to The Weirdness… Middle-schoolers Arlo and Sierra host a podcast dedicated to exploring unexplained phenomena like the Loch Ness Monster, the yeti and the chupacabra. But they've never actually witnessed any of it—until they track down an unusual caller who turns out to be none other than Bigfoot himself. Turns out, the Weirdness is real, and it's everywhere! Arlo, Sierra, and Bigfoot (aka Beef) set off on a mind-blowing adventure across the globe to find out why the creatures of legends are disappearing. The Weirdness is produced by Gen-Z Media. For more great Gen-Z shows visit http://bestrobotever.com or follow us on Twitter and Facebook and Instagram. See Privacy Policy at https://art19.com/privacy and California Privacy Notice at https://art19.com/privacy#do-not-sell-my-info.
S1 E8: The Kraken
Sierra meets a very familiar sea monster and the Weirds must rally together to fight off a Creep attack. Welcome to The Weirdness… Middle-schoolers Arlo and Sierra host a podcast dedicated to exploring unexplained phenomena like the Loch Ness Monster, the yeti and the chupacabra. But they've never actually witnessed any of it—until they track down an unusual caller who turns out to be none other than Bigfoot himself. Turns out, the Weirdness is real, and it's everywhere! Arlo, Sierra, and Bigfoot (aka Beef) set off on a mind-blowing adventure across the globe to find out why the creatures of legends are disappearing. The Weirdness is produced by Gen-Z Media. For more great Gen-Z shows visit http://bestrobotever.com or follow us on Twitter and Facebook and Instagram. See Privacy Policy at https://art19.com/privacy and California Privacy Notice at https://art19.com/privacy#do-not-sell-my-info.
Soy muy de podcasts. Mientras hago la cama, mientras recojo la casa, mientras trabajo… Y en Podimo encuentro podcast que me encantan. De emprendimiento, de salid, de humor… De lo que quiera! Estoy encantada 👍
MI TOC es feliz, que maravilla. Ordenador, limpio, sugerencias de categorías nuevas a explorar!!!
Me suscribi con los 14 días de prueba para escuchar el Podcast de Misterios Cotidianos, pero al final me quedo mas tiempo porque hacia tiempo que no me reía tanto. Tiene Podcast muy buenos y la aplicación funciona bien.
App ligera, eficiente, encuentras rápido tus podcast favoritos. Diseño sencillo y bonito. me gustó.
contenidos frescos e inteligentes
La App va francamente bien y el precio me parece muy justo para pagar a gente que nos da horas y horas de contenido. Espero poder seguir usándola asiduamente.
Disponible en todas partes
¡Escucha Podimo en tu móvil, tablet, ordenador o coche!
Un universo de entretenimeinto en audio
Miles de podcast y audiolibros exlusivos desde 3,99 €/Mes
Sin anuncios
No pierdas tiempo escuchando anuncios cuando escuches los contenidos de Podimo.