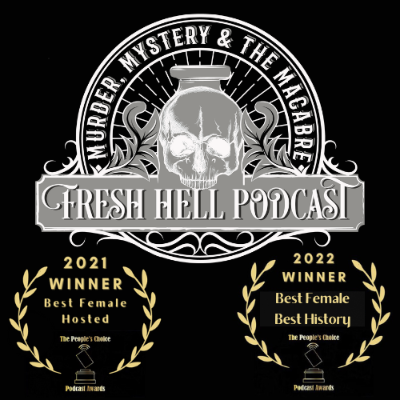 Fresh Hell Podcast
Podkast av freshhellpodcast
Two women, from opposite sides of the Atlantic, talk about murder, mystery and the macabre. This is your award winning, international true crime podcast, hosted by Annie and Johanna. 
Andre eksklusive podkaster
Siste episoder
E217: The Halifax Explosion (part II)
In part 2 we conclude our coverage of the devastating explosion which destroyed Halifax, Nova Scotia in December 1917. We examine the heroic acts of survivors, why the military presence was crucial in the aftermath, and how the city coped with the growing number of dead. Also discussed are the tremendous impact of  Dr. Clement Ligoure, Dr. George Cox among others, and why Bostonians and Haligonians love each other a wicked lot.
E216: The Halifax Explosion (part I)
On 6. December 1917, the busy WWI port of Halifax, Nova Scotia was devastated by the largest man made explosion the world had ever seen. We discuss the devastation and heroism in the aftermath of this tragedy.
1 h 2 min
-
24. nov. 2023
E215: MYSTERY - The Disappearance of the Beaumont Children (part II)
This week we are talking about Jane, Arnna, and Grant Beaumont, three siblings who disappeared without a trace from Glenelg Beach near Adelaide, Australia, on January 26, 1966. We will be discussing theories, clairvoyants and the main suspects in this case, that remains one of Australia's most infamous unsolved mysteries.
Enkelt å finne frem nye favoritter og lett å navigere seg gjennom innholdet i appen
Liker at det er både Podcaster (godt utvalg) og lydbøker i samme app, pluss at man kan holde Podcaster og lydbøker atskilt i biblioteket.
Bra app. Oversiktlig og ryddig. MYE bra innhold⭐️⭐️⭐️
Tilgjengelig overalt
Lytt til Podimo på telefonen, nettbrettet, datamaskinen eller i bilen!
Et univers av underholdning på lyd
Tusenvis av lydbøker og eksklusive podkaster fra kr 79,00 / Måned
Ingen annonser
Ikke kast bort tid på å lytte til annonser når du lytter til Podimos innhold.