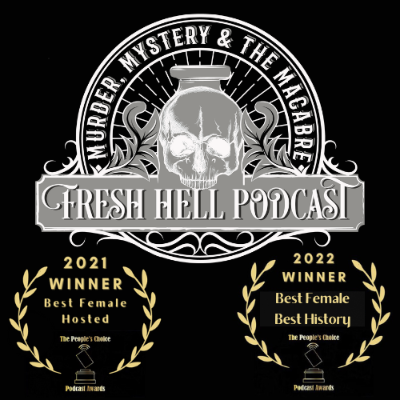 Fresh Hell Podcast
Podkast av freshhellpodcast
Two women, from opposite sides of the Atlantic, talk about murder, mystery and the macabre. This is your award winning, international true crime podcast, hosted by Annie and Johanna. 
Siste episoder
E207: MURDER - Robert A. Coombes (part II)
In the conclusion of this horrific case, we discuss the murder known as 'The Plaistow Horror,' and discuss the possible reasons for this terrible crime, and question what we know about criminal reformation.
1 h 3 min
-
01. sep. 2023
E206: MURDER - Robert A. Coombes (part I)
In 1895 13 year old Robert Allen Coombes committed a crime in London's East end that the horrified media dubbed 'The Plaistow Horror.' Today, in part 1, we discuss Robert's early life, as well as the shocking murder of Florence Dennis at the hands of the 'Southend Murderer,' James C. Read, a case Coombes was fascinated with as a child.
E205: MURDER - Sadie Hassard
Today Annie takes us to the beautiful village of Brewster on Cape Cod Bay, in the late 1800s, and tells us the terrible story of the murder of Sadie Hassard after being stalked and murdered by a rejected suitor.
Enkelt å finne frem nye favoritter og lett å navigere seg gjennom innholdet i appen
Liker at det er både Podcaster (godt utvalg) og lydbøker i samme app, pluss at man kan holde Podcaster og lydbøker atskilt i biblioteket.
Bra app. Oversiktlig og ryddig. MYE bra innhold⭐️⭐️⭐️
Tilgjengelig overalt
Lytt til Podimo på telefonen, nettbrettet, datamaskinen eller i bilen!
Et univers av underholdning på lyd
Tusenvis av lydbøker og eksklusive podkaster fra kr 79,00 / Måned
Ingen annonser
Ikke kast bort tid på å lytte til annonser når du lytter til Podimos innhold.