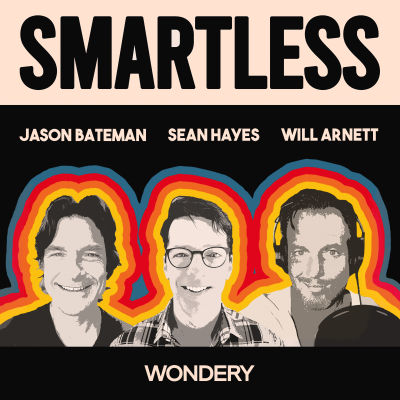 SmartLess
Podkast av Jason Bateman, Sean Hayes, Will Arnett
"SmartLess" with Jason Bateman, Sean Hayes, & Will Arnett is a podcast that connects and unites people from all walks of life to learn about shared experiences through thoughtful dialogue and organic hilarity. A nice surprise: in each episode of SmartLess, one of the hosts reveals his mystery guest to the other two. What ensues is a genuinely improvised and authentic conversation filled with laughter and newfound knowledge to feed the SmartLess mind.New episodes on Mondays for free. Listen 1-week early and to all episodes ad-free with Wondery+ or Amazon Music with a Prime membership or Amazon Music Unlimited subscription. 
Andre eksklusive podkaster
Siste episoder
"Taika Waititi"
Take it easy— we've got Taika Waititi. So toss your hot socks and be careful what you name your kids… it's an all-new SmartLess. See Privacy Policy at https://art19.com/privacy [https://art19.com/privacy] and California Privacy Notice at https://art19.com/privacy#do-not-sell-my-info [https://art19.com/privacy#do-not-sell-my-info].
1 h 2 min
-
27. nov. 2023
"Stephen Curry"
It's all-net this week: sleep secrets, tall guys, and maybe even a BLT on white bread. You need not worry… we've got Stephen Curry. NATIONAL DISCLAIMER: Must be 21+ and present in select states. FanDuel is offering online sports wagering in Kansas under an agreement with Kansas Star Casino, LLC. First online real money wager only. $10 first deposit required. Bonus issued as nonwithdrawable bonus bets that expire 7 days after receipt. Restrictions apply. See terms at sportsbook.fanduel.com. Gambling Problem? Call 1-800-GAMBLER or visit FanDuel.com/RG in Colorado, Iowa, Michigan, New Jersey, Ohio, Pennsylvania, Illinois, Tennessee, and Virginia. Call 1-800-NEXT-STEP or text NEXTSTEP to 53342 in Arizona, 1-888-789-7777 or visit ccpg.org/chat in Connecticut, 1-800-9-WITH-IT in Indiana, 1-800-522-4700 or visit ksgamblinghelp.com in Kansas, 1-877-770-STOP in Louisiana, visit mdgamblinghelp.org in Maryland, visit 1800gambler.net in West Virginia, or call 1-800-522-4700 in Wyoming. Hope is here. Visit GamblingHelpLineMA.org or call (800) 327-5050 for 24/7 support in Massachusetts or call 1-877-8HOPE-NY or text HOPENY in New York. See Privacy Policy at https://art19.com/privacy [https://art19.com/privacy] and California Privacy Notice at https://art19.com/privacy#do-not-sell-my-info [https://art19.com/privacy#do-not-sell-my-info].
1 h 12 min
-
20. nov. 2023
"Michael Stipe"
It's a Shiny-Happy-Podcast with R.E.M.'s Michael Stipe on the mic. Default veganism, relocation by earthquake, the confidence of youth, and walking like a human-person. We're losing our religion together, on an all-new SmartLess. See Privacy Policy at https://art19.com/privacy [https://art19.com/privacy] and California Privacy Notice at https://art19.com/privacy#do-not-sell-my-info [https://art19.com/privacy#do-not-sell-my-info].
1 h 3 min
-
13. nov. 2023
Enkelt å finne frem nye favoritter og lett å navigere seg gjennom innholdet i appen
Liker at det er både Podcaster (godt utvalg) og lydbøker i samme app, pluss at man kan holde Podcaster og lydbøker atskilt i biblioteket.
Bra app. Oversiktlig og ryddig. MYE bra innhold⭐️⭐️⭐️
Tilgjengelig overalt
Lytt til Podimo på telefonen, nettbrettet, datamaskinen eller i bilen!
Et univers av underholdning på lyd
Tusenvis av lydbøker og eksklusive podkaster fra kr 79,00 / Måned
Ingen annonser
Ikke kast bort tid på å lytte til annonser når du lytter til Podimos innhold.