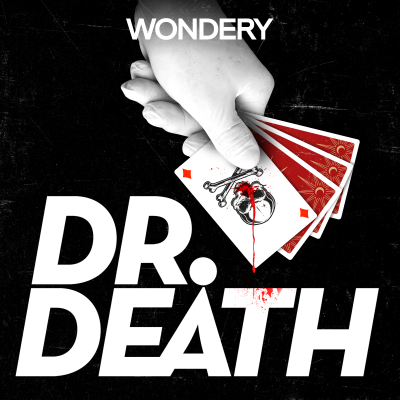 When a charismatic young doctor announces revolutionary treatments for cancer and HIV, patients from around the world turn to him for their last chance. As medical experts praise Serhat Gumrukcu's genius, the company he co-founded rockets in value to over half a billion dollars. But when a team of researchers makes a startling discovery, they begin to suspect the brilliant doctor is hiding a secret. From Wondery, the new season of Dr. Death: Bad Magic is a story of miraculous cures, magic and murder. Hosted by Laura Beil. 
Andre eksklusive podkaster
Siste episoder
Introducing: Dr. Death Season 4 | Bad Magic
When a charismatic young doctor announces revolutionary treatments for cancer and HIV, patients from around the world turn to him for their last chance. But a team of researchers suspect the brilliant doctor is hiding a secret.. From Wondery, the new season of Dr. Death: Bad Magic is a story of miraculous cures, magic and murder. Hosted by Laura Beil. You can listen to Dr. Death: Bad Magic exclusively and ad-free by subscribing to Wondery+ in the Wondery App or on Apple Podcasts starting December 4th.  See Privacy Policy at https://art19.com/privacy [https://art19.com/privacy] and California Privacy Notice at https://art19.com/privacy#do-not-sell-my-info [https://art19.com/privacy#do-not-sell-my-info].
Listen Now: Ghost Story
Tristan Redman is a journalist who doesn't believe in ghosts. But weird things happened in his teenage bedroom – weirder than normal. When, years later, he discovers subsequent occupants of his family home were haunted by the ghost of a faceless woman, he's curious. Because by a strange coincidence, it just so happens that the house Tristan grew up in is right next door to a murder scene - where his wife's great grandmother was killed by two gunshots to the face. Could there be a connection? Tristan decides to investigate and soon finds himself where no son-in-law should ever be: delving deep into his wife's family history, asking questions no one wants answered. Wondery and Pineapple Street Studios present GhostStory — a seven-part podcast series about family secrets, overwhelming coincidences and the things that come back to haunt us. Follow Ghost Story on the Wondery App or wherever you get your podcasts. You can binge all episodes of Ghost Story ad-free right now by joining Wondery Plus. Listen now: Wondery.fm/Ghost_Story [http://Wondery.fm/Ghost_Story] See Privacy Policy at https://art19.com/privacy [https://art19.com/privacy] and California Privacy Notice at https://art19.com/privacy#do-not-sell-my-info [https://art19.com/privacy#do-not-sell-my-info].
Listen Now: RedHanded
RedHanded the podcast jumps head first into all manner of macabre madness. We cover everything from big time serial killers (and those you may never have heard of), to hauntings, possessions, disturbing mysteries, bizarre whodunits and basically anything that tickles our creepy fancy. So, join us, plug in, sit back and prepare for scares. http://wondery.com/shows/redhanded [http://wondery.com/shows/redhanded]  See Privacy Policy at https://art19.com/privacy [https://art19.com/privacy] and California Privacy Notice at https://art19.com/privacy#do-not-sell-my-info [https://art19.com/privacy#do-not-sell-my-info].
Enkelt å finne frem nye favoritter og lett å navigere seg gjennom innholdet i appen
Liker at det er både Podcaster (godt utvalg) og lydbøker i samme app, pluss at man kan holde Podcaster og lydbøker atskilt i biblioteket.
Bra app. Oversiktlig og ryddig. MYE bra innhold⭐️⭐️⭐️
Tilgjengelig overalt
Lytt til Podimo på telefonen, nettbrettet, datamaskinen eller i bilen!
Et univers av underholdning på lyd
Tusenvis av lydbøker og eksklusive podkaster fra kr 79,00 / Måned
Ingen annonser
Ikke kast bort tid på å lytte til annonser når du lytter til Podimos innhold.