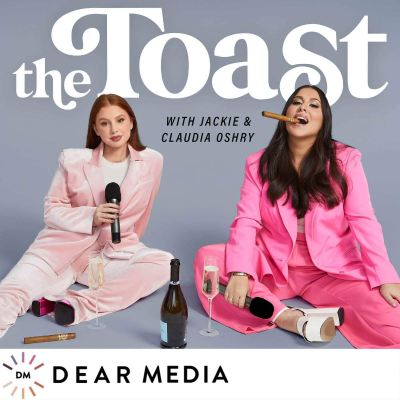 Take a bite out of The Toast, weekdays with Jackie & Claudia Oshry. 
Siste episoder
Sharks vs. Jets: Monday, October 2nd, 2023
1. Taylor Swift cheers for Travis Kelce at Chiefs vs Jets game with Ryan Reynolds, Sophie Turner, Blake Lively and Hugh Jackman (Page Six) (29:14) 2. Pete Davidson crashes his SUV while leaving his stand-up comedy show after reckless driving charge (Page Six) (48:09) 3. Kim Kardashian Didn't Walk in Balenciaga Show, But Posed for Brand's Lookbook (Just Jared) (52:46) 4. Kendall Jenner and Bad Bunny flaunt their romance in stylish Gucci campaign (Page Six) (59:59) 5. It's A Deal! WGA & AMPTP Reach Tentative Agreement To End Writers Strike; Picketing Suspended (Deadline) (1:04:16) The Toast with Jackie (@JackieOshry) and Claudia Oshry (@girlwithnojob) The Camper and The Counselor by Jackie Oshry [https://www.flowcode.com/page/jackieobook] Merch [https://www.shopmorningtoast.com/] The Toast Patreon [https://www.patreon.com/themorningtoast] Girl With No Job by Claudia Oshry [https://www.girlwithnojob.com/book] See Privacy Policy at https://art19.com/privacy [https://art19.com/privacy] and California Privacy Notice at https://art19.com/privacy#do-not-sell-my-info [https://art19.com/privacy#do-not-sell-my-info].
How Did We Get Here?: The Toast, Friday, September 29th, 2023
1. Name of Joe Jonas and Sophie Turner's second daughter finally revealed (Page Six) (28:40) 2. Kerry Washington calls out Shaquille O'Neal for sliding into her DMs (Page Six) (36:17) 3. *NSYNC Reunite with Pop Banger 'Better Place' (PEOPLE) (43:05) 4. Gypsy Rose Blanchard to be Released from Prison Early (PEOPLE) (55:00) 5. Taylor Swift set to be at game to watch Travis Kelce and the Chiefs take on the Jets (NBC News) (1:01:19) The Toast with Jackie (@JackieOshry) and Claudia Oshry (@girlwithnojob) The Camper and The Counselor by Jackie Oshry [https://www.flowcode.com/page/jackieobook] Merch [https://www.shopmorningtoast.com/] The Toast Patreon [https://www.patreon.com/themorningtoast] Girl With No Job by Claudia Oshry [https://www.girlwithnojob.com/book] See Privacy Policy at https://art19.com/privacy [https://art19.com/privacy] and California Privacy Notice at https://art19.com/privacy#do-not-sell-my-info [https://art19.com/privacy#do-not-sell-my-info].
1 h 8 min
-
29. sep. 2023
Men Can't Gossip with Paige DeSorbo: Thursday, September 28th, 2023
1. Taylor Swift Loans Sophie Turner, Kids An Apartment During Bitter Legal Tangle With Joe Jonas (Page Six) (24:43) 2. Kourtney Kardashian Says Her 'Happiness Comes' When She Gets 'The F--K Away' From Her Family (People) (34:05) 3. Kris Jenner Forced Boyfriend To Reject 'Yellowstone' Role (NY Post) (47:25) 4. Lauren Sanchez Says There's 'Nothing Better' Than Seeing Fiancè Jeff Bezos (Page Six) (53:20) 5. Katy Perry IS Slammed For 'Attacking The Weak' BY Family of Dying Veteran Carl Westcott (Daily Mail) (59:20) The Toast with Jackie (@JackieOshry) and Claudia Oshry (@girlwithnojob) The Camper and The Counselor by Jackie Oshry [https://www.flowcode.com/page/jackieobook] Merch [https://www.shopmorningtoast.com/] The Toast Patreon [https://www.patreon.com/themorningtoast] Girl With No Job by Claudia Oshry [https://www.girlwithnojob.com/book] See Privacy Policy at https://art19.com/privacy [https://art19.com/privacy] and California Privacy Notice at https://art19.com/privacy#do-not-sell-my-info [https://art19.com/privacy#do-not-sell-my-info].
1 h 9 min
-
28. sep. 2023
Enkelt å finne frem nye favoritter og lett å navigere seg gjennom innholdet i appen
Liker at det er både Podcaster (godt utvalg) og lydbøker i samme app, pluss at man kan holde Podcaster og lydbøker atskilt i biblioteket.
Bra app. Oversiktlig og ryddig. MYE bra innhold⭐️⭐️⭐️
Tilgjengelig overalt
Lytt til Podimo på telefonen, nettbrettet, datamaskinen eller i bilen!
Et univers av underholdning på lyd
Tusenvis av lydbøker og eksklusive podkaster fra kr 79,00 / Måned
Ingen annonser
Ikke kast bort tid på å lytte til annonser når du lytter til Podimos innhold.