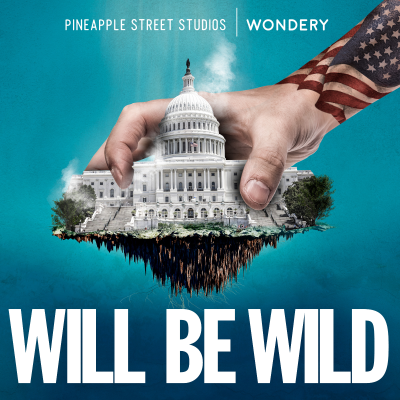 Will Be Wild
Podkast av Pineapple Street Studios | Wondery | Amazon Music
Will Be Wild is a new 8-part series about the forces that led to the January 6th insurrection and what comes next. Through in-depth stories from a wide range of characters – from people who tried to stop the attack to those who took part – hosts Andrea Bernstein and Ilya Marritz explore the ongoing effort to bring autocracy to America, the lasting damage that effort is doing to our democracy, and the fate of our attempts to combat those anti-democratic forces. Because January 6th wasn't the end of the story, January 6th was just a practice run.All episodes are available now. You can binge the series ad-free on Wondery+ or on Amazon Music with a Prime membership or Amazon Music Unlimited subscription. 
Siste episoder
Introducing Magnificent Jerk
On the last day of her grandmother's life, journalist Maya Lin Sugarman finds a box of forgotten screenplays that sets her on a journey to uncover the truth about their author: her late uncle, Galen. She discovers that he was a leader of a Chinese gang, that he went to jail, and, in a final twist, that he poured his life story into a screenplay that was turned into a '90s Hollywood action movie…starring Rob Lowe, Burt Rynolds, and Ice-T. Magnificent Jerk is an Apple Original podcast, produced by Pineapple Street Studios. Listen Now: https://www.apple.com/tv-pr/originals/magnificent-jerk/ [https://www.apple.com/tv-pr/originals/magnificent-jerk/] See Privacy Policy at https://art19.com/privacy [https://art19.com/privacy] and California Privacy Notice at https://art19.com/privacy#do-not-sell-my-info [https://art19.com/privacy#do-not-sell-my-info].
Listen Now: The Al Franken Podcast
On the Al Franken Podcast, a five-time Emmy winning SNL comedy writer & producer joins a four-time #1 NYT bestselling author, a three-time highest-rated national progressive radio host, a two-time Grammy winning artist, and a former US Senator - So, it gets a little crowded in the booth when Al talks public policy with a sprinkle of political comedy. With guests like Neil Kochi, Joyce Vance, Paul Krugman, and occasionally comedians like Sarah Silverman, Conan O'Brien, and Chris Rock, there is never a dull moment on the show. To stay up to date on politics with a bit of comedy, listen to The Al Franken Podcast on the Wondery App or wherever you get your podcasts: Wondery.fm/AlFranken_IP [http://wondery.fm/AlFranken_IP] See Privacy Policy at https://art19.com/privacy [https://art19.com/privacy] and California Privacy Notice at https://art19.com/privacy#do-not-sell-my-info [https://art19.com/privacy#do-not-sell-my-info].
Has Been Wild (A Hearings Breakdown) | 10
Andrea and Ilya talk through the wildest moments of the 1/6 hearings so far, the questions they still want answers to, and the impact the hearings will have on Trump's future, the rebuilding of government agencies, and the country's understanding of January 6th. Please support us by supporting our sponsors! See Privacy Policy at https://art19.com/privacy [https://art19.com/privacy] and California Privacy Notice at https://art19.com/privacy#do-not-sell-my-info [https://art19.com/privacy#do-not-sell-my-info].
Enkelt å finne frem nye favoritter og lett å navigere seg gjennom innholdet i appen
Liker at det er både Podcaster (godt utvalg) og lydbøker i samme app, pluss at man kan holde Podcaster og lydbøker atskilt i biblioteket.
Bra app. Oversiktlig og ryddig. MYE bra innhold⭐️⭐️⭐️
Tilgjengelig overalt
Lytt til Podimo på telefonen, nettbrettet, datamaskinen eller i bilen!
Et univers av underholdning på lyd
Tusenvis av lydbøker og eksklusive podkaster fra kr 79,00 / Måned
Ingen annonser
Ikke kast bort tid på å lytte til annonser når du lytter til Podimos innhold.